When looking to book girl's trip away to a tropical paradise, how do you choose? Does it depend on how easy it is to get away? How warm it could be? How much relaxing there is to be had? Or all of the above?
I recently went with 3 girlfriends on a warm getaway to Puerto Moreles, Mexico for a few days and we stayed at one of the most relaxing, unique places – unlike any I have ever been to in Mexico. Being that Cancun is a quick flight from Texas, it is a popular destination for many.  It's relatively inexpensive and there is always something to do.  And it's warm. Escaping to Cancun in January just makes sense.
Grand Residences Riviera Cancun is an all-suite hotel located in Puerto Moreles, Mexico – just 30 minutes south of Cancun and 30 minutes north of Playa del Carmen. Its a quick ride from the Cancun airport right outside of a perfect little fishing town. We found this resort to be the ideal place for our 3 day getaway – all we wanted to do was relax – and that was what we did.
What made Grand Residences Riviera Cancun so relaxing?
The View
Grand Residences is made entirely of suites – 103 of them to be exact. From a Junior Suite with one king bed and a murphy bed (perfect for a family of 3) to a 3 bedroom suite with a private plunge pool &/or jacuzzi. The rooms were large and clean with comfortable sleeping arrangements.  We found the bathroom to be exceptional, with both a large whirlpool tub and massive walk-in shower.
We stayed in a beachfront junior suite and the view from our balcony quickly became our favorite spot. That is until we discovered the beach…..
The Beach
The Grand Residences Riviera Cancun has a private beach – well, as "private" as you can get for Mexico. We had a lovely stretch of beach that was cleaned from the seaweed and rocks early each morning with 2 lifeguards stationed there each day. I was very impressed with the beach as I took a run early one morning and noticed that none of the other resorts cleaned the seaweed from their beaches. But back to the privacy – not once did I noticed anyone selling anything up and down this beach. It just didn't happen here.
The area is protected by a large Municipal Ecological Reserve, so there is not much growth along the beach.  In fact, in building of the resort, Grand Residences planted over 400,000 mangrove trees to help maintain the coral reef right offshore.  Apparently, the runoff from these particular trees is healthy for the reef, so the resort hired a biologist to ensure construction would not harm the reef. I found this fascinating and so important to tell.
The Service
We were most impressed with the service at Grand Residences Riviera Cancun.  The ratio of employees per guest is 3:1 and each of them have a smile on their face and a "We can do that" attitude.  One evening, we asked for a hot chocolate, and though the waiter looked at us quizzingly (as if, why are you not ordering a martini?) we had a delicious cup of hot chocolate within minutes.   One of the stories that amazed me the most was when a plate full of macaroons  showed up at our door one evening.  We had not ordered it but the staff must have heard our conversation at breakfast as we all were talking about how much we loved macaroons.  We were speechless.
The Food
Grand Residences Riviera Cancun currently has 2 restaurants – El Faro (indoor dining for breakfast, lunch & dinner) and Heaven Beach Bar, as well as a lobby bar and drinks & food pool-side.  We were honestly there for the beach, but were completely blown away by the quality of the food.  The presentation was beautiful (like take your phone out & snap a picture of everything – see below – good) but the taste was so much better.  The Chef is from France but has been trained in Mexico, so you get a delightful variety of tastes- from mushroom soup to fig & goat cheese salad to succulent seafood- we all enjoyed big plates of lobster tail with a crisp sauvignon blanc on our last evening.
Grand Residences Riviera Cancun is not an all-inclusive resort. Each suite has their own kitchen for you to prepare a meal (if you wish) or you can have a chef come to your room to cook for you.  However, they do offer a Grand Gourmet package that includes all gourmet meals, 24 hours a day, and snacks at the beach and pools, unlimited house drinks, minibar in your suite, and a transport to and from the airport.
The Little Details
It was all the little details that kept us feeling so pampered.  It starts with communication with the concierge before you even leave on vacation.  Your favorite drink is placed in your hand as you arrive and there is a wonderful welcome gift in the room.  Some of our favorite amenities were the the fruit kabobs and icy popsicles on the beach and the little presents in your room each evening.  Grand Residences Riviera Cancun sets out to make your vacation a unique experience and they do a fantastic job of that.
Activities
We choose to sit on the beach all day, but you certainly don't have to.  The resort offers daily activities such a yoga, aqua fitness, beach volleyball, painting classes, afternoon tea and more.  They also have snorkeling gear, golf clubs, tennis rackets available to use.  And the concierge can help to set up any type of excursion you would like – cultural trips to Tulum, sailing trips, and shopping in Playa del Carmen.  Anything and everything is available to do. Or if you want to relax, they do have a full-service spa on site.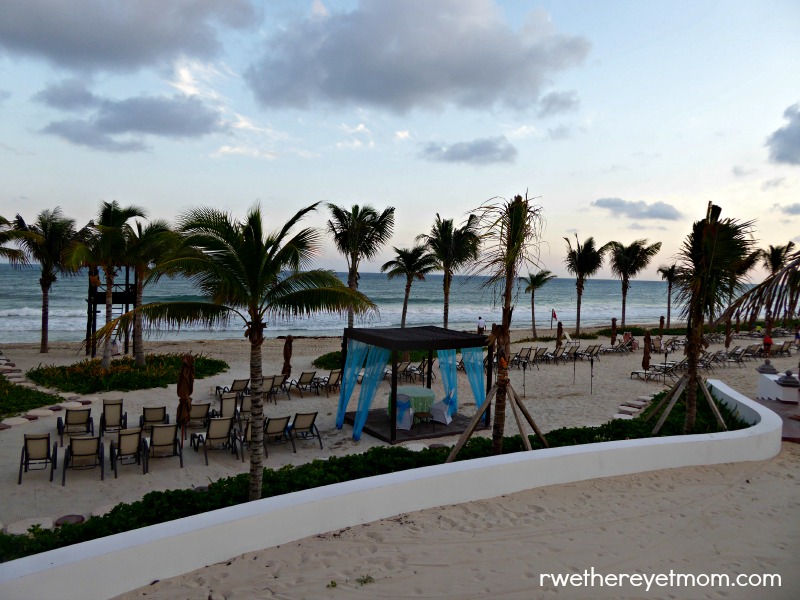 Green Hotel
As I mentioned, Grand Residences did it's part to ensure the Ecological Reserve that surrounded the property was not compromised, but it also actively participates in several "green" activities as well.  Grand Residences has it's own underground water supply that is safe for drinking (we had no issues), recycles water for the trees & plants, and had low-consumption lighting.  The resort itself is also completely self-sufficient and can run on it's own if need be.
I don't want to steer you away from a family vacation to Grand Residences Riviera Cancun either, as the property is perfect for families and there were several there during our stay.  The suites are perfectly sized and the pools are massive.  The resort also offers Kids & Teen Clubs that are complimentary and offers a wide variety of activities depending the age of the children.
Though the resort was at 90% occupancy during our stay, it never felt close to that.  The property is so spread out that we always felt as if we had the resort to ourselves.  It's things like this, along with all the other amenities I mentioned that gave Grand Residences Riviera Cancun it's status as the #1 Hotel in the Riviera Maya on TripAdvisor in June of 2014.  And it's Top 100 Suites award as well.
Grand Residences Riviera Cancun was the perfect 4-day get-away for my girlfriends and I. Though I can see any couple, family, and solo travelers having just as great of an experience as I did. Next time you consider a tropical destination for vacation, take a look at what Grand Residences Riviera Cancun can offer you.
Disclosure: I was invited to visit Grand Residences Riviera Cancun and was offered a media rate during my stay.  I was not paid for this article.  All opinions are my own.