Follow along next week, April 18-21, 2017 as I am off to another fun-filled adventure in Los Angeles with Disney for the Red Carpet Premiere of Guardians of the Galaxy Vol 2!! Check out all that we will be doing: 
In 2014 a new Marvel movie was released and my family made plans to see it when I was out of town.  Normally, that is a BIG mistake – but I honestly didn't think Guardians of the Galaxy would hold my attention.
HELLO???!!!
My family loved it so much, they insisted on taking me as soon as I was home and they all saw it a second time.  And it was so good y'all – awesome music, funny characters, endearing moments (a few) – the perfect combination.  We grabbed the Mix Tape and we have been jamming to it ever since.  Seriously, my then 4 year old knew all the words to Cherry Bomb.
So to get the magical email invitation a few weeks ago inviting me to the Guardians of the Galaxy Vol 2  press trip & to attend the red carpet premiere? I was THRILLED!
I am heading to Los Angeles with 24 other bloggers for a trip that encompasses some major Disney & ABC TV fun.  Yesterday we received our itinerary for the 4 days we will be out in LA and I wanted y'all to get a peek at what we will be doing. It's going to be a CRAZY BUSY but FUN trip and I would be honored to have you following along to see this fun unfold:
#BorninChina: Tuesday, April 18, 2017
Tuesday night, we head to the Walt Disney Studios for our chance to screen Born in China.  This Disney Nature movie is in theaters for Earth Day Weekend, April 21, 2017.  I can't wait to see it as it follows 3 adorable animals and their families in China.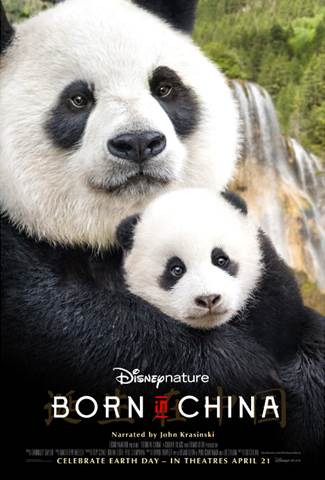 Follow along using #BorninChina & #GOTGVol2Event
#ABCTVEvent & #GOTGVol2Event: Wednesday, April 19, 2017
Wednesday starts with a day full of fun with ABC TV as we head to the ABC Building to learn about the new comedy coming out in May, Downward Dog.  We are screening the first 2 episodes of this adorable new show about follows the day-to-day life of Nan (Emmy and Golden Globe-nominated Allison Tolman, "Fargo"), as told by her increasingly lonely and philosophical dog, Martin.  Afterwards, we have a Q&A time with Allison Tolman ("Nan") and Samm Hodges (Co-Creator / Executive Producer AND the Voice of "Martin," the dog).
Follow along using #ABCTVEvent and #DownwardDog
Then we move onto "Second Breakfast" – that time where you enjoy your second breakfast after the kids are at school (anyone fans of the ABC hit, American Housewife?  We will get a special preview screening of "American Housewife" episode "The Club" followed by Q&A time with "American Housewife" star Katy Mixon ("Katie Otto")!!
Follow along using #ABCTVEvent and #AmericanHousewife
Our last ABC TV fun involves a show that I have come to love.  A few years back, I had the opportunity to attend a Live taping of Dancing with the Stars and was HOOKED.  It is now THE show my daughter & I watch together religiously each week. And I was SO EXCITED to learn that I would be meeting some of the cast of DWTS!!
We are heading over to 101 Dance Center to meet "Dancing with the Stars" Troupe members Brittany Cherry, Britt Stewart, Hayley Erbert, Brandon Armstrong and newest member Artur Adams.  And then – get this – we are getting an easy & fun ballroom dance lesson lead by the troupe!! AHHHH!!
Follow Along Using #DWTS and #ABCTVEvent
As if that wasn't exciting enough…….
That night, we are heading to the Guardians of the Galaxy Vol 2 Red Carpet Premiere at the Dolby Theatre in Hollywood! Red Carpet premieres are fast & furious & exciting so I am sure to bring you many exciting moments & pictures from the event.
Follow Along Using #GOTGVol2Event
#GOTGVol2Event: Thursday, April 20, 2017
Thursday we have the honor off interviewing the talent and creators of Guardians of the Galaxy Vol 2.  Hold onto your chairs while you take a look at the list of everyone we get to interview today!
Michael Rooker ("Yondu") & Sean Gunn ("Kraglin")
Karen Gillan ("Nebula"), Pom Klementieff ("Mantis") & Elizabeth Debicki ("Ayesha")
Kurt Russell ("Ego")
Zoe Saldana ("Gamora")
Dave Bautista ("Drax")
Chris Pratt ("Peter Quill / Star-Lord")
Director James Gunn and Producer and President of Marvel Studios Kevin Feige
I could not be more excited to be interviewing this cast!! We are already huge fans of the franchise and have lots of questions to ask, but I would love to hear from you! Send me an email if you have a question you are dying to know – [email protected]
Follow Along Using #GOTGVol2Event
Still more fun to come! After the interviews, we get to learn a bit about the Radio Disney Music Awards! The 2017 Radio Disney Music Awards is music's biggest event for families.  The 2017 Radio Disney Music Awards take place on Saturday, April 29th at the Microsoft Theater in Los Angeles with performances by some of the biggest artists along with tomorrow's rising stars in music. A special two-hour telecast, "Disney Channel Presents the 2017 Radio Disney Music Awards," will be presented Sunday, April 30th at 7/6c on Disney Channel.
#Descendants2: Friday, April 21, 2017
As if the previous 3 days weren't enough, we get to have more fun on Friday too! We head over to the Disney Channel for a peek at key scenes from "Descendants 2," the highly anticipated sequel to the global smash hit "Descendants." We will also have an opportunity to meet with some of the creative talent involved in making the movie.
In "Descendants 2," the story deepens in the music-driven sequel to the global smash hit "Descendants," as the teenage sons and daughters of Disney's most infamous villains — Mal, Evie, Carlos and Jay (also known as Villain Kids or VKs) — try to find their place in idyllic Auradon. When the pressure to be royally perfect becomes too much for Mal, she returns to her rotten roots on the Isle of the Lost where her archenemy Uma, the daughter of Ursula, has taken her spot as self-proclaimed queen of the run-down town. Uma, still resentful over not being selected by Ben to go to Auradon Prep with the other Villain Kids, stirs her pirate gang including Captain Hook's son Harry and Gaston's son Gil, to break the barrier between the Isle of the Lost and Auradon, and unleash all the villains imprisoned on the Isle, once and for all.
Follow Along Using #Descendants2
Friends, as you can see, it's going to be an amazing adventure.  I hope you follow along and reach out to me on all my social channels (Instagram, Facebook, Twitter) if you have any questions for anyone above!
Guardians of the Galaxy Vol 2 is in Theaters Everywhere May 5!
Like GOTGVol2 on Facebook: https://www.facebook.com/guardiansofthegalaxy/
Follow GOTGVol2 on Twitter: https://twitter.com/Guardians
Follow GOTGVol2 on Instagram: https://www.instagram.com/guardiansofthegalaxy/
Visit the official GOTGVol2 website here: https://marvel.com/guardians