The Texas Hill Country is covered with hidden gems. From monolithic giants like Enchanted Rock, to lush, freshwater pools that people flock to during the hot summer days, Central Texas has some of the most gorgeous spots to visit with a family.
When we first moved to the area 5 years ago, we started a list of these "must-see" places to see together. Last Monday, we visited one of them. Hamilton Pool Preserve was unbelievable and we are all kicking ourselves for not visiting it sooner.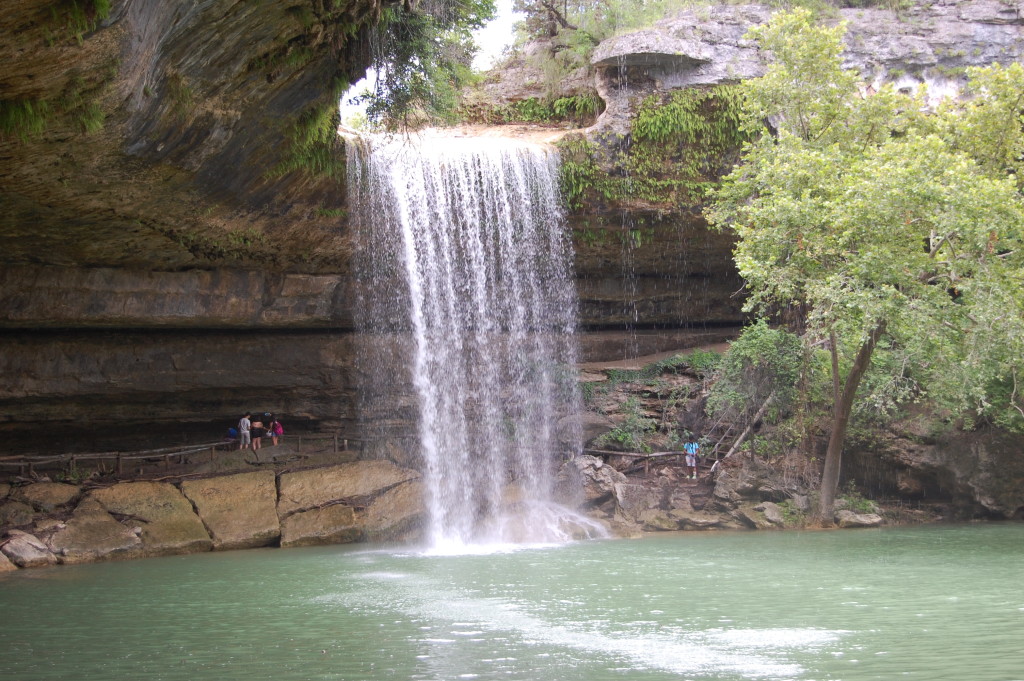 We packed up the car on the first day of summer break, anxious to set out on a new adventure. I was excited to finally be heading to Hamilton Pool, so I was up early, making a picnic lunch. As it was the first "official" day of my teens' summer, it took a bit of convincing to get them out of bed and get on our way. They soon forgot their sleepiness and were looking forward to our trip.
Located less than 20 miles southwest of Austin, Hamilton Pool Preserve is a lush, cool oasis who's main highlight is the collapsed grotto that includes a pool and waterfall. We had seen the pictures, but nothing prepared us for the beauty of Hamilton Pool. When your surroundings look like something out of Hawaii, you have to shake your heard to remind yourself that you are actually in Texas.
Hamilton Pool has a really cool story. Legend has it that it was discovered in the 1800s by the land owner's 8 year old son – can you imagine stumbling upon this oasis? The family opened the area up to the public as a swimming hole and it became a popular place to cool off in the summer. During the 1960's and on into the 1980's people descended upon Hamilton Pool in droves, damaging the delicate ecosystem of the area considerably.
In 1985, the family sold the property to Travis County, who in turn implemented an aggressive land management plan to restore Hamilton Pool to it's original state. Slowly the cliffs became covered in lush fern and the areas surrounding the grotto became green and thick, making it the cool oasis that it once was.
We were reminded as we arrived that Hamilton Pool is a preserve, meaning visitors are required to stay on the trails at all time. Being as lush as the area was, that was just fine for our family – we tend to be chickens when it comes to poison ivy or snakes. To cut down on the number of visitors in the preserve, they only allow 75 vehicles to visit at a time. So the earlier arrival one has, the better chance you have of getting in.
In recent weeks, our area has undergone some rain that caused severe flooding, so on the day we visited, swimming was not allowed. The park rangers monitor the water quality in the pool and will close it if the bacteria levels are too high. It's not often, but I was secretly glad there was no swimming the day were were there – less people were there that day and it made for amazing pictures.
Just a quick hike down to the grotto and you feel like you have entered a tropical rain forest. You can hear the roar of the waterfall before you even see it – not a Niagara Falls kind of a roar, but one that definitely heightens your excitement to get there. Once the clearing opens up and you see the gorgeous blue of the pool, you can't help but think, "is this real?"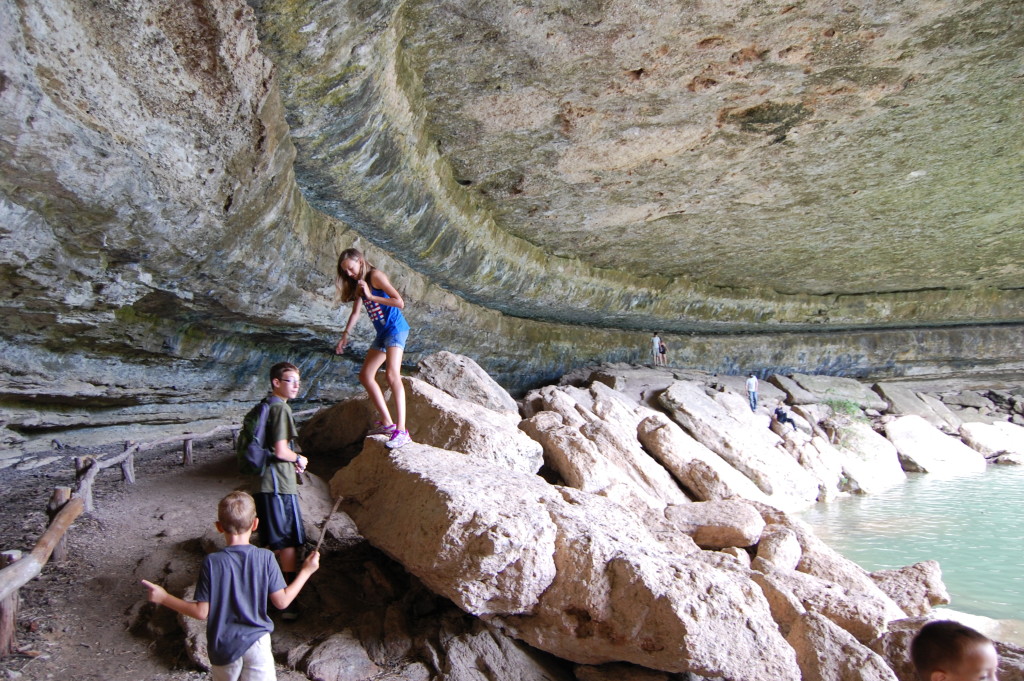 In addition to swimming, visitors can climb down behind the water fall, clamber over the rocks, sun themselves on the rocky beach or explore more of Hamilton Creek along the trail that runs beside it. You can easily spend the whole afternoon here.
My kids, ages 14, 12, & 6, ran off to explore as I sat on a rock in the sun, basking in the view. Several couples pulled out their lunches and we all gave each other nods of satisfaction and wonder. We were all thinking the same thing – is this really Texas?
We took pictures from all angles, each one of the falls getting better and better the more we hiked around it. My son even had a little fun with the waterfalls and we got this trick photo.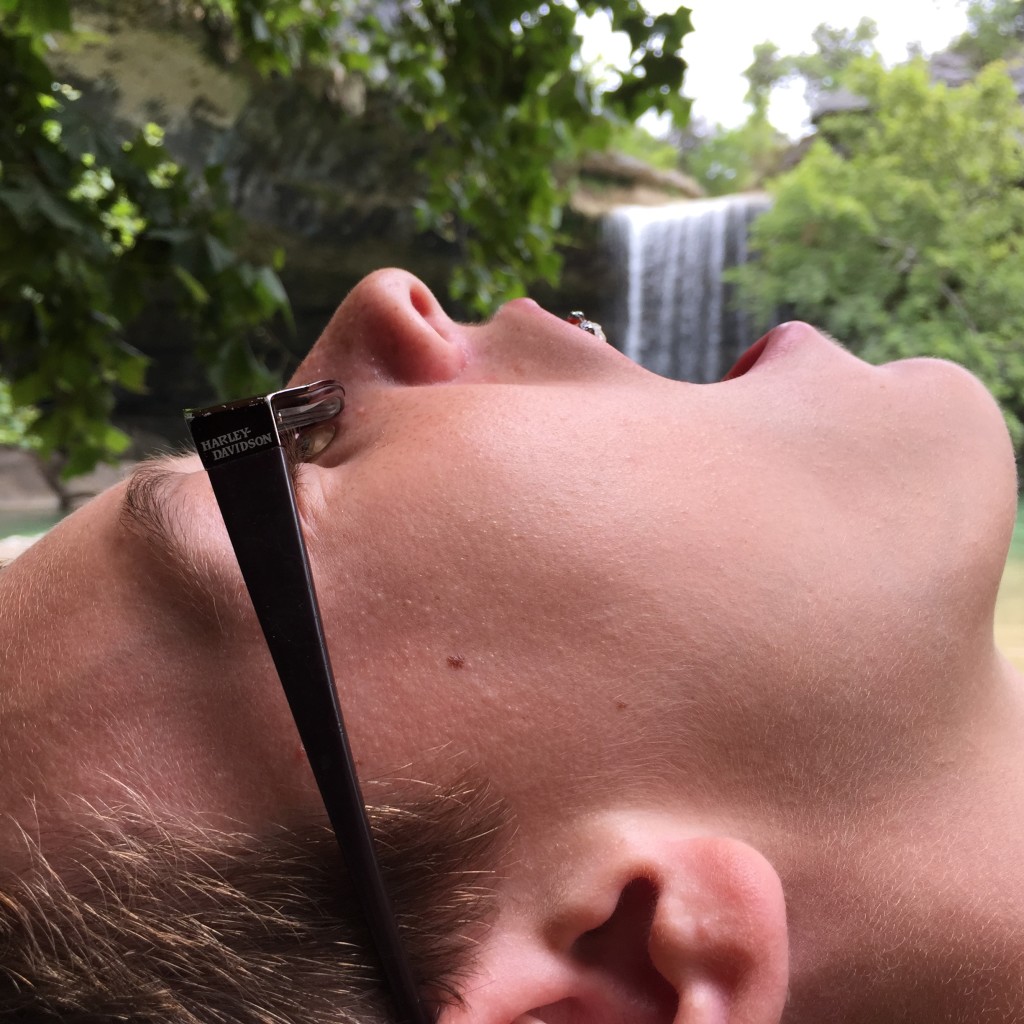 We drove home in exhausted but happy silence – I always love that feeling. There's something so fresh and fun about discovering a new place, fully exploring and enjoying all it has to offer. Not to mention as a mom, it just feels good to completely wear your kids out from a day outdoors. After a day in a new place, it reminds me how easy and affordable it is to explore in your area. And it makes us look to our list we created years ago to see what's next!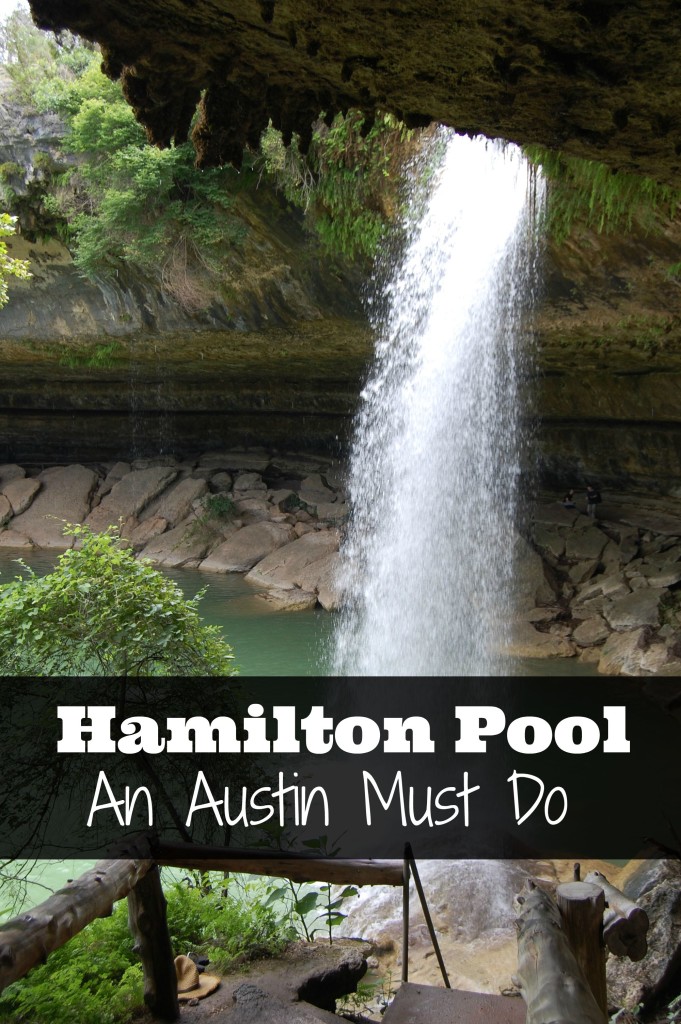 Know Before You Go to Hamilton Pool Preserve:
Open 7 days a week, 9 am – 6 pm. Entry is not allowed after 5:30 pm. The gate is locked at 6:00 pm and all visitors must be gone at this time.
There is no overnight camping.
Parking is available for 75 vehicles. Once the lot is full, the park will temporarily close and vehicles will be let in on a "one-out, one-in" basis.
Swimming is permitted when water is safe fro human contact. There is no lifeguard on duty.
Pets are not permitted at the preserve.
No glass containers, fire, or cooking allowed.
Call the hotline (512-264-2740) for an updated daily message on water quality and park happenings.
Entry fees are $15.00 per vehicle, $8.00 per pedestrian/bicycle