We recently took a trip out to the Hill Country Science Mill in Johnson City, Texas and were blown-away at what an incredible science museum it was.  Just barely open a month, this museum is filled with high-tech, hands-on exhibits created to engage kids with the STEM (Science, Technology, Engineering, & Math) concepts.

Founder of the Hill Country Science Mill, Dr. Bonnie Baskin had a mission to introduce & encourage students to pursuers careers in the STEM fields.  The global workforce is not prepared for STEM jobs in the future and she wanted to  start engaging students in these fields.  And the location of the museum?  It makes sense to be in the Hill Country – a perfect crossroads to big cities like Austin & San Antonio.
The museum is unique as it is primarily geared toward middle & high school aged kids.  There is plenty for all ages to do here, however the signature exhibits are complex and made for older kids. I found that while we were visiting.  My 12 year old son was very engaged, taking the time to follow the directions of each exhibit to get the most our of it.  While my 5 year old bounced from one exhibit to the next, not really knowing exactly what to do.
And to be completely honest with you, I love that this is for the older kids.  Too often we find "children's museums" have nothing for my older kids to do.  So it was a refreshing change.
What exhibits held my kid's attention the most? Here's 9 that we thought were pretty cool:
Avatar Passport
When you arrive, each person receives their own Avatar Passport to tai around the museum with them.  Scan your passport at each exhibit to learn more about it and mark it as a favorite.  Once you get home, the learning can continue with your passport via the online learning portal – explorer zone.  Your kids can go back to their favorite exhibits online and learn what careers might be associated with it.
Race Track
My boys both enjoyed making their own cars to race along the track.  Good thing there was instructions there, as this mom struggled to make one with the 5 year old.  The 12 year old? Had it up & running in no time.
Critter Bots
Both of my older kids (13 & 12) enjoyed programming these animated animals to move and make noise.
MindBall
We were fascinated by this activity, where we had to relax and focus on nothing to make the ball move toward our opponent.  Of course, both my kids beat me, but it was interesting how long they both went against one another.
Dig In
A very popular exhibit, kids were lined up to do this one.  You get to run your hands through sand to build up mountains, craters, and more.  Put your hand over the formations to create "clouds" and watch the rain create rivers & lakes.  An incredible lesson in geology & erosion.
Giant Lever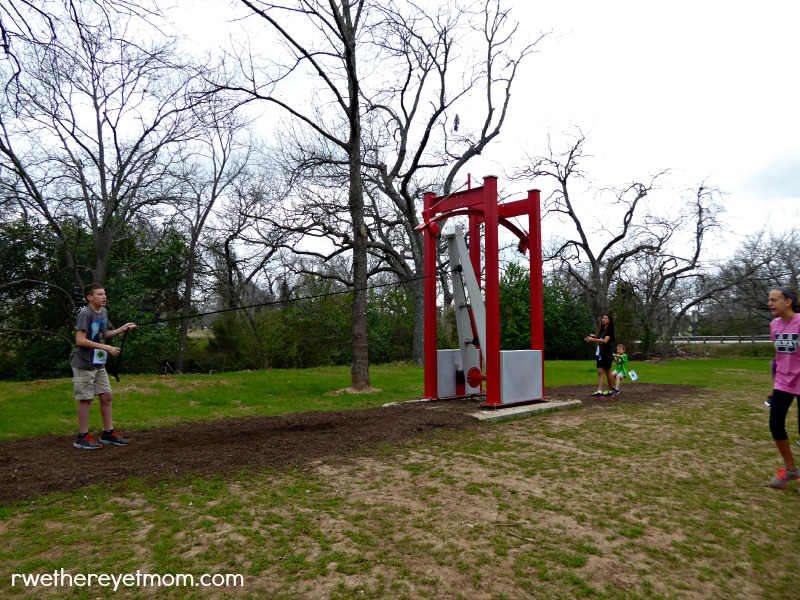 Make sure you go outside to try your hand at the giant lever. We had fun lining up in different ways on either side to pull.
Fractalarium
Do you know what Romanesco Broccoli is?  Don't worry, neither did I.  But you can learn all about the combination of biology & math as the broccoli takes the form of a fractal – a complex geometrical shape that looks almost the same at every scale factor. While we didn't completely understand it, it was beautiful to look at.
Kinetics Sculpture
This amazing art fixture in the backyard of the museum held my kids attention for so long.  They were fascinated with following the balls and changing their path when they could.  It's even mesmerizing for adults!
3D Printer
While this picture doesn't show much, it does show how great the docents at the museum are.  My 5 year old was fascinated with watching the 3D printer make a shark.  He asked a ton of questions and she even let him choose what to make next.  We walked away with him asking for a 3D printer for his birthday…..
There are many more exhibits that incorporate biology, DNA sequencing, coding and other incredible concepts.  And we just missed the 3D movie that I hear is really good as well.  Lastly, there was a long line at the Lady Bird Lane Cafe – a small farm-to-table restaurant to have lunch in.
This family throughly enjoyed the Hill Country Science Mill and we do plan to go back and visit to get more time at all of the exhibits.  Both of my older kids found exhibits that they really spent time at and enjoyed figuring it out.  I love that there is a museum that takes the learning a step further and engages them.  We think it's a welcome addition to the area.  Scratch that.  It's a much needed addition to the area. 
Texas Travel Facts for Hill Country Science Mill
Location: 101 S. Lady Bird Lane (Address for mapping: W Main St & S Nugent Ave)Johnson City, Texas 78636
Hours: Wed-Sat: 10am – 4pm
Sun: Noon-4pm
Closed Mondays & Tuesdays
Admission: Under 2 years old – free
Ages 2-18 (or with student ID) – $6.50
Adult – $8.00
Seniors (65+) and Military – $6.00
Length of Time: 2+ hours
Good to Know Before You Go: Small kids have less exhibits than older kids do; picnic tables in back to each lunch on; free parking
Website: http://www.sciencemill.org
Disclosure: My family & I were invited to visit Hill Country Science Mill. I was not compensated for this article.  All opinions are my own.