Who's excited about the Holidays in Central Texas? Though we may not get the wintry-white blanket our friends in the north do for the holiday season, we still find plenty of ways to celebrate! We have some fun events happening this season to celebrate the Holidays.  Get your calendars out, cause here are the Top 28 Holiday Events in Austin & Central Texas for 2019!
The Top Holiday Events in Austin & Central Texas is sponsored by the Austin Steam Train.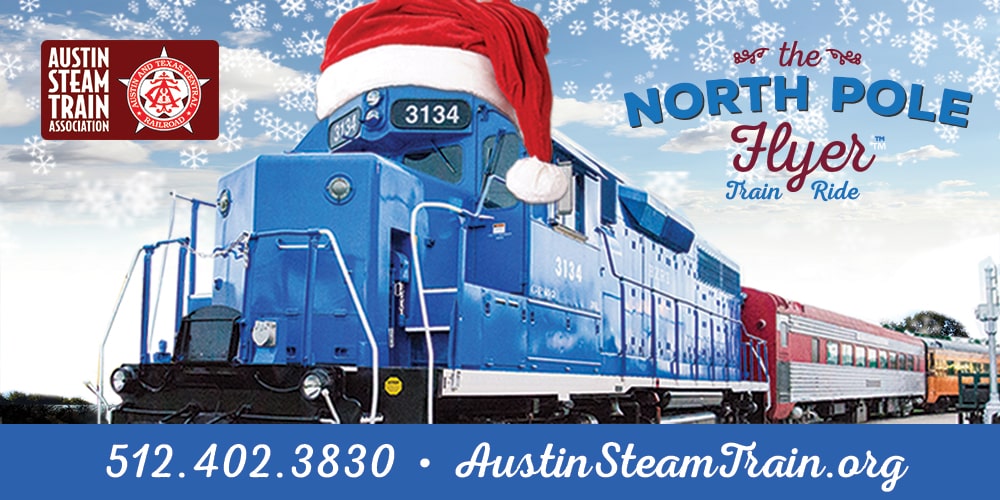 The North Pole Flyer is a special 2 hour excursion on a real train which features a visit from Santa and Mrs. Claus, hot cocoa, a holiday cookie, and a live reading of the railroad's Christmas Story! Santa will spend time in each car to pose for photographs before handing out a gift to each child. Find out more!
Santa's Ranch
New Braunfels, Texas
November 8, 2019 – January 4, 2020
A drive-thru Christmas Light Park is located just 30 minutes south of Austin on I-35. With over 1 million lights and 100 displays & animations, the one mile drive thru park is seen from the comfort of your own vehicle.
---
The 2 hour, round trip train ride on the historic Bertram Flyer includes story-time, cookies, and a visit from both Mrs. Claus and Santa Claus!
---
I'll Be Home for Christmas
A Christmas Affair 2019 ~ Palmer Events Center
The Junior League of Austin
November 20-24, 2019
A shopping event like no other, this 5 day event puts everyone in the Holiday mood! The event consists of 4 full market days with over 200 local and national vendors. There are some really fun children's events too – Enjoy breakfast or brunch with Santa, a teen/tween party, and photos with Santa all weekend long!
---
This Christmas tale unfolds on ZACH's Topfer Theatre the entire month of December. We saw it last year and it's perfect for the whole family – so much fun with modern songs twisted into this classic tale. I couldn't think of a more fun date night or family night!
---
Mozart's Coffee Holiday Lights Show
Mozart's Coffee
November 21 – January 5, 2019
Don't miss the fantastic light show at Mozart's Coffee this year! This free show is each evening, every hour on the hour.
---
Texas Hill Country Regional Christmas Lighting Trail
Hill Country of Texas (various cities)
November 22 – January 1, 2019
10 different communities in the Hill Country are participating on the trail this year and have events planned every weekend from Thanksgiving until Christmas. Some of our favorites include the Christmas Walkway of Lights in Marble Falls and Main Street Bethlehem in Burnet. Visit the website to see specifics.
---
Tree Lighting & Santa's Arrival
Hill Country Galleria
November 23, 2019
Enjoy the Hill Country Galleria's Tree Lighting & Santa's Arrival with face painting, fireworks, and special concert!
---
Gingerbread Village at Four Seasons
Four Seasons Hotel Austin
November 25- December 25, 2019
Each year, the Four Seasons Austin Pastry Chefs create a wonderful gingerbread village in their lobby for us to enjoy – and every year, it's a fun theme! Don't miss this year's: "Friendship" There are 2 Open Houses set for you to meet the chef behind the village and enjoy complimentary hot apple cider and festive cookies.
---
Elgin CHRISTmas Tree Farm
Elgin Tree Farm
November 29 – December 22, 2019
Take the family out this year to hand pick your Christmas Tree at an actual Tree Farm. In additional to getting a tree, you can enjoy a scenic hayride, animals, crazy maze & playground. Here is our experience.
---
Lost Pines Christmas
Bastrop, TX
November 29-December 31, 2019
There are a variety of fun events that happen in Bastrop that are fun for the whole family – from a Lighted Christmas Parade, the River of Lights, Santa visits, Ice Skating and more.
---
Ice Skating on the Rooftop
Whole Foods
November 29, 2019 – January 1, 2019
There is nothing like ice skating outdoors in Austin – and did I mention it's on a rooftop in downtown? Yep, Whole Foods offers this fun family activity every year!
---
It's a Wonderful Life Classic Radiocast
Penfold Theatre Company
November 29 – December 21, 2019
Five actors bring this classic tale to life at Round Rock's Old Setters Hall located at Old Settlers Park. A fun evening for the whole family – check out the Christmas Towne and make a night of it!
---
Chuy's Giving to Children Christmas Parade
Downtown Austin
November 30, 2019
Starting at 11 am and marching down Congress Ave, the Chuy's Giving to Children Christmas Parade collects toys for Operation Blue Santa. Bring a toy to give to the marchers in the parade and enjoy big inflatable balloons, holiday floats and children's characters.
---
Santa on the Terrace
The Long Center
November 30, 2019
Save the Date and head to the Long Center to meet with Santa. It's the BEST location in town to meet him – those pictures with Austin in the background are unbeatable!
---
Holiday Events in Austin: December
Four Seasons Hotel Austin's Teddy Bear Teas
Four Seasons Hotel Austin
December 1, 8, & 15, 2019
Start a new Holiday tradition with your children – enjoy a tea service with drinks and sweets, caroling, and a reading by Santa on weekend afternoons.
---
Sights & Sounds of Christmas
San Marcos, TX
December 4-7 and 11-14, 2019
This wonderful holiday event features a running event, ice skating, Santa, shopping, food, live music, Town of Bethlehem, and a carnival.
---
A Dickens Christmas in Lockhart
Lockhart, TX
December 7, 2019
The town of Lockhart, Texas is transformed into a Dickens' style Christmas starting with a Lighted Christmas Parade on Friday night. The fun continues on Saturday with an all-day festival that ends with the lighting of a Yule Log on Saturday night.
---
Georgetown Christmas Stroll
Georgetown, TX
December 6 & 7, 2019
Downtown Georgetown Square transforms into a Norman Rockwell-picturesque scene with window displays, carolers, yummy goodies and local vendors. Visit the live nativity at the Bethlehem Village, tease the Grinch at the Whoo-Village and Santa makes an appearance at the parade on Saturday.
---
Victorian Christmas Celebration
Pioneer Farms, Austin, TX
December 1 – 23, 2019 (various days)
An interactive tour of Pioneer Farms, 12 Days of Christmas Game, and "A Prairie Christmas Carol".
---
Weihnachtsmarkt, a German Christmas Market
German Free School
December 7, 2019
The German Texan Heritage Society offers shoppers hand-made imported crafts including plenty of Christmas themed decorations such as nutcrackers and ornaments. With a visit from both the historic American Santa Claus and the traditional German Sankt Nikolas, this is a fun event for the children too.
---
Downtown Austin's Holiday Stroll
Downtown Austin, TX
December 7, 2019
A free, family-fun event that starts with a group sing-along at the Capitol in Downtown Austin. As that is wrapping up, the Capitol Holiday tree is lite and Congress Ave becomes alive with music, art, shopping, & more.
---
Christmas Family Night
Round Rock, TX
December 6, 2019
Celebrate the season with a free night in Round Rock. Tiny homes all over downtown feature free crafts, face-painting, puppet shows, and more. Enjoy free refreshments and live entertainment.
---
Holiday Tree Lighting & Santa's Workshop
Cedar Park, TX
December 6, 2019
Over 65,000 lights illuminate the largest Live Oak Tree in Cedar Park. Santa's Workshop will kickoff immediately following the tree lighting ceremony. Enjoy live music, carriage rides, games & prizes, inflatables, photos with Santa (bring your own camera), and arts & crafts projects. Bring the whole family for what promises to be a festive evening. Free Admission.
---
The Austin Ballet produces the longest-running production of The Nutcracker in Texas. Celebrating 56 years, I can't think of a sweeter Christmas performance to take your children to.
---
Austin Thinkery Gingerbread House Workshops
Thinkery
December 7-23, 2019 (various dates)
Come make & decorate your very own gingerbread house and leave the mess somewhere other than your house! These workshops fill up fast, so make your reservation today!
---
Zilker Trail of Lights
Zilker Park
December 10-23, 2019
One of Austin's most anticipated events is back this year for an even longer run! Millions of holiday lights and displays line the trail, creating a fun experience for the whole family. Each night will feature performances from local dance companies, bands, and singers. Purchase special "ZIP" passes online to get in a full 45 minutes earlier than everyone else!
---
Armadillo Christmas Bazaar
Palmer Events Center
December 13-23, 2019
Hot music, fine art and cold beer make the Armadillo Christmas Bazaar the place where Austin shops in the giving season. The show is actually two events in one: an art fair and music festival with a vibrant community-driven vibe.
---
Austin families are invited to hear memorable Christmas music played by many different forms of tubas and euphoniums FREE. It will be fun for all ages.
---
Are you new to R We There Yet Mom?
Welcome! We are a website dedicated to having fun and making memories in Central Texas and beyond! We love to travel and give you inspiration to take trips with your family as well.
But we know we can't always be traveling (or maybe we can??), so while we are at home, we have lots of fun activities for you to try in the Central Texas area.
Are you home for the Holidays? Check out all these fun events we have found happening over the next few months in the Austin area!
Happy Holidays! We hope our list of Holidays in Austin will help make it merry & bright!
Are you looking to see what else is going on in Texas over the Holidays? Check out these events:
Top 10 Holiday Events in Dallas/Fort Worth
Top 10 Holiday Events in San Antonio
Don't miss these great articles on more Holiday Events in Austin!
28 Holiday Events in Austin
10 Things You Must See at Austin's Trail of Lights this Year
5 Tips for Austin's Trail of Lights
Holiday Light Displays in Austin
ZACH Theatre's A Christmas Carol
Where to Find A LIVE Christmas Tree in Austin
Zilker Holiday Tree
Where to Find Santa Claus in Austin
And we love our BIG LIST of Things to Do in Austin!! Try to check off some of these over the Holiday season as well!
And don't miss any of the spectacular Holiday Light Displays that you can find in the Austin area this season! We have a comprehensive list to help you find them all!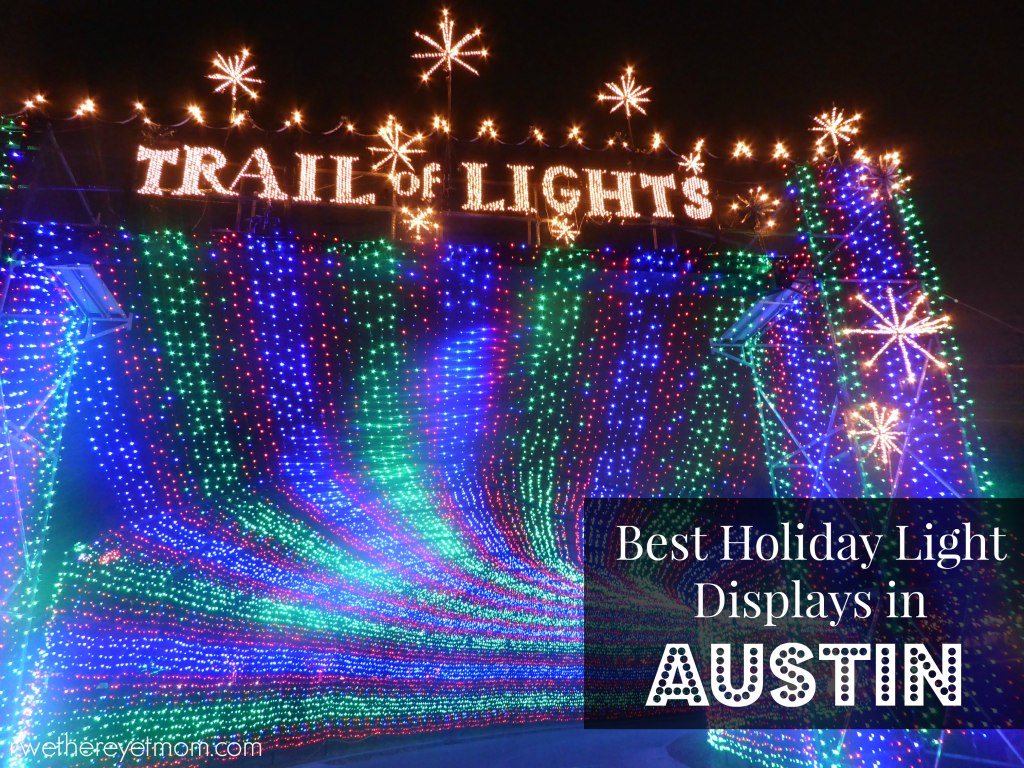 Best Holiday Light Displays in Austin ,Texas
---
What Holiday Events in Austin will you go to this year?