Happy Holidays friends! Have you seen the newest Disney movie, Moana yet? Chances are, you have and your now looking for the perfect gift for your little heroine or hero that loved the movie.  Here is our list of items Moana-lovers really want under the tree this year. Take a look at our Holiday Gift Guide for Moana: Moana-Inspired Gifts.
Holiday Gift Guide for Moana:
Moana-Inspired Gifts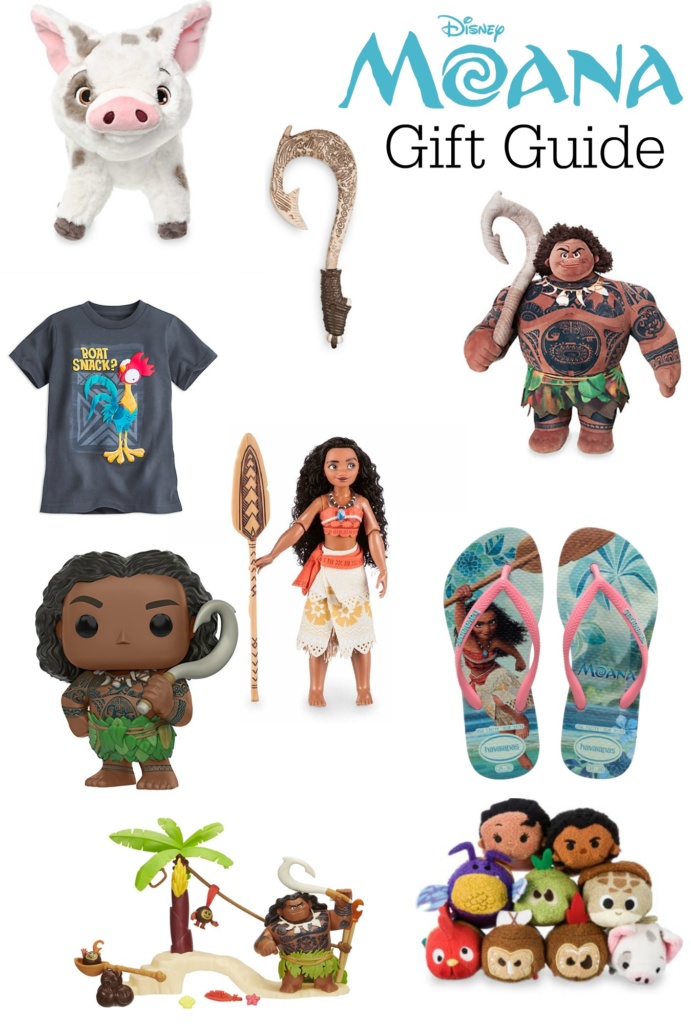 ---
Holiday Gift Guide for Moana: Moana-Inspired Gifts 
Now your children can play with their very own Moana – take her on adventures, wherever that little voice inside calls…..
My little guy has enjoyed running around the house trying to shape-shift ever since I brought this home from the Moana Red Carpet Premiere.
This little 15″ guy is adorably soft (his hair is like silk!) and the tattoos are all detailed exactly from the movie!
Maui the Demigod's Kakamora Adventure
Escape the Kakamora's all over again with this fun playset.
I've caught everyone in my family, including my teenage son singing along to "You're Welcome." The deluxe edition includes demos of Lin-Manuel Miranda and they are fantastic!
My son's favorite character was HeiHei – he stole the show for him – so I grabbed him this funny tee.
Gotta love a great pair of flip flops – and Havaianas do make a comfortable pair (I have some!).  The Moana design on these are so fun.
A perfect stocking stuffer or buy the whole collection.  My teen wanted every one of these guys.
For anyone who collects POP figures, you must add this Maui to their collection.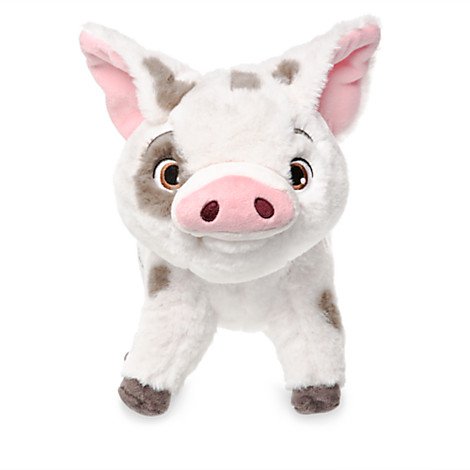 HeiHei may have been the comedic sidekick of the movie, but Pua stole the hearts pf everyone. I know one teen girl who would love to have her very own Pua.
---
Moana is in theaters now!
Now that Moana is out in theaters, I can talk to my friends about it and I love hearing their reaction – how it's such a great movie for everyone in the family. If you haven't had a chance to see it yet, go this week!
Follow all the fun here:
Other Articles from the Moana, The BFG Blu-ray Event, ABC TV Event & Stuck in the Middle Event you may enjoy:
I'm Heading to the #MoanaEvent
Walk the Moana Red Carpet with Me
She's Not a Princess Mom, She's a Hero!
Exclusive Interview with Moana's Maui, The Rock
That Time I Met Musical Genius Lin-Manuel Miranda
Exclusive Interview with Moana's Auli'i Carvalho
A Conversation with the Cast of Disney Channel's Stuck in the Middle
Holiday Gift Guide for Moana: Moana-Inspired Gifts
The BFG Blu-Ray: A Perfect Holiday Gift
Behind the Scenes on the Set of Speechless
A Conversation with The BFG Roald Dahl's Daughter, Lucy Dahl
Behind the Scenes on the Set of ABC's Dr. Ken
Nicole Scherzinger Had To Play the Role of Moana's Mother
6 Fun Facts About Moana from Directors Ron Musker & John Clements
---
Thanks for taking a look at our Holiday Gift Guide for Moana! We hope you found some fun Moana-inspired ideas for the kids in your life!
More Great Holiday Gift Guides
Holiday Gift Guide for Moms
Holiday Gift Guide for Dads
Holiday Gift Guide for Kids
Holiday Gift Guide for Teens
Holiday Gift Guide for Travelers
Disclosure: Some items on our Holiday Gift Guide for Moana may contain affiliate links. They help pay for the coffee that keeps the fun content turning out each week. Thanks!