Hyatt Regency Hill Country Resort and Spa, located 20 minutes from downtown San Antonio, recently announced a summer Sunday Funday deal that offers big savings for travelers. Through the promotion, guests who book a two-night stay on a Sunday and Monday between now and August 25, 2019 can receive nightly rates as low as $152.
A few weeks ago, I booked the Sunday Funday rate at Hyatt Regency Hill Country for my son's 11th birthday, which happened to fall on a Sunday. I drove the short distance from Austin to San Antonio with three of my children, and we enjoyed a two-day birthday celebration. Swimming, floating, biking, and making campfire s'mores at the resort certainly made for a memorable family party!
Tucked away on 300 acres of the historic Rogers-Wiseman family ranch, Hyatt Regency Hill Country is a Texas paradise, with towering trees shading a gorgeous lazy river. We floated around the resort's Ramblin' River for hours, the kids making friends along the way. They cooked up plans with their new vacation buddies and headed off to explore the rest of the five-acre water park, including the water slide, small sandy beach, activity pool, and waterfall jacuzzi.
Once the kids started running off with newfound friends, I was glad we had reserved a cabana for the day to serve as home base. The cabana provided shade, with a fan, and a fridge stocked with cold drinks and fresh fruit. There was also a television with seemingly endless channels, which the kids enjoyed watching while eating lunch and dinner.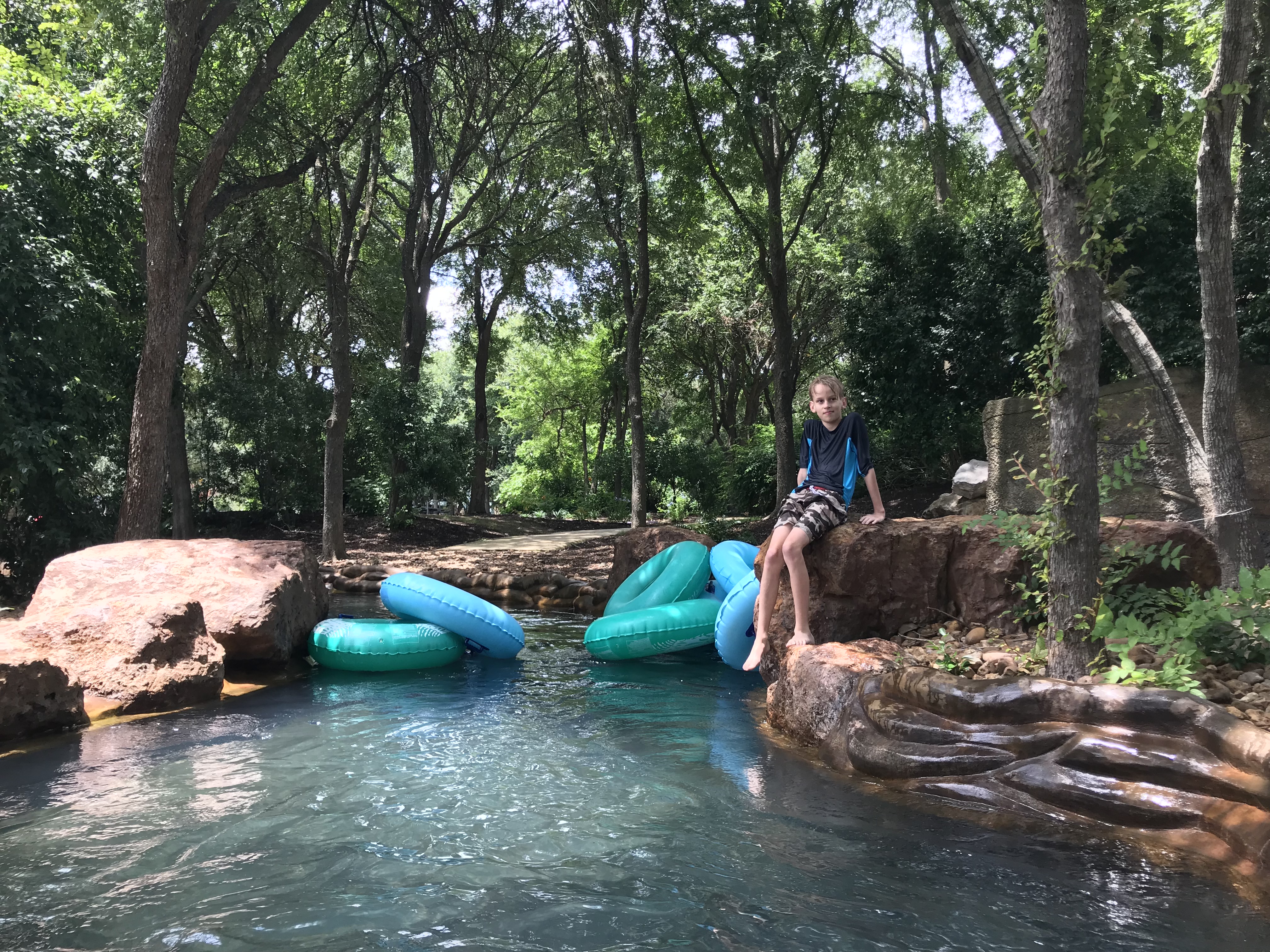 Hyatt Regency Hill Country Resort and Spa was recognized by U.S. News & World Report as one of the "Best Pool Hotels" in the country, and for good reason. The resort offers tons of other activities—free bicycle rentals, a FlowRider® wave machine, face painting, tetherball, badminton, and ping pong—but my kids were always drawn back to the water.
There's nothing better than tubing on a hot summer day. Hyatt Regency Hill Country gives you the experience of Central Texas tubing, with none of the effort. There is zero-entry beach access, the water is shallow enough for a six-year-old to stand in, and there are no snakes (like you occasionally find in the natural Comal and Guadalupe Rivers).
If you have a partner traveling with you, you can also make plans to sneak away to the adult pool for a little while. I was the only adult on our adventure, so I just looked longingly at the adults only pool from afar.
But, in the spirit of sneaking away, I did manage a quick visit to the full-service Windflower – The Hill Country Spa. Thanks to Camp Hyatt, where my youngest spent a supervised morning of play, I was able to have a massage on Monday. It was heavenly. If you book a treatment at the spa, you are invited to use the spa facilities at any time during your stay. I only wish I'd had more kid-free time, because the Windflower is an exceptional spa. The bar has complimentary muffins, mimosas, wine, juice and coffee. There are lounge swings under shady trees. And there is another adults only pool, with waiter service. This lovely retreat will have you longing to plan a return trip to the resort ASAP.
Sunday Funday rates at Hyatt Regency Hill Country Resort and Spa are available by visiting the resort's website at HyattRegencyHillCountry.com or by calling 210-647-1234. Keep in mind that you will also need to pay the daily resort fee and a daily fee for self-parking or valet. Book a two-night stay today and make plans to get away before the end of summer!