Fresh off my trip to LA for the Solo: A Star Wars Story World Premiere, I have been invited back for another trip!  I'm going to see Incredibles 2, interview the talent that made the film, and spend a day at Disneyland for PixarFest! Follow along with me next week: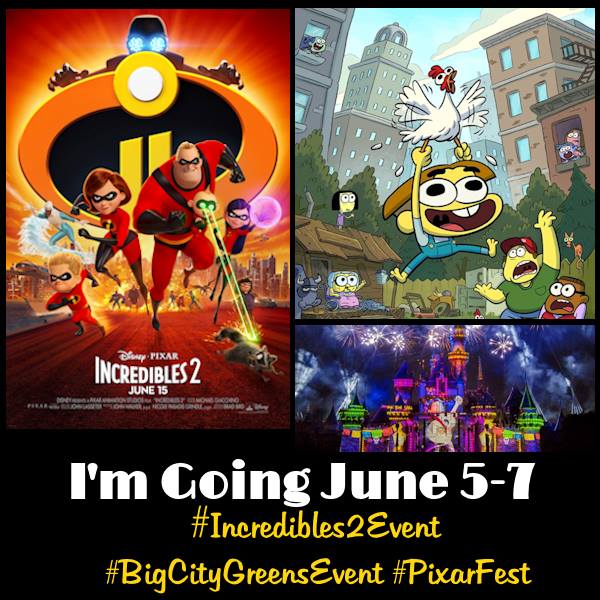 I was so excited to receive the invitation for this trip.  My kids grew up on the Incredibles – the older two knew most of the words and my son was Mr. Incredible for Halloween one year.  AS soon as they hear the announcement that there was going to be an Incredibles 2, they were stalking all the Pixar & Disney accounts to get any scoop on it.
And when I told them I had seen a sneak peek of it at D23 Expo last summer, they were dying to know more.  I mean, the math comment has every parent in stitches, am I right?
PixarFest at Disneyland & California Adventure
The fun begins with eleven hours – YES ELEVEN – discovering all things PixarFest at Disneyland and Disney's California Adventure in Anaheim, CA.
I am so excited to be able to see some of the fun events happening this summer at the parks, including the Pixar Play Parade and Together Forever – A Pixar Nighttime Spectacular. I mean, look at the Up-house coming over the castle!! I'm in tears already!
Make sure you are following me on my social channels next Tuesday as I being you all the fun with these hashtags: #Incredibles2Event #PixarFest
Incredibles 2 Screening & Interviews
Everyone's favorite family of superheroes is back in "Incredibles 2" – but this time Helen (voice of Holly Hunter) is in the spotlight, leaving Bob (voice of Craig T. Nelson) at home with Violet (voice of Sarah Vowell) and Dash (voice of Huck Milner) to navigate the day-to-day heroics of "normal" life. It's a tough transition for everyone, made tougher by the fact that the family is still unaware of baby Jack-Jack's emerging superpowers. When a new villain hatches a brilliant and dangerous plot, the family and Frozone (voice of Samuel L. Jackson) must find a way to work together again—which is easier said than done, even when they're all Incredible.
I can not wait to see this movie. We just watched Incredibles this week to be ready for Incredibles 2 and I am SO EXCITED that it picks up right where we left off.
After we screen the movie, we will have the chance to interview several of the cast members that voiced these great characters:
Craig T. Nelson (voice of "Bob Parr / Mr. Incredible") & Holly Hunter ("Helen Parr / Elastigirl")
Samuel L. Jackson (voice of "Lucius Best / Frozone")