We are in love with our Instant Pot and are making new things with it all the time! Here are 10 Instant Pot Tips for New Owners!
Did you just buy an Instant Pot but it has been sitting in the box ever since it arrived? Are you intimidated by all the buttons….or even the owner's manual?  Don't be! Pull that guy out an put it to use! We have made the BEST recipes in our Instant Pot and I am kicking myself for not getting one sooner.  It's not hard to use at all…..in fact, I think it's easier than making dinner on the stove.
If you are a new Instant Pot owner, check out these 10 tips to help you get started.
10 Instant Pot Tips for New Owners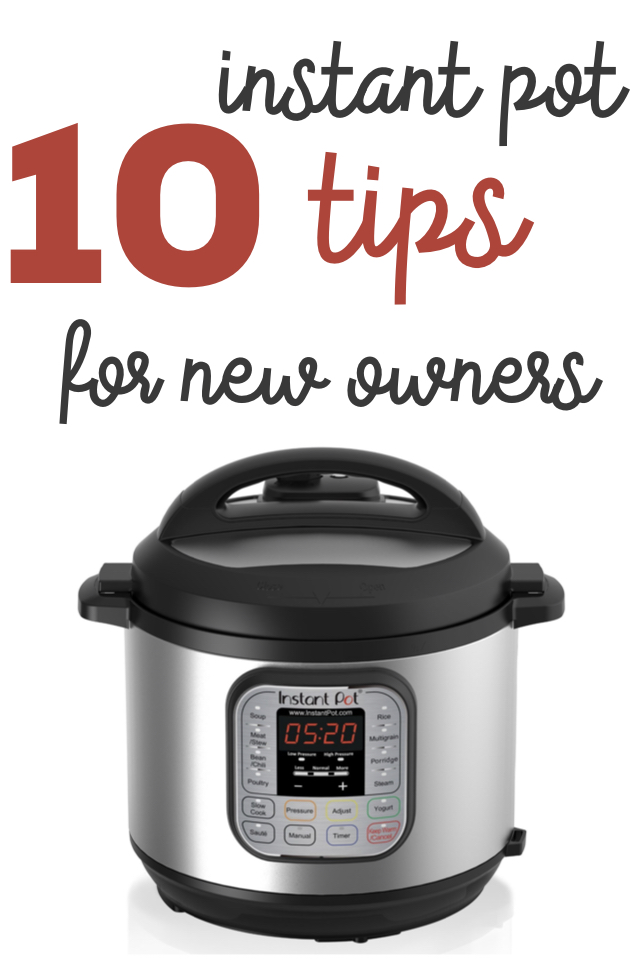 Instant Pot Tips:

Don't look at the Owner's Manuel
This is such hard advice to give, but I found the owner's manual for the instant pot to be overwhelming.  I don't know much about pressure cookers (and I don't need to to make great recipes in my IP), so I put the owner's manual down as to not get intimidated.
Instant Pot Tips: YouTube Videos
One of the best pieces of advice I received when I first got my Instant Pot was to watch a few YouTube videos of people cooking with their Instant Pot.  Watching how simple it was calmed all my fears about it being too complex to use. Here's a great example.
Instant Pot Tips: Join a Facebook Group
I also joined a Facebook Group for Instant Pot Users to get advice and find new recipe ideas.  Most groups on Facebook were very large, so I ended up creating my own.  Feel free to join the Instant Pot Groupies group!
Instant Pot Tips: Always add 10-20 minutes 
Always – ALWAYS – add about 10-20 minutes time to your cook time.  It takes 10-20 minutes for the Instant Pot to get up to pressure, depending on how much is in the cooker, before the cooking even begins.  And some recipes call for a natural pressure release, which can take 10-15 minutes at the end.
Instant Pot Tips: Saute Mode
Here's a quick trick to shave off some of the cook time: Turn the Instant Pot to "Saute" while you're prepping or adding ingredients (make sure you have some liquid or meat in there) to heat up & shorten the come-to-pressure time. Just press "Cancel" when you're ready to start the regular cooking cycle.
Instant Pot Tips: Cook Everything in the Instant Pot
There is no need to brown your veggies or meat in a separate pan – this is a great time to use the Saute mode to help heat the pot up.  I add a bit of olive oil in the pan and brown my meat right in it.  It's a great way to have the natural juices in the pan to start your recipe off with too.
Instant Pot Tips:

Quick Release vs. Manual Release
One of the most intimidating aspects of the Instant Pot is managing the pressure – but it doesn't need to be. The difference between quick release & manual release is if you release the pressure yourself by turning the knob on the lid to "release" (QUICK) or allowing the pot to manually bring the pressure down (MANUAL).  The manual takes about 10-15 minutes and it happens when the cook time is over and goes into the Warm Mode.  It will not shut off automatically, but you can see the value sink down.  Also, the pot will generally not let you open the lid unless the pressure is released.
A good rule of thumb is to Quick release when cooking veggies or seafood and Manual release with soups & stews.  Truth be told, I have Quick released everything I have cooked and it all has come out delicious!
****Make sure you always cook with the knob turned to "seal" so the pressure can build.
Instant Pot Tips: Wash the Sealing Ring or Buy an Extra
We learned the hard way that the plastic sealing ring will absorb the odors of the food you are cooking, as it smells like tacos every time we open our Instant Pot.  You can avoid this by taking it off when washing the pot and giving it a good cleaning.  Or buy extras to use for different types of meals.
Instant Pot Tips:

Don't Overdo the Liquid
Keep in mind that there will be less evaporation of your food when cooking in the Instant Pot, so you need less cooking liquid than when cooking in a conventional pot. The Instant Pot recommendation is at least 1 cup of liquid. Never fill the pot more than halfway with liquid.
Instant Pot Tips:

Start with an Easy Recipe
The first recipe I tried was beef stew.  A plain & simple beef stew.  I watched a YouTube video and adapted the recipe a bit to fit my family.  Here's what to do:
Put 2 lbs. of stew meat, 4-6 peeled & sliced potatoes (depends on how many your family likes), and a bag of petite baby carrots in the Instant Pot. Add one packet of onion soup mix & 4 cups of beef broth and salt & pepper for flavor. Make sure the pressure valve is on seal, close the lid and press "Meat/Stew". When the timer goes off, release the valve & add a bit of flour & milk to thicken it. That's it. Best. Stew. Ever.
If you have been siting on the fence on wether or not to purchase an Instant Pot, I hope I have been able to convince you. The Instant Pot really is a very easy machine to use.  I am not a great cook – n fact I screw up recipes all too often – but the Instant Pot has revolutionized my outlook on cooking.  I actually find I look forward to trying new recipes (we even did BBQ ribs this week y'all!) and my family are finally raving about my cooking.
Give it a try – use these tips and don't be intimidated!