This past weekend, I was at the D23 Expo in Anaheim, California where I heard all the announcements and presentations from Disney, Marvel Studios and Lucasfilm. We also had a chance to jump into a giant money bin for DuckTales! Say what? Yes! Read on…..

Tell me your mind doesn't automatically go to the DuckTales theme song as soon as you saw this picture?
DuckTales…. ah wooo-oooh!
You know it did.
Every child in the 90's knew this theme song as they watched the classic cartoon about Donald Duck & his 3 nephews that got in to mischief. They were always having so much fun! Well hold onto your hats DuckTales-lovers cause it's coming back!
The new DuckTales will debut with an hour-long movie on Saturday, August 12 on Disney XD that will be presented for 24 consecutive hours. 
Following the premiere, the DuckTales series will begin with two new episodes on Saturday, September 23. The episodes will also be available on the Disney XD app and Disney XD VOD on these dates.
Based on the Emmy Award-winning series treasured by a generation of viewers, the new animated comedy-adventure series chronicles the high-flying adventures of Duckburg's most famous trillionaire Scrooge McDuck, his mischief-making triplet grandnephews, Huey, Dewey and Louie, temperamental nephew Donald Duck and the trusted McDuck Manor team: big-hearted, fearless chauffer/pilot Launchpad McQuack, no-nonsense, housekeeper Mrs. Beakley, and Mrs. Beakley's granddaughter, Webby Vanderquack, resident adventurer and the triplet's newfound fierce friend.

https://www.youtube.com/watch?v=3NPoyDlit1g
DuckTales Fun at the D23 Expo
While at the D23 Expo last weekend, we had an opportunity to screen the first half of the premiere episode and it is really cute.  In fact, we were the very first audience to see it! Executive Producer Matt Youngberg and Co-Producer/Story Editor Francisco Angones were excited to show it to us.  They both were huge fans of the original show and are thrilled to be able to bring it back to a whole new audience.  We had a chance for a quick Q&A with them after the screening that I will be writing about soon, but trust me, if you are a fan, you are going to want to hear what they had to say.
And here's where the money pit comes into play…..
To get fans excited for the new show, a huge pit of "gold coins" was built on the floor of the D23 Expo and fans were invited to jump in! We then were able to take home a professional 180-degree video capture!
This my friends was SUCH A FUN EXPERIENCE!! Honestly, a little intimidating too when you get to the platform to jump in! And as much fun as jumping in was, I was laughing trying to get out of it – I mean, come on, climbing out of a big gold mine pit is no easy (or graceful) feat.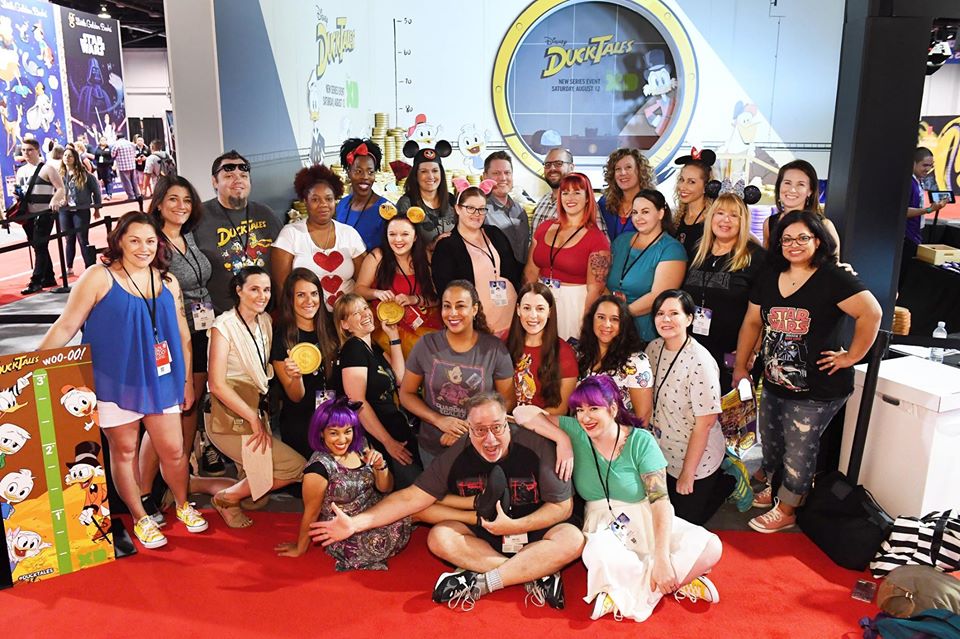 I can't wait to bring you more converge and our conversation with Matt & Francisco! In the meantime, set your DVRs for August 12 and keep humming that song……
DuckTales…. ah wooo-oooh!
DuckTales Premieres August 12 on DisneyXD
Other Fun News from the D23 Expo
Live Action Films Panel from D23 Expo
News from the Pixar & Walt Disney Animation Panel from D23 Expo
7 Disney Parks Rumors Confirmed at D23 Expo
Jump into Scrooge McDuck's Money Bin with me for DuckTales!
6 Reasons Why You Will Want to Attend D23 Expo in 2019
9 Things You Don't Want to Miss at the Disneyland's Summer of Heroes
Disclosure: I was invited by Disney to attend the D23 Expo, learn about DuckTales and visit Disneyland's Summer of Heroes. All opinions are my own.