This week, I had the amazing experience to attend the Guardians of the Galaxy Vol 2 Press Junket in Los Angeles, which included the World Premiere of the movie, as well as interviews with Chris Pratt, Zoe Saldana, and the rest of the cast.  Take a peek at what Kurt Russell said about his time as Ego in my exclusive interview. 
SPOILER ALERT: FYI Friends! The below article contains a few spoilers from Guardians of the Galaxy Vol 2.  If you haven't seen the movie yet, you will want to bookmark this article to read after you do….cause it's GOOD STUFF. 
Kurt Russell. There are very few actors in Hollywood that command such modest attention as Mr. Kurt Russell does. Unassuming. Powerful. And still so very handsome. It was an absolute pleasure to have the opportunity to interview Kurt Russell for Guardians of the Galaxy Vol 2 a few weeks ago.
Known best for his roles in Silkwood, Tombstone, Backdraft, and Overboard (just a few of my favorites), Russell was cast in the role of Star-Lord's father, Ego in Guardians of the Galaxy Vol 2. With a little encouragement by Chris Pratt, he was added to the cast. As Pratt describes it:
Everyone on my team said, "He's such a great dude." And, he really is, man. I've even heard a few people say, "It really feels like you guys could be father and son." We share a lot of the same passions. He's a really cool guy. He's really an open book. You definitely know where you stand with him. He tells it like it is. And, I really like that.
You can't help but naturally be attracted to someone who is described like that. And he really was just like Pratt describes him. He came into the interview room and decided rather than sit down, he wanted to see all of us and stood the entire interview, which immediately put us all at ease.
And then Kurt Russell's responsible for killing the movie.
How did you get involved with Guardians of the Galaxy?
I was doing this publicity stunt for Tarantino's movie, The Hateful Eight, and one day all of a sudden, this [my phone] started to go off. Which is very rare for me. I don't have a lot of telephone action. And they were all the same thing. "Oh wait, this is great, this is exciting, are you gonna do this?" And then the people in the interview started to ask me, "Are you going to do this Guardians of the Galaxy? Are you gonna play Peter Quill's father?"
I literally had no idea what they were talking about because I hadn't seen the movie. And I just said, no.
And the next day I got the official word and I said well guys, I need to read it and I need to see the movie. And when I saw the movie right away I fell in love with it and it just got better and better. But more than anything else I was watching Chris and saying, yeah, I get that- I get that energy. I get that, kinda that style.
So because I was going to do the movie, because of the reaction that I got, I was concerned that the audience would go in thinking, 'We're so happy that he's gonna have adventures with his dad, and it's Kurt Russell…and now I hate this movie.' And then Kurt Russell's responsible for killing the movie.
Anyway, started talking about it and I felt very comfortable with James [Gunn]. I thought his hand was really solidly on it. He really knew what he was doing. And then, of course, working with Chris primarily, that was just right. As soon as Chris and I saw each other we just kinda smiled, gave each other a hug and said this is clearly right.
Do you think it turned out the way you wanted it to as far as showing enough comedy and everything else?
Yeah, it was important. For instance, the one thing that I would like to have seen is about fifteen seconds more of us playing ball.
Which all of us moms all sighed and agreed with him…..AWWWW.
However, your reaction is proof that you shouldn't do that. Because if you go to far with that relationship there's going to be something very wrong with this. You know, when it is a son killing his father. So you have to be very careful with that. When you watch the movie that doesn't look like a problem. It's perfect. You hate him, you wanted to get him.
Let's do Overboard again. Let's do Big Trouble In Little China over. Let's do Tombstone again.
Have you found that the Marvel fan base is different than other types of fans that you've encountered doing different types of films?
I don't know what the reaction will be. I do think that Disney [movies], having done them, there's a different energy to these movies. I think the trick is, and what I've tried to do all my life is, I was just an actor who didn't wanna do the same thing. For some reason that just repulsed me. In Hollywood if you have something that's successful, the next thirty scripts you read are gonna be in that zone. So I disappointed a lot of people by saying, 'I get why you want me to do it. But, if you'll notice, I just did that. I don't wanna do that now.'
And in doing that you create a whiplash sort of career where they can't pigeonhole you. Even critics and reviewers are not necessarily happy about that. The tendency is, if you see something you like, you want to see more of it. 'Let's do Overboard again. Let's do Big Trouble In Little China over. Let's do Tombstone again.' They've only done forty-six of Wyatt Earp and Doc Holliday thing. So my job was to skip around genres. Skip around characters. Find stories that I liked, that I wanted see. Characters that I wanted to play.
That's a weak-ass name
How much did you put of yourself in Ego? In your character?
I have a healthy ego. I do. That's important in our industry and as a human being to have control of your ego. But I think you should have a healthy one too. If you don't have a healthy one you're gonna have other problems.
Ego is…I love names and characters. You can go back through my litany of characters and you're gonna find at least twelve great names. I think that's important. And if they don't have a great name, I give 'em a great name. I was very disappointed with when I read this, the character's name was J'son. 'Jay-son.' And I said, that's a weak-ass name. And then later on being to find out that his name is actually Ego the Living Planet. And I went 'That's more like it.' So how much of myself is there? I don't know. Listen, if you're gonna play God let's go big. I think this movie has a lot to say about that. When you first meet him and the first thing out of his mouth is, 'my name is Ego.' He's very proud of that and you gotta understand that he's made everything in his life. And he chose to come to earth and look like Kurt Russell.
In the opening scene where you were younger, what was the process like?
That guy right there, his name is Dennis Liddiard. He's been my makeup man for twenty-eight years. We've done a lot of movies together where our goal was to, without the audience knowing it, help me arrive at what I need to do to set the tone for the character, the look for the character, the feel for the character. And I think we've achieved it many times. Very subtly. So much so that nobody knows what he did.
On this one, I'm really proud to point him out because we assumed that for that [scene] we were just going to do heavy CGI special effects like they normally do. And Dennis, said to James Gunn – 'I know his face really, really well. I can really do a lot here to bring him down.'
When he was done and when I got the right hair going, and when he got the wardrobe going, then the actor has the opportunity to see that, and begin to feel that and, in the case of yourself, say yeah, that's a younger me.
So I got to play younger. You lighten your voice, you move a little quicker, and you go to work with that. I think the reason this one worked is because there's not much CGI here.
Not much CGI needed when it's a legend like Kurt Russell. Our time with him went way to quickly as he was so easy to talk to and it seemed, eager to tell us more.
But in the meantime, make sure to see Kurt Russell play Peter Quill's father, Ego, in the new Guardians of the Galaxy Vol 2, out in theaters now!
---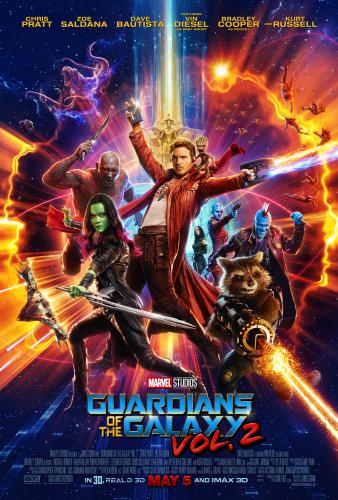 Guardians of the Galaxy Vol 2 is in theaters NOW!
Like GOTGVol2 on Facebook: https://www.facebook.com/guardiansofthegalaxy/
Follow GOTGVol2 on Twitter: https://twitter.com/Guardians
Follow GOTGVol2 on Instagram: https://www.instagram.com/guardiansofthegalaxy/
Visit the official GOTGVol2 website here: https://marvel.com/guardians
Other Articles from the Guardians of the Galaxy Vol 2 Event you may enjoy:
I'm Heading to LA for the Guardians of the Galaxy Vol 2 World Premiere!
Fun Facts About Born in China
That Time When the Dancing With the Stars Cast Taught Me How to Dance
My Purple Carpet Experience at the World Premiere of Guardians of the Galaxy Vol 2
Chris Pratt Reveals Peter Quill's Favorite Snack: Guardians of the Galaxy Vol 2 Easter Eggs
Radio Disney Music Awards
Disney Channel's Descendants 2 Spoilers
Zoe Saldana Reveals Why She'd Like a Break From Playing Kick Ass Science Fiction Females
Does American Housewife Katy Mixon Read Our Thoughts?
Dave Bautista: Guardians versus the Avengers
Meet the Ladies of Guardians of the Galaxy Vol 2: Karen Gillian, Pom Klementieff & Elizabeth Debicki
10 Guardians of the Galaxy Vol 2 Toys You Must Have
Disclaimer: Disney sent me to Los Angeles on an all-expenses paid press trip, in exchange for my coverage of the red carpet premiere of Guardians of the Galaxy Vol 2. All opinions are my own.