When most think of ziplining, they think you have to go on a tropical vacation to experience it. Not so Central Texas friends – Lake Travis Zipline Adventures is less than a 30 minute drive from downtown Austin and features the 3rd, the 2nd and the LONGEST zipline in Texas!! My children and I were able to experience it last week it is was just as my son describe it, "Best Day EVER!"
Lake Travis Zipline Adventures is on an isolated corner on the north side of Lake Travis. The course sits on 88 acres, with only 2% of the land actually developed for the ziplines. This is their 3rd season and they are quickly becoming more and more popular as they word gets out how fun this is.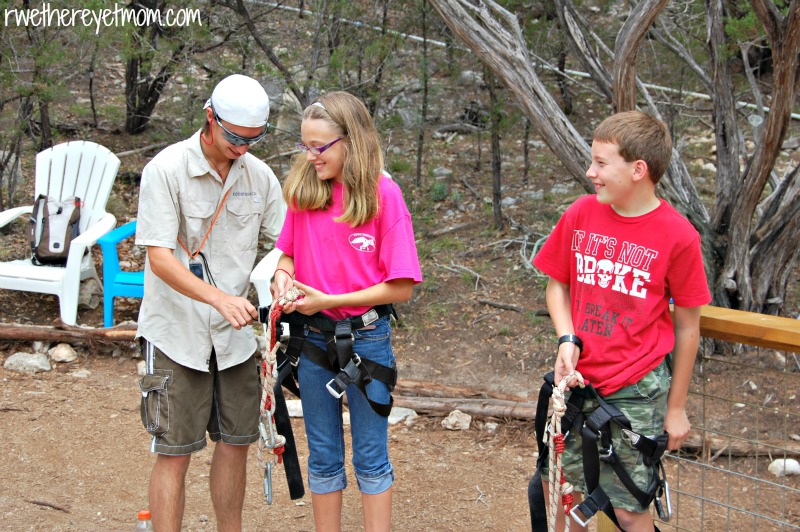 Each tour last 2 1/2 – 3 hours, depending on how many are in your tour. Once a few waivers are signed, you load up in a van for a quick drive to the marina. A fun boat ride over the the launch and you are at the "zipline island". Ok, so it's not really an island – but it feels so remote, let's just pretend it's one – ok?
The guides, I have to say, have the most fun job! They are entertaining yet there for your safety and they do an excellent job of that. After a few brief instructions, we gear up and head to our first zipline.
The first two are baby ziplines to get you ready for the biggies. These get the fear of what you are doing out of your system as there is a guide on each end helping you on and off. These lines allow you to relax and enjoy the experience.
And then you head to the 3rd zipline – one of the three big ones. My kids were fearless, asking the guides how they could go even faster. There was something about a cannonball and a pencil…..no thank you.
I just wanted to take my time and enjoy the amazing scenery. Even with Lake Travis down so low, the views were still amazing. It was an incredible feeling to be "flying" so high. And I really loved the length of the lines, it gave you plenty of opportunity to look around and enjoy.
Between the lines, there were a few strenuous hikes. As our guide said, "You have to hike up, to enjoy the ride down." There was plenty of shaded rest stops and cold water bottles at almost every line, so it was absolutely do-able. And no one was ever rushing you to get up the hills as fast as you could. Honestly, the hikes were so worth the climb.
And finally, we arrive at the grand finale – the longest zipline in Texas and the 9th longest in the world. This baby is 2800 feet long and over 20 stories high. And there are 2 lines, so you can race against someone on the way down.
Remember what I said about not wanting to go fast? Yeah, that all went out the window as I saw the person zooming past me. This momma curled up into a cannonball and won that race! Whee!
And my kids weren't "racing" either….at least that's the story from the one who came in second.
I was pleasantly surprised at the length of the tour and felt that it was well worth the cost. It was such a fun experience – we enjoyed each of the lines, laughed at our entertaining guides, met new friends, and bonded over a really cool experience. You seriously need to put this on your to-do list.
If the daytime hikes intimidate you in the heat, there are sunset hikes on the weekends and once a month full moon zips too.
And check out this deal in June —-> Children under 17 can go for free with a full-price adult! Offer is good on Monday-Thursday until June 30. Now you have no excuses to go.


Other Fun Things to Do in Austin:
Austin Bats
Austin Children's Museum
Austin Mural Scavenger Hunt
Austin Nature & Science Center
Austin's Park
Austin Zoo
Big Top Candy Shop
Bullock Texas State History Museum
Cathedral of Junk
Cedar Rock Railroad
The Dinosaur Park
Dino Pit
iFly
Lady Bird Johnson Wildflower Center
Mt. Bonnell
Pioneer Farms
Texas Military Forces Museum
Texas State Capitol
Waterloo Ice House


Texas Travel Facts for Lake Travis Zipline Adventures:
Location: 14529 Pocohontas Trail, Leander, TX
Hours: Daily, call for tour times
Recommended Time: 3-4 hours
Good to know: Wear closed-toe shoes and comfortable clothes to wear; children must be 10 years or older and weigh at least 70 pounds; pictures available for purchase

My family and I were invited to visit the zipline and were provided admission. I was not financially compensated for this post. All opinions of Lake Travis Zipline Adventures are strictly my own based on my experience.