On a recent trip to Central Florida, we stayed two nights at the new LEGOLAND Beach Retreat.  Recently opened, this new addition to the LEGOLAND Florida family is every 8-year old's dream come true –  sleeping in a LEGO house!  Here are 7 Reasons the LEGOLAND Beach Retreat is AWESOME.
Both of my boys grew up loving LEGOs. They have always been a big part of our lives, from the movies to the video games, to finding LEGO bricks all over the house.  For years, my youngest son who is 8 has been asking to visit LEGOLAND Florida resort – and we felt that this was the perfect age to introduce him to the park.
I'm very happy we waited to take him as it gave us the opportunity to stay at the new LEGOLAND Beach Retreat.  It just opened in 2017 and once I saw that you could actually stay in a LEGO brick house, it was one opportunity I couldn't pass up…..er, I mean opportunity for my son, of course.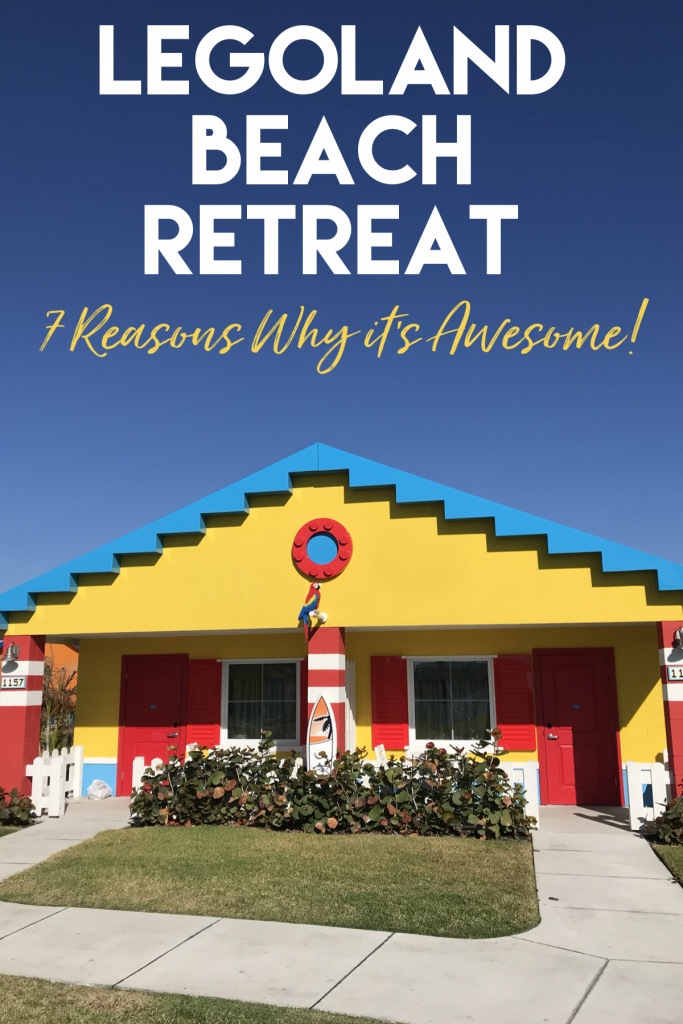 LEGOLAND Beach Retreat
The LEGOLAND Beach Retreat in Cypress Garden, FL, is literally across the street from LEGOLAND Florida.  The Beach Retreat has 83 brick-themed bungalows that are spread out into circular groups. Each  bungalow sleeps a family of up to 5 comfortably in 2 separate rooms.  Both the inside and outside are fantastically-themed, making it a must-do for any LEGO fan.
On this particular trip, it was just my son and myself, but our family of five could have stayed comfortably as the bungalows include a king-sized bed and a bunk bed with trundle. Here's a quick tour of our accommodations:
7 Reasons the LEGOLAND Beach Retreat is AWESOME: The Bungalow

The LEGO-themed bungalow is really fun to stay in.  Imagine yourself as an eight year-old, staying in your favorite toy-themed "house" and you know exactly what it feels like to be a kid staying in a LEGO bungalow.  These adorable houses are completely decked out in LEGO-fashion from the red LEGO shutters on the front of the house to the murals and curtains that adorn the insides.  Even as a mom, I was impressed with the "cool-factor" the bungalows have.
Though it's only a few rooms, we felt it was very spacious for a family to stay in.  We liked having a separate room for the kids to stay in.  And we found the bathrooms to be large as well.  It felt more spacious than it appears and was the perfect little space for our family.
7 Reasons the LEGOLAND Beach Retreat is AWESOME: LEGO Touches 
I tend to notice the little touches that make a place special and the LEGOLAND Beach Retreat bungalow has many.  Perched above each bungalow is a colorful parrot welcoming you.  The walls are adorned with colorful LEGO murals and we even found a crab built out of bricks on our wall.
But the best touch? When we walked into our bungalow, my son immediately noticed the LEGO set welcoming him on his pillow – it was better than a chocolate!
7 Reasons the LEGOLAND Beach Retreat is AWESOME: Complimentary Breakfast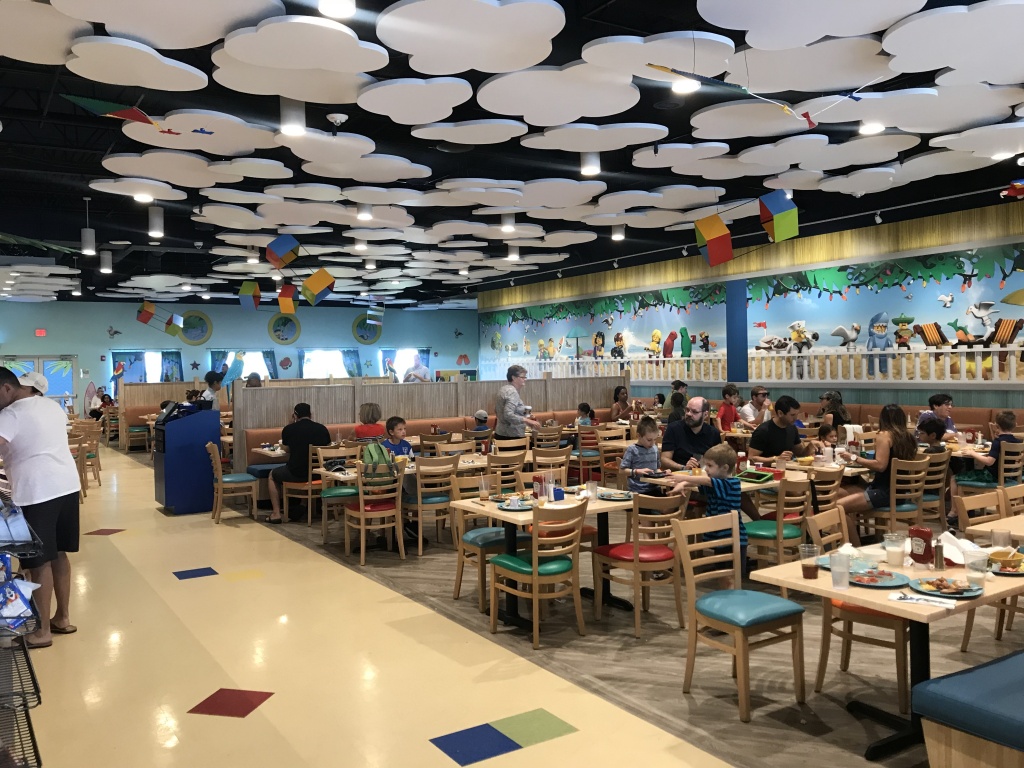 Nowadays, it is common to have a hotel provide a complimentary breakfast.  But this is not common at a theme-park hotel.  So we were pleasantly surprised to hear that breakfast was provided. Each morning, a hot breakfast buffet awaits you at Sandy's Castle Restaurant.  It was full of items that kids will eat – pancakes, scrambled eggs, hot biscuits, as well as cold cereals and fruit.  It was awesome that it was provided as it allowed us to fill up with something nutritious before heading to the park.
There's no shortage of LEGOs anywhere at this resort, as my son discovered this play area at Sandy's Castle Restaurant and never wanted to leave!
7 Reasons the LEGOLAND Beach Retreat is AWESOME:

Evening Entertainment
Even though LEGOLAND closed at 6pm the night we visited, the fun didn't stop back at the Beach Retreat.  We headed back and grabbed our swimsuits to cool off and refresh before dinner at Sandy's Castle Restaurant.  All through out the evening, fun activities were planned for families.  We could play fun family games in the restaurant, meet with a LEGO character and even roast marshmallows for s'mores by the pool.  There are all kinds of activities planned each evening at the Beach Retreat.
7 Reasons the LEGOLAND Beach Retreat is AWESOME:

Swim with Bricks
I mentioned the pool above, but I didn't mention that it was full of floating LEGO bricks.  This occupied my son for a full hour! Where else can you swim with bricks??
7 Reasons the LEGOLAND Beach Retreat is AWESOME:

Complimentary Rides to LEGOLAND (or park for free)
Getting over to LEGOLAND Florida was a cinch from the Beach Retreat.  They offer complimentary shuttles that you can catch right outside Sandy's Castle Restaurant – just look of the lighthouse – and drops you very close to the entrance of the park.  Shuttles run every 15 mins but we never had to wait for one.
Beach Retreat guests can also drive over and park for free, but why would you when you can be shuttled over and dropped off close?
7 Reasons the LEGOLAND Beach Retreat is AWESOME: Totally Affordable
Of all the reasons to stay at the Beach Retreat this is the one that should convince you.  You would think that staying in a LEGO house would be pricy, right? I assumed it would be more expensive than the LEGOLAND Hotel, as you get more space and it's your own little LEGO house.  But the LEGOLAND Beach Retreat is very affordable.  During the time we stayed, the nightly room rate was $135 – and I hear that it the normal year-round rate.  For everything that is included in your stay, that is very affordable for a family.  And in case I haven't mentioned it enough, staying in a LEGO house is SO COOL!
Complimentary shuttle to LEGOLAND Florida
Free WiFi
Convenient Drive-thru Check-in
Resort-wide charging privileges with room key
Merchandise delivery to the room
Outdoor play areas by each group of bungalows
Patio seating right outside the bungalows
Mini-fridge & safe in each bungalow
More Articles About Orlando, FL You May Enjoy:
LEGOLAND Florida 101: A Beginner's Guide to LEGOLAND
4 Steps to Planning a Trip to Universal Orlando Resort
13 Things to Do with a Teen at Wizarding World of Harry Potter 
5 Ways to Skip the Line at Universal Orlando Resort

Disclosure: My family & I were guests at the LEGOLAND Beach Retreat. We were not compensated for the article.  All opinions are my own.