Join us this summer as we take a little virtual road trip, visiting some fun spots across North America!
Heading on over to Southern California on our Virtual Road Trip today. One of my sweet friends, Emmy, (whom I had the pleasure of meeting last month) does some amazing things with her kiddos and she offered to tell us all about the Legoland Sea Life Aquarium in San Diego after she visited last month.
My kids finished school on a Tuesday in mid May. We thought we would surprise them with a trip to Legoland, California. Thankfully we decided to look at the opening times before we told them only to discover that Legoland is closed on Tuesdays and Wednesdays in the slow seasons. Instead we went to the Sea Life Aquarium which is literally next door and affiliated with Legoland.
As I said this is literally next to Legoland- you buy your tickets at the Legoland park kiosks. Since we went on a day that Legoland was closed, it was easy to park and parking was free. If you are going on a day that Legoland is open, I definitely recommend buying your tickets online ahead of time so you do not have to wait at the Legoland booths.
You begin by entering a room where they show you a quick video about the aquarium and the doors open to reveal a bridge and slide the kids can play on. So of course all the kids want to play. They stagger how many people they let it, but I could see this getting pretty backed up on crowded days.
The entire aquarium is basically one big loop- so you don't have to worry about missing anything and just follow it around. It is all rather dark (not in a scary way though) almost giving it an ocean like feel throughout.
The displays are low enough for even my toddler to see or had steps you could step up on to see. It was definitely very kid friendly.
Low toddler friendly displays
A lot of the displays the glass was con-caved in such a way that it seriously looked like the fish could just swim right out to you, it really was amazing and fascinating to look at.
My favorite part was the long tunnel under and through the giant tank. This tank was filled with so many sharks, string rays and fish and they literally were swimming right over your head and right next to you, it was awesome!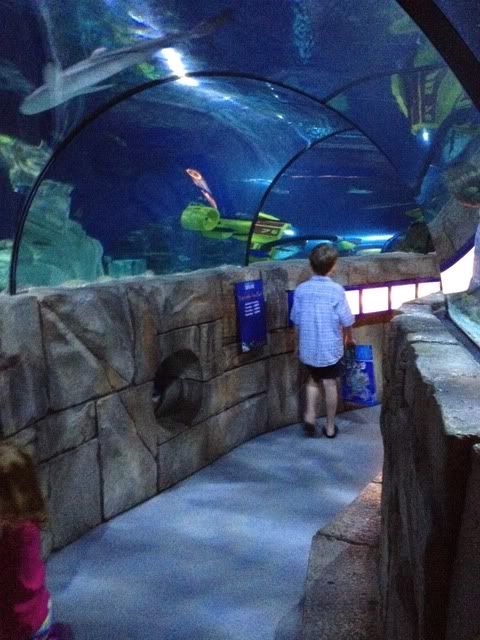 In the tunnel surrounded by tons of sharks
A shark swimming right over my head in tunnel
There was also two different areas where you could touch some sea creatures like star fish and a sea cucumber.
And since it is a Legoland Aquarium there were a few Lego friends in the tanks and on display.
In the big tank with all the sharks
You end the loop right in the cafe where we ate a yummy but very pricey lunch ($8.95 for kids meals).
We saw the entire aquarium in a little more than two hours. So for the time we spent it is a little pricy, however you can buy tickets as part of a hopper pass with Legoland (when it is open of course). But I think I definitely would recommend going here on a day that Legoland is not open. Not only is parking much easier but the aquarium would feel very claustrophobic and you might feel rushed and pushed along if it was busy.
Hours: Open vary depending on season but approx 10-5 daily
Cost: $20 for adults; $15 for kids 3-12; Under 3 free
Have you ever been to the Sea Life Aquarium?
Emmy writes over at Emmy Mom- One Day at a Time. She is a SAHM and part time pro-photographer. She is a self-proclaimed determined procrastinator who gets it done. She tries to keep a glass-half-full attitude even when the glass is nearly empty. She blogs about life, crafts/DIY, her kids, photography and whatever else the moment calls for. She hosts a weekly meme on Thursday's Proud Mommy Moments and a monthly meme Ten Things to Smile About this Month.
She can be found on her blog at http://www.emmymom2.com and on Twitter Emmymom2