While I was at the D23 Expo in Anaheim, California, where I heard all the announcements and presentations from Disney, Marvel Studios and Lucasfilm, we also got a sneak peek at the new DuckTales that premieres tomorrow on Disney XD!
Remember that time I jumped into Scrooge McDuck's Money Pit at D23 Expo?  Oh yes! I do! And it was all for the new DuckTales show premiering on Disney XD on August 12, 2017.
DuckTales…. ah wooo-oooh!
We've been singing the song all week.
I grew up singing this theme song as I watched the classic cartoon about Donald Duck & his 3 nephews that got in to mischief. And I am so excited when I hear my kids – yes, even my teenagers – singing the song too.  Everyone in our house can't wait to see the premiere episode movie tomorrow!
The new DuckTales will debut with an hour-long movie on Saturday, August 12 on Disney XD that will be presented for 24 consecutive hours. 
Following the premiere, the DuckTales series will begin with two new episodes on Saturday, September 23. The episodes will also be available on the Disney XD app and Disney XD VOD on these dates.
Based on the Emmy Award-winning series treasured by a generation of viewers, the new animated comedy-adventure series chronicles the high-flying adventures of Duckburg's most famous trillionaire Scrooge McDuck, his mischief-making triplet grandnephews, Huey, Dewey and Louie, temperamental nephew Donald Duck and the trusted McDuck Manor team: big-hearted, fearless chauffer/pilot Launchpad McQuack, no-nonsense, housekeeper Mrs. Beakley, and Mrs. Beakley's granddaughter, Webby Vanderquack, resident adventurer and the triplet's newfound fierce friend.
DuckTales Fun at the D23 Expo
While at the D23 Expo last weekend, we had an opportunity to screen the first half of the premiere episode and it is really cute.  In fact, we were the very first audience to see it! Executive Producer Matt Youngberg and Co-Producer/Story Editor Francisco Angones were excited to show it to us.  They both were huge fans of the original show and are thrilled to be able to bring it back to a whole new audience.
The pilot episode sets up how Huey, Dewey, and Louie meet Scrooge McDuck.   We are also introduced to  Webby Vanderquack, the granddaughter of Bentina Beakley, who runs Scrooge McDuck's mansion.
Real Labor of Love for Us
As we sit down to interview Youngberg & Angones, they are so excited to tell us about the new DuckTales. Both were fans as young boys and they both bring so much passion to the project.
Matt Youngberg: It was, as we said coming into this, it's a real labor of love for us. We are, as Frank likes to say, we're terrified of screwing it up.
We love DuckTales so much, that the only thing we want is to present a DuckTales to a new audience that gives the audience the same feeling that we had. And hopefully that in 30 years, they'll be coming around and creating the next version of DuckTales, and loving it as much as we love the original.
It Has A Comic Book Feel to It
One of the things we all noticed is that DuckTales feels very-old school cartoon and in a world where every show for children is made with the latest CG or animation technology, it lends bit of familiar credibility to it. The minute I began watching it, I was drawn into the episode by the comfortable old-school feel to it.
Youngberg: That was something that we decided early on as we started developing the show. We wanted to make sure it still had a hand drawn feel to it. We wanted to make sure it felt hand crafted. We didn't wanna go the CG route, because there was a few reasons for that. One was the original series, when it was brought onto the air it was, it was just a bunch of Disney animators making a TV show, it was an amazing animated show. And it had the hand-crafted feel that we wanted to retain.
But also, as we got into developing the show, we looked at the source material beyond just DuckTales. We looked at the comic books that inspired DuckTales, that were made by Carl Barks, and other artists. We wanted to be able to harken back to the roots a little bit more.
So we developed this style, not only in the having it be traditionally animated by hand. But also in creating a style for the world that looked like it was inked by an artist brush. So that it looks like comic book pages come to life a little bit. It was really important for us to pay homage to where it came from.
I think if it was CG, it would feel a little bit more artificial and hard to connect with. I you think about it, DuckTales doesn't make any sense. It's about ducks that go on adventures. But presenting it like a comic strip, that you automatically buy into.
Angones: DuckTales and Carl Barks, they're all pulp adventure stories. And one of the cool things that Matt and our art director Sean Jimenez did, is they wanted to actually put pulp in it. So, if you pause and look very closely, everything has this layer of actual newspaper pulp underneath it to make it feel like you are watching a 1930's adventure serial. It's really cool.
Youngberg: Even when you're doing it hand drawn, you're doing it on a computer. So we wanted to find a way to bridge that digital divide a little bit to make it feel like it was warmer, and more inviting than something that was really flat and graphic and digital. So, we put in that layer of pulp.
Casting the Voices for DuckTales: David Tennant & Lin-Manual Miranda
In this version of DuckTales, a well-known cast was sought after to voice the characters including David Tennant as Uncle Scrooge and Lin-Manuel Miranda as Fenton Crackshell-Cabrera/Gizmoduck.
Youngberg: David Tennant seemed to be the natural choice for this. We really wanted to find somebody who was legitimately Scottish. But someone who had the character to bring this icon alive. And David is an amazing actor. He's morphed into this role in an incredible way. Because, when you think David Tennant, you think young and vibrant and all of these things, and Scrooge you think of as old and miserly. You can see in our version, he is miserly and old, but he has a youthful energy to him, adventuring has kept him young.
Angones: DuckTales is a globetrotting adventure show. It's part of the reason why in our pilot premiere we do half of the episode in Duckburg and the other half going all around the world.
And one of the things that we wanted to try to set up every time we go to a different location, we always want to try to be authentic. So we would genuinely try to find voice actors (for that location). If we go to Egypt, we try to find Egyptian voice actors. If we go to China, we're going to try to find Chinese voice actors to bring that extra level of interesting diversity and authenticity, and present a world that kids actually see around them every day.
But How Did They Get Lin-Manuel Miranda to Be A Part of DuckTales?
Angones: I'm Cuban. I grew up in Miami. So, I, when I grew up, I was a comic book nerd, and we only had one Latino superhero, his name was Vibe. He had breakdance superpowers, and he was a member of a street gang. There's not a lot of Latino superhero representation, and I wanna be able to give my kids a Latino superhero.
So I was like, Wouldn't it be great if the main superhero of DuckTales was Latino? Not just a token side superhero. This is our Peter Parker meets Tony Stark, Ironman. And so as we looked at adapting the character, we looked at the original traits, and he always had another idea. He was always fast talking. He was always putting together a scheme. He was very earnest and I was like, this is Lin-Manuel Miranda, and we'll never get him.
I had the good fortune to write that episode, and I wrote it as if it was Lin. I was like, even if we can't get Lin, there is a Lin-ness about this adaptation of this character. And, we sent him the script, and I sent him a letter telling him why this was important to me, and I'd been a huge fan of his–
Youngberg: He said he cried, right?
Angones: Ben (Schwartz) said he cried. Also, it doesn't hurt, it doesn't hurt that Ben and Lin are pretty tight.
Youngberg: And also Lin is a huge fan of the original series. That's the thing – we're finding that with a lot of the actors around our age are also huge fans. And, then you have this earnest letter that makes him cry.
Angones: When we got him in to record, we usually feed him a line that's already been recorded, so that they know the context and whatever, and they could play off of it. And so, we played him a David line, and he stops, and we're recording. And he was in London at the time shooting Mary Poppins. And we felt that the feed went dead, or that he hadn't heard it. We're like, "Lin, are you okay?" And he just goes, "That's Scrooge McDuck." And he started to freak out. It's like, okay, we're in a good place. You know, that he is genuinely excited.
I had forgotten how much fun this show was and I am really excited to be able to watch it along with my kids.  It was a really cool experience talking with Matt & Francisco and hearing their passion for the project.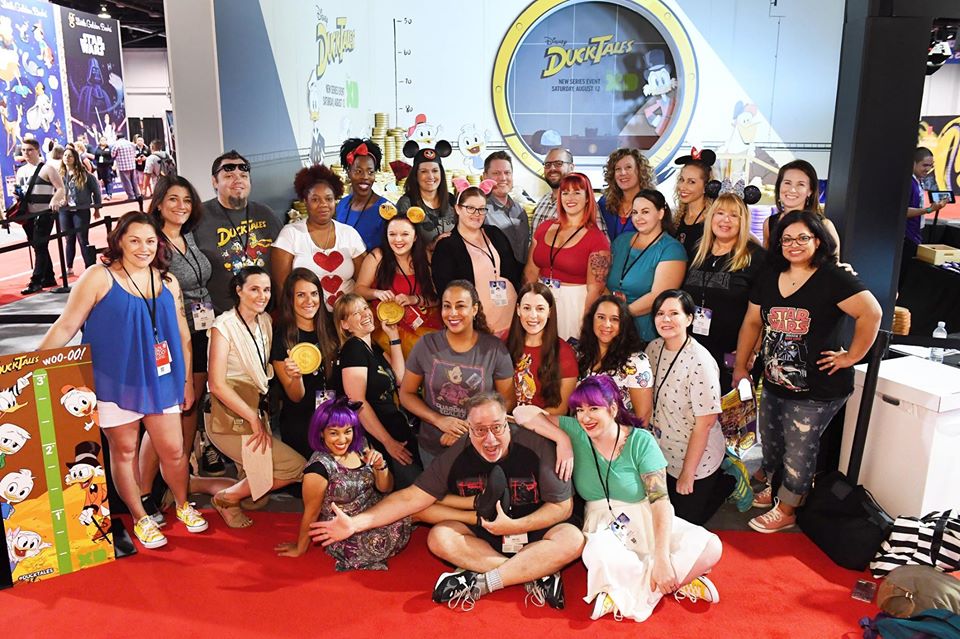 So, who will be watching DuckTales tomorrow night?
DuckTales…. ah wooo-oooh!
DuckTales Premieres August 12 on DisneyXD
Other Fun News from the D23 Expo
Live Action Films Panel from D23 Expo
News from the Pixar & Walt Disney Animation Panel from D23 Expo
7 Disney Parks Rumors Confirmed at D23 Expo
Jump into Scrooge McDuck's Money Bin with me for DuckTales!
6 Reasons Why You Will Want to Attend D23 Expo in 2019
9 Things You Don't Want to Miss at the Disneyland's Summer of Heroes
Disclosure: I was invited by Disney to attend the D23 Expo, learn about DuckTales and visit Disneyland's Summer of Heroes. All opinions are my own.