This past summer, on our 5-week Austin2Boston road trip, we stayed a few nights at the Loews Philadelphia Hotel in Downtown Philadelphia, PA.  Not only did it have the best location, this very kid-friendly hotel had great amenities and one of the best views of the city.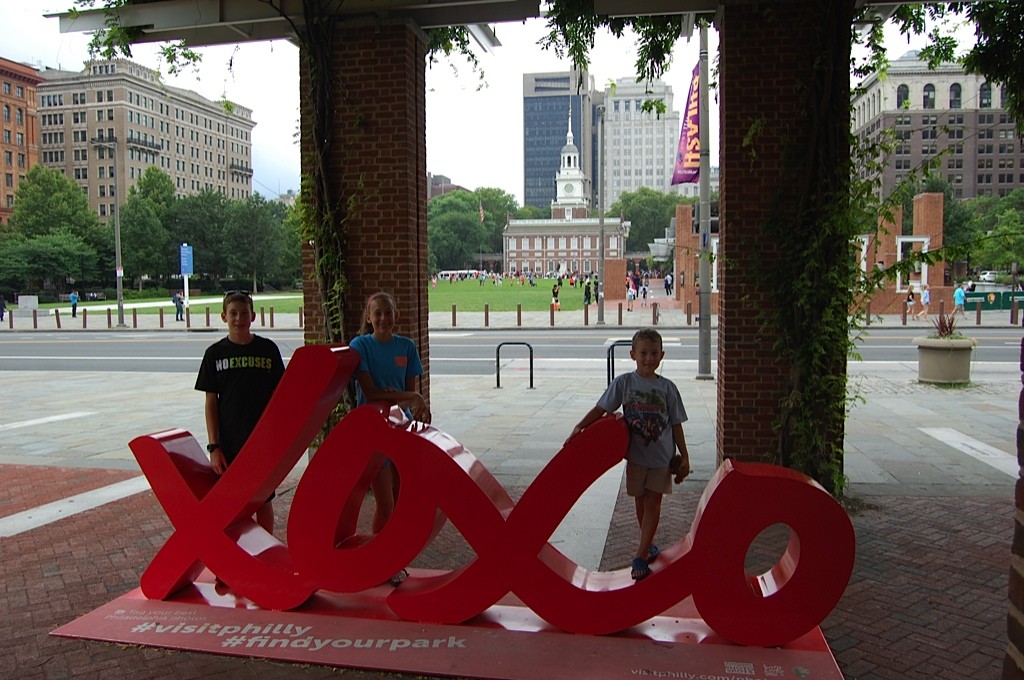 It has always been a goal of mine to take my children on a road trip along the East Coast of the United States when they were learning about American History. I wanted to take them to all the spots where America was born, to allow their classroom learning to come alive.  This trip would not be complete without a visit to Philadelphia to see where the Constitution was created, to learn more about the passion our forefathers had for Americans, and to see that infamous Liberty Bell.
When I was looking to book a hotel, it was immediately clear that I needed a good central location in Philadelphia.  Downtown seemed to make the most sense as many of the historical sites are within walking distance of Downtown Philadelphia.  Not only did the Loews Philadelphia have a terrific location, but it's a gorgeous luxury hotel.  And after 2 weeks on the road already, we wanted to pamper ourselves a bit.
Here are a few more reasons why we found the Loews Philadelphia to be the perfect place to stay while visiting Philadelphia.
Loews Philadelphia:
Location
The Loews Philadelphia is located on Market Street, just a few blocs down from the Reading Terminal Market.  We found this to be very convenient, as we went to eat breakfast there twice!  It was also a few blocks away from City Hall, which has a fantastic splash pad and is across the street from the famous LOVE statue in LOVE Park.  We actually ended up walking everywhere we wanted to go from our hotel.  And of course, it's a quick taxi ride to/from anywhere in the city.
The Loews Philadelphia is located in the Nation's First Skyscraper and was home to the nation's first savings bank – how's that for history? Rising 33 floors high, you can now go to the top to see out the windows and catch this impressive view of the city.  In the background, you can see the Philadelphia Art Museum with the famous "Rocky Steps".
Loews Philadelphia:
A Room Tour
We stayed in a nice room at the Loews Philadelphia – we had 2 double beds and the room was very open and spacious.  Though it wasn't necessarily a big room, the open windows flooded the room with light, making it feel that much larger.
The decor in the Loews Philadelphia was beautiful.  The white bedding and mirrors, it really opened the room up and make what could be a stuffy hotel room, light and open.
One thing I was very impressed with the Loews Philadelphia was how quiet the hotel rooms were.  There was a large convention in town and the lobby always seemed to be buzzing, however, once you stepped into that elevator, all the sound disappeared.  You know how in some downtown hotels, all you hear is the honks and taxis and people outside? Not a bit in this hotel.
Loews Philadelphia:
Loews Loves Kids/Teens Programs
I always adore a hotel that finds unique ways to welcome families.  The Loews brand offers "Loews Loves Kids" and "Loews Loves Teens" and the Loews Philadelphia had these amenities for kids:
Complimentary "Loews Loves Kids" Welcome Gift presented upon arrival for children under 10
A "Kids Closet," offering items available for guests to use during their stay. These include toys, books, car seats, strollers, night-lights, potty seats, baby bathtub, baby blankets, outlet protectors, self-contained DVD players with age appropriate DVDs—and more.
Children's menus with healthy options plus fun books with crayons
Cribs and roll-away beds available for in-room use
Child-proof kits for families with children under 4
List of nearby tourist attractions and activities recommended for children, as well as nearby pharmacies, pediatricians and bonded babysitting services.
Babysitting: Simply contact the concierge for arrangements and fees or more information.
And for Tweens/Teens:
Music download cards
A list of nearby tourist attractions, activities and shopping geared to teens
Access to a lending library of Gameboys, DVD players, board games, and more
What we Liked About Loews Philadelphia:
The rooms were large and spacious
Free WiFi in each room
Each room faces either Downtown Philadelphia or the Delaware River
Loews Loves Kids & Teens Program (see above)
Pet Friendly hotel – providing complimentary pet toys, beds, food and water bowls, disposable waste bags
Babysitting services
Fitness Center & Indoor Pool
Bank & Bourbon restaurant in lobby
Cribs, pack-n-plays, and outlet safety covers available
What You Need to Know About Loews Philadelphia:
Only valet parking is available. It is $38 per night before tax
The MiniBar in the room is stocked – be aware before kids grab anything out of it.
We enjoyed our stay at Loews Philadelphia in downtown Philadelphia and fully recommend it as an ideal location to stay with family. The room is comfortable and quiet – perfect for weary travelers who have been site seeing all day.
Click here to read our recommendations of the 11 Things to Do in Philadelphia with Kids
Disclosure: My family was invited to stay at the Loews Philadelphia and were provided with a complementary stay.  I was not compensated for this review.  All opinions are my own.