We recently traveled to Waco, Texas to visit the beautiful Magnolia Market at the Silos, the HGTV's Fixer Upper stars, Chip & Joanna Gaines' newest shop. Here's a few things you might not have known about this fun spot.
I think it's safe to say that Chip & Joanna Gaines have put Waco back on the map.  Yes, we Texans all know Waco as the halfway point between Dallas and Austin and it's well-known for having an excellent school, Baylor University, but beyond that, I can't say that it was ever high on my list to visit. Until last week.
Last week, I took a little road trip with my momma to visit the Magnolia Market at the Silos near downtown Waco.  Opened just last fall, this shop has become a very popular destination, with people coming from all over the United States to visit.  With the popular tv show, Fixer Upper, and it's even more popular hosts, Chip & Joanna Gaines, as the driver for Magnolia Market, Waco is definitely becoming a hot destination in Texas.
If you are a fan of the show, here are a few fun things to know about Magnolia Market at the Silos in Waco, Texas.
5 Fun Things to Know About Magnolia Market at the Silos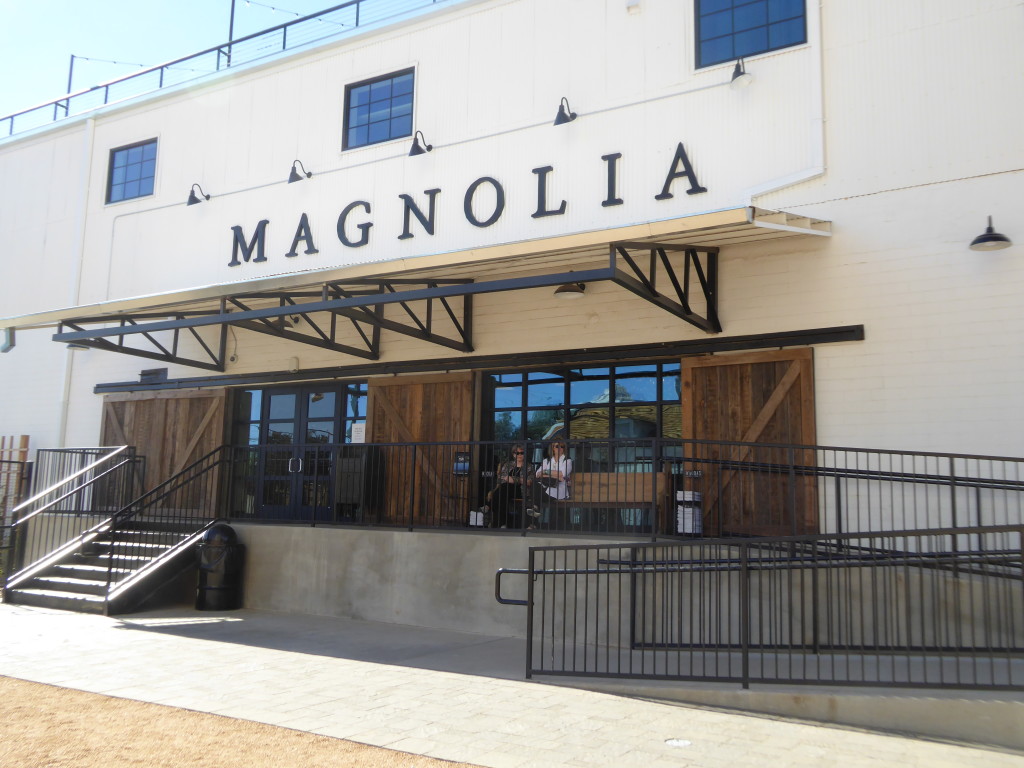 1. It's More than a Shop.
Plan to visit Magnolia Market at the Silos on a gorgeous, sunny day.  We lucked out with beautiful weather (considering it was February!) and were able to enjoy the entire complex.  Magnolia Market is a beautiful store, filled with delightful displays and items you will love.  But beyond the store, the Gaines have created a community space filled with gardens, picnic tables, and this great green lawn to run around and play.
2. They Really Want You to Stay Awhile.
Chip & Joanne created Magnolia Market at the Silos to be a warm & inviting place.  Beyond shopping at the Market, the lawn is filled with balls, corn hole, frisbees, and more, making this a place the whole family can enjoy.
After shopping, you can grab a bite to eat from several food trucks that line the property, including Co-Town Crepes, Cheddar Box (yummy, gourmet grilled cheeses), Milo Local Provisions (biscuit sandwiches), and Common Grounds (yes, the coffee shop featured on the show).
You are also encouraged to stroll thru the gardens and sit on one of many benches and swings.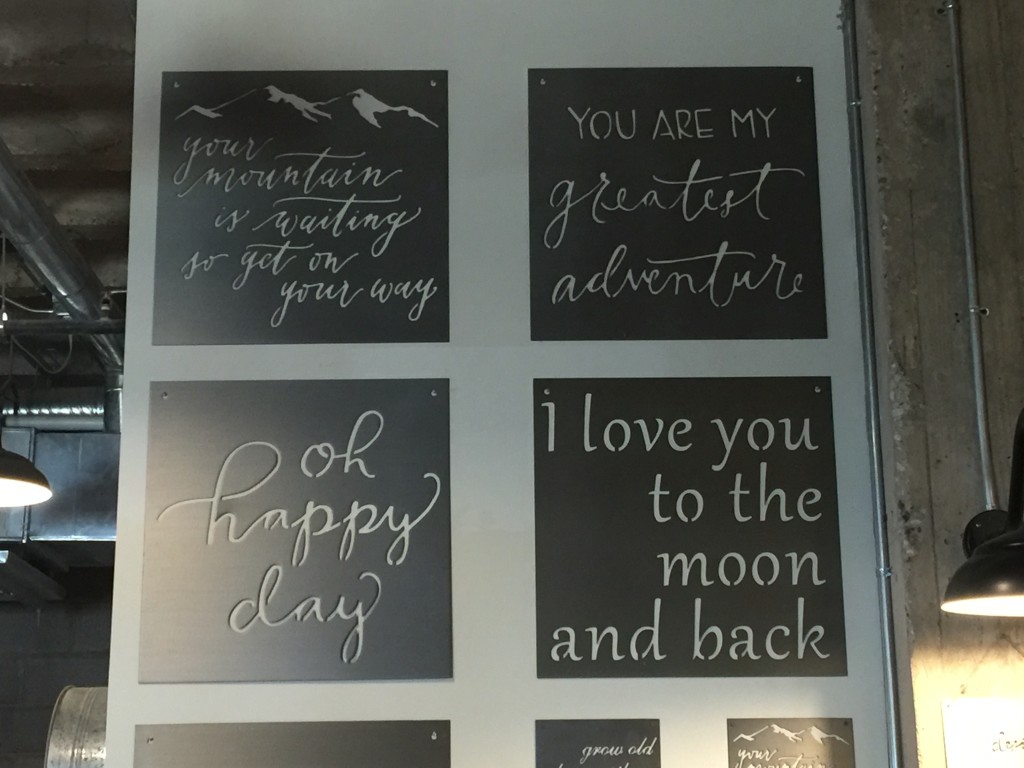 3. All of the Items in Magnolia Market are Hand-Picked by Joanna.
The store is filled with all sorts of fun items to decorate every room in the house and yes, I even asked – every item is picked by Joanna.  She also does a great job of featuring some local artisans from around Waco and Texas.  You may have seen these signs pop up in some of the Fixer Upper episodes – they are handmade by Waco local Jimmy Don of Stars Over Texas Metal Art.
You can also pick up a Magnolia shirt or Joanna's candle.  I was told that everything in the store can be found online as well.  And the prices are what you'd expect them to be. It's affordable for the most part – $25 for a cake plate, $150 for a wooden sign, and $85 for earrings.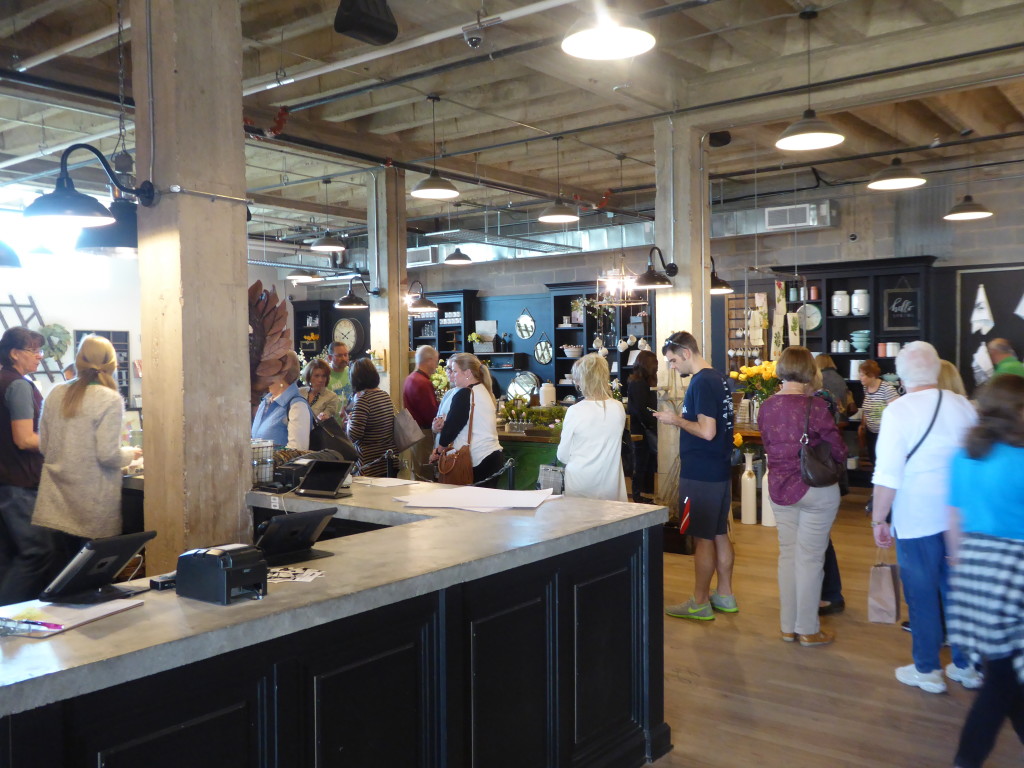 4. Don't Visit on a Saturday.
Due to the popularity, Saturday is the busiest day of the week to visit and many times, there will be a line to get in the store. The best days of the week to visit are Monday-Wednesday, where you won't likely encounter a line like the one we did above (it was Thursday at 10:30 am).  The line does move pretty efficiently, so you won't have to wait long to make your purchase.
5. No, Chip & Joanna Don't Just Hang Out at the Store.
I don't know why I would think that I'd see Joanna behind the counter or Chip fixing something in the corner, but I did.  Sadly no.  I was told they hardly make it into the store, what with all the projects they have going on with Fixer Upper, Magnolia House, Joanna's Book, and more.
But honestly, you don't need to see them to enjoy the fruits of their labors.  If you have followed their story, you know how much each of them have put into Magnolia Market at the Silos.  And it has paid off.  It's absolutely worth a visit.
More Fun to be had in Waco, Texas:
Mayborn Museum Children's Discovery Rooms
Health Camp
Texas Ranger Hall of Fame & Museum
Mayborn Museum
Cameron Park Zoo
Dr. Pepper Museum