The Mayan Dude Ranch sits on the edge of the Medina River in the gorgeous Hill Country of Central Texas and is the perfect place to unwind, relax and spend quality time with your family.
I pride myself on being a Texan. But can you believe after living here for the last 15 years, we have never been to a dude ranch? I felt that if I was to be a true born & bread Texan, this was an experience I could not miss.
Last fall, my family & I headed to the "Cowboy Capital of Texas", Bandera, to a wonderful family-owned dude ranch. We had no expectations, except to unplug from the world and ride a few horses. 3 days later, we left with grins from ear-to-ear, full of amazing experiences one can only get at The Mayan Ranch.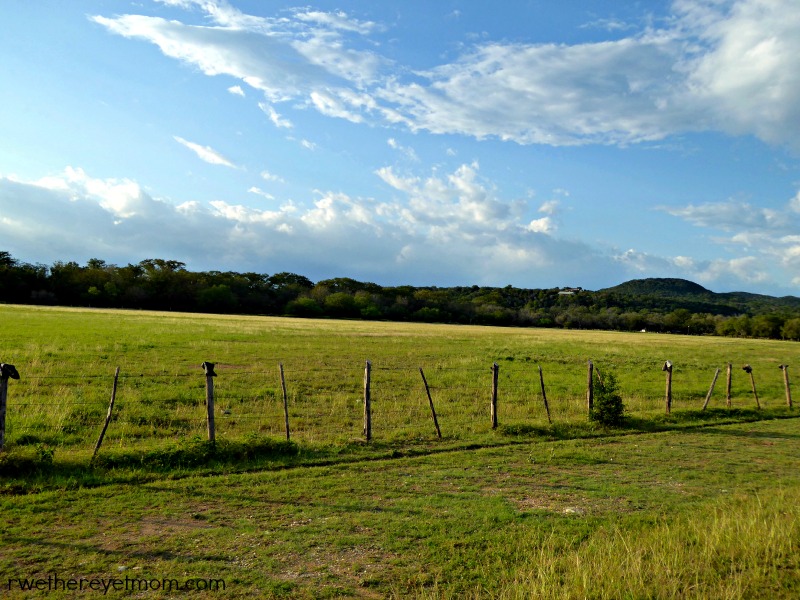 The Mayan Ranch is a 350+ acre working ranch with over 60 individual cottages for families to stay in. The Ranch has been in the Hicks family for many years and it is so lovingly cared for by this group of brothers & sisters who seamlessly run it. Though its close to town, you feel like you are in the middle of nowhere. With the peaceful quietness, the deer that come right up to your cabin each morning to nibble on the grass, and the big, bright Texas stars that seem to reach right down at you, THIS is Texas.
So what do you do at a Dude Ranch?
Let me be perfectly honest with you. I hear the word "working dude ranch" and I automatically assume I have to rope a calf and clean a barn and all that what-not that comes with "working" a ranch. Maybe that's the reason I didn't ever plan to visit a dude ranch with my family. But after reading my good friend Sarah's take on the Mayan Ranch, I knew this was some place special.
The Mayan Ranch has planned activities all day, each day that allow you to experience a ranch, but giving yourself plenty of time to relax and enjoy your surroundings. The Mayan also has an amazing chef – one of the sisters – and you can enjoy 3 amazing meals each day – cause you know, all that fresh air makes you super hungry! Here's a quick video to show you some of the fun we had!
I have been asked many time since I visited, "
What exactly did you do on the dude ranch?
". Let me walk you through our 3 days, just to give you a taste of some of the fun. But I warn you, it will make you want to book a trip today.
Day One at the Mayan Ranch: Saturday
After an easy Check-in, we were given the keys to our cabin. Just a quick note, you can stay in private cabins spread out all over the property or in a lodge. We loved our cabin – with 3 separate bedrooms, it was easy to spread out. The boys slept in a themed "Jail house" room and yes, we had a tv, thought it rarely got turned on. We were out having fun y'all.
Longhorn Steer: We arrived a little too late for the afternoon horseback ride, so we headed up to the main pavilion for a cocktail and to meet the Longhorn Steer. We petted this sweet guy, posed for pictures and even sat on top of him – y'all he was huge!!
Family Games: The staff at the Mayan want you to "play" and make memories with your family, so they have all sorts of opportunities to play together. We had a bunch of fun games before dinner – and you know the Darling family, as competitive as we can be, represented!
Dinner & Dancing: was an amazing Mexican Food buffet. Afterwards we learned several fun line dances and my husband & daughter learned to two-step together. It was so precious to see them dancing together.
Day Two at the Mayan Ranch: Sunday
Big Sunday Breakfast: As I mentioned, meals are yummy at the Mayan and breakfast is no exception. Fluffy biscuits, piles of bacon and steaming eggs with yummy grits was a great way to start the day before our first big activity.
Horseback Ride: The Mayan Ranch offers 2 horseback rides a day (morning & afternoon) around the property. You go in a group and the ranch hand leads you on various trails. It's such cool way to be outdoors and see the land. Kids under the age of 6 are not allowed on the rides, however, when we got back, our guy got a special guided ride around the corral. The staff was so great about not wanting him to be left out.
Shooting Contest: We also participated in a BB gun shooting contest. After a few instructions, we were allowed a chance to prove ourselves with a target. Much to my surprise, my son actually beat my husband – made for some great teasing that day.
Lunch: Despite the big breakfast & after all this time outdoors, we were starving for lunch. Lucky for us, the Mayan Ranch believes in full meals, so we didn't just get sandwiches, we enjoyed a big sunday ham for lunch. Yum.
Afternoon Relaxing: After lunch, you had your choice of another horseback ride, playing outdoor games by the pool, hiking to see the dinosaur tracks on the property or even shopping in downtown Bandera. Would it surprise you if I told you we did all of that?
Wildlife Hay Ride: One of our most favorite activities on the ranch was the early-evening hay ride. We piled onto the trailer and watched as the deer came out to follow us (and the trail of corn being thrown behind). It was incredible to see that many deer in the gorgeous October dusk.
Steak dinner at Hicksville: That evening, we were in for a special treat – we dined under a beautiful oak tree on a part of the ranch named Hicksville. And we didn't just dine – we had a hearty steak dinner. As we pulled up to Hicksville, all your senses came alive. You could smell the steaks sizzling on the grill, hear the singer gently playing his guitar and the children laughing as they played on the playground and playhouses, and see the twinkling lights flicker on as the sun gently set. It was idealistic – an night you don't want to end and will never forget. It's moments like these that make the Mayan Ranch so special.
Family Game Night: As if the night couldn't get any better, after dinner we played some more fun family games. The games got everyone involved – including the dads – something that my kids loved. It was so great to see all these families laughing & working together to win these simple but fun games.
Day Three at the Mayan Ranch: Monday
Cowboy Breakfast: On Monday morning, we enjoyed an authentic Cowboy Breakfast on yet another part of the ranch we hadn't been to yet. Set in this beautiful grove of trees, guests can rides horses or take a hayride to the chuck wagon. Another amazing meal, we dined on biscuits & gravy, scrambled eggs, grits, and unlimited coffee cooked right on the campfire. I swear being outdoors makes you hungrier! Just another amazing memory made at the Mayan.
Archery: Horseback rides are offered each morning & afternoon, but we chose Archery. It was fun to learn how to shoot a bow & arrow properly – more difficult that you think – and again, the ranch hand was so good with my kids, especially the youngest.
We enjoyed another hearty lunch before packing up and hitting the road. We found the goodbyes lasted a bit longer than they would if you just took your family to a typical resort. We wanted to thank everyone, tell them what a good time we had, and even give a few hugs. You see, in the brief 3 days we stayed at the Mayan Ranch, you begin to feel a bit like family. Everyone – including the guests – are so very friendly, you end up having some amazing conversations and end up getting to known them better.
I have written previously on the reasons why you should take your family to a dude ranch, but it wasn't until I sat down and remembered back on all the fun we had at the Mayan Ranch, that I recognized they have something special to offer guests on a family vacation. They provide you with the opportunity to unplug from your phone and your busy schedule and focus on each other. It's family bonding at it's best. My kids loved playing games and riding horses with their dad. It was time spent that we will always remember – and it's those amazing memories that you want to create, isn't it?
Disclosure – My family & I were invited to stay at the Mayan Ranch. I was not paid for this article. All opinions are my own.