Two weeks ago, I had the amazing experience to attend the Solo: A Star Wars Story Press Junket in Los Angeles, which included the Red Carpet World Premiere of the movie, as well as interviews with Ron Howard, Woody Harrelson, Alden Ehrenreich and more.  One of the most fun interviews we had was meeting the actor who took on the role of Chewbacca and has already been in the 3 Star Wars movies! Here is my interview with Joonas Suotamo! 
"The Man Behind the Fur"
From the moment the impressively tall (6 foot 11 inches!) & handsome Joonas Suotamo walks in the room, you compleyly forget that you are interviewing him for playing the role of Chewbacca in the upcoming Solo: A Star Wars Story.  Seriously, he is so personably and funny,that it's almost a shame that he was in a big furry costume with no understandable lines the whole movie.
I said almost.
I mean, this is the role of the iconic Chewbacca – one that is loved by fans world-wide.  And the pressures of taking on that role had to have been huge for him.
Actually, Suotamo took on the role of Chewbacca for the two newer movies of the original storylines as well – The Force Awakens and The Last Jedi.  But it wasn't until Solo: A Star Wars Story was released that we get to learn more about the man behind the fur.
"I was basically born to play this role."
How did you make the jump from pro basketball player to starring as Chewbacca, 'cause this is your third film as Chewbacca – So, tell us the transition and how you got the role? 
Out of the blue sky came a call one day from the Finnish Basketball Association, who had received a request for a person who has blue eyes and is seven feet tall. And so the casting was pretty desperate at that point to find one. And they called me and I said immediately I'm interested. Didn't take a second to think about it because we didn't know what the role was. So, I just said, yes, whatever it is, I'm in.
And I filmed a video of me playing a caveman, half naked in my old high school gym. Just the kind of video where I play this cave man who gets shot in the knee with an arrow and stuff like that. Just for them to see, 'cause they asked for it. They wanted to see if I could do the acting required for the film. And then, four or five months it took to really go through the process. And at the end of it, I received a call that, congrats, you are gonna play Chewbacca. 
Did years of playing basketball prepared you for the strenuous stunts and action in the film? 
I think basketball certainly gifted me extra body awareness. And also the trips I made with various teams and the national team of Finland, allowed me to meet so many wonderful players and people. And I grew up to become a very social guy. I have always observed movements and I've always loved the fact that we are different as humans. And I've always tried to imitate in a very loving way my teammates and how they run. 
And alongside growing up with dogs and observing them when I was a kid secretly prepared me for the role of playing Chewbacca. And on top of that, we Fins have a very rich sauna tradition. So, I can withstand heat exceptionally well. So, I was basically born to play this role. 
Respecting the Legacy of Chewbacca
What is the biggest challenge with the suit, like something we wouldn't normally think of? What was the biggest obstacle with that where you were like oh, no?
I think it's the fact that every day you need to have someone poke your eyes with makeup.  With rich black  makeup just to hide the white of my eyes. And get into the suit that's, while lovely, is also filled with hidden dangers, like fur coming through mouthpiece and the suit and going into my mouth. It's stuff like that you don't really like.
The biggest one probably is just respecting the legacy of Chewbacca, because he was played by Peter Mayhew, the legendary, original Chewbacca. And I want it to be so that the fans going to these films see the same Chewbacca who was in the original films, because Chewbacca is so loved and I would not want  there to be a feeling that Chewbacca somehow feels different this time around.  
Did you consult with Peter?
Yes, I consulted with Peter. I had a week long — we called it the Wookie Bootcamp.  He showed me the original films and clips. And we looked at his walk, and he told me why he did it such a way and what he did and what was he thinking at the time. And it was so helpful, because I had done some studying up myself previously. But to hear from the master himself how and why did he do those things helped me tremendously in preparing for this role. 
When I first met him, I went to his trailer and they really embraced and gave me their blessing for me to play this part, which was a huge deal for me, because, Star Wars is so beloved that I would hate there to be any kind of bad water when we do this. Because it's a very significant thing and it must be hard to let go of something that you dedicated your life to when the fans love you so much. But I've assured them that he'll always be the original Chewbacca and there's no one who can take that away from him. 
Action scenes can be difficult enough to film. How does the Wookie suit make it even more challenging? 
The main obstacle is the heat and the endurance throughout the day. But also it's the fact that I gotta be careful with the suit. They don't want me doing everything I can. If I would make a roll suddenly on the floor, they would be very, very angry with me. So, I have to be careful. 
But I also have to do what's required of me by the director. And that's something, because you gotta constantly be aware of the suit, how it moves and how it looks on camera. So, that's why I have to go and look at the screens and after the takes and making people think that I'm sort of a diva or something. It's just really I wanna make it look right. And I trust the directors, but I still want to see and if I could do something myself to improve the next day. And that's maybe the hardest thing. Because the moves of Chewbacca are very much something I can do as a basketball player.
We will see a different Chewie than we have seen before?
So, you played Chewbacca before, but how is it different in this film playing a younger Chewbacca, who becomes the Chewy that we know? 
This movie happens in a time where the empire is expanding and Chewbacca is in a very bad situation at the start of this film. So, I approached it as Chewbacca is very much looking for a way out and going on his own somewhere. He knows he has a family and he has a commitment to his tribe. And I was very much looking forward to this, because he's very different. 
Kind of he walks around with worry on his shoulders, because he doesn't know where this road will take him. And this movie also shows what that new life for Chewbacca is going to be and if he will take that. It was very interesting to do, because he doesn't have any kind of structure in his life at that point. And we talked with Alden. We talked a lot about the arc of their friendship and how to start that journey together so that the audience will see the development and also the downs and the ups of that relationship. And it was very important to get right, because we all wanna see how that relationship started. 
How long did it take you to learn to speak Chewbacca? 
When they told me I'm gonna meet Harrison Ford the next day, it took me that 24 hours. 
And what was it like meeting Harrison Ford? 
It's great. And I think I was so nervous that the first thing (I said) when I saw Harrison was, 'Harrison, I wasn't even born when you guys made these films.' And he did not like that very much.
What was it like stepping out of Millennium Falcon for the very first time, and then how was this movie and how was this Millennium Falcon set different? 
Well, the first time I stepped on the Millennium Falcon was on THE FORCE AWAKENS  and it was the first day of Harrison on the Millennium Falcon. And there were people crying. But there was the smell of a hardware store, because they used similar materials from when they made the original films, they used a certain Styrofoam or whatever as an insulator type of thing in between the panels and everything. And there's the smell that's always there. Mark Hamill actually commented on the same thing. 
And it is just the marvelous thing, because your mind goes back to the times you saw the movie and the first time Luke put on that helmet and battled against the floating ball.  And it's wonderful to be there, because it's part of everyone's childhood and memories, those places.
And now when the Millennium Falcon is new and well-kept and there's a mini bar in the corner, there is a cloak closet which is more like a luxury room than a closet, it's just wonderful to see that difference. And it goes to deepening my appreciation for the ship, because it has a history now. And, boy, I just hope nobody ever tarnishes that very sweet décor on that ship. But I guess that's a wish that's not gonna hold true.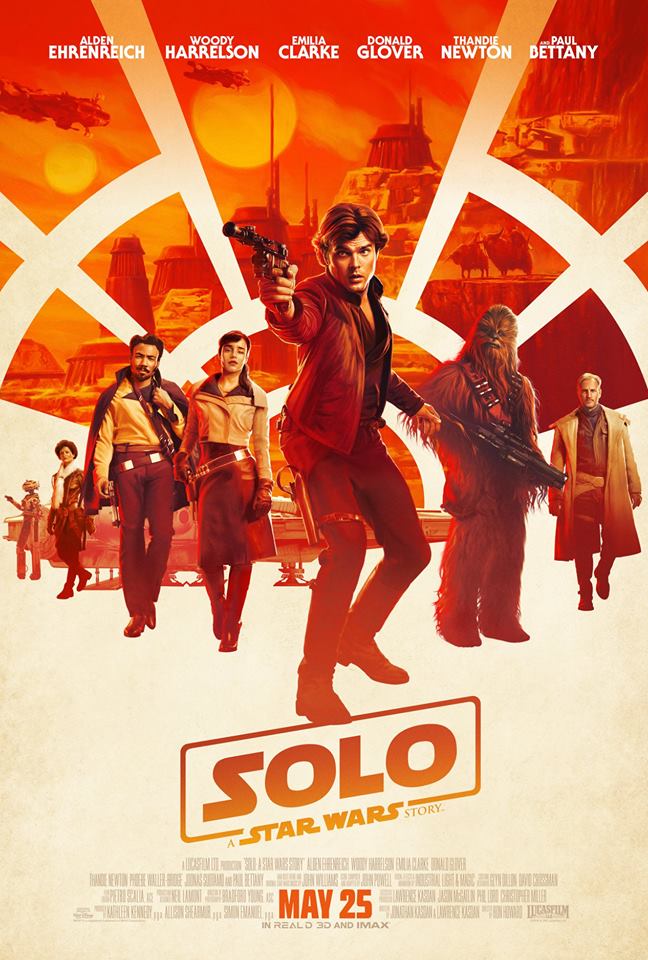 Joonas Suotamo was a delight to interview and plays the role of the younger Chewbacca in Solo: A Star Wars Story perfectly.
As I have said before, Star Wars fans will NOT be disappointed.  Make sure you get your tickets now for this upcoming weekend.  You do not want to miss seeing this movie the weekend it releases!
Solo: A Star Wars Story opens in theaters nationwide Friday, May 25, 2018
Other Articles from the Solo: A Star Wars Story Event you may enjoy:
I'm Going to the SOLO: A Star Wars Story Red Carpet World Premiere in Los Angeles!
My Experience at the World Premiere of Solo: A Star Wars Story (I Met Mark Hamill!)
7 Secrets from the Set of General Hospital
Star Wars Fans Will Not Be Disappointed – Solo: A Star Wars Story Review 
Alden Ehrenreich Takes on the Pressure of Creating a New Han Solo
Emilia Clarke – The Newest Leading Lady of the Star Wars Universe
Ron Howard Takes on the Star Wars Franchise
Paul Bettany: How Do You Go from Vision to Villain?
Meet the New Chewbacca – Joonas Suotamo
The Newest Droid in the Star Wars Universe: Phoebe Waller-Bridge
Woody Harrelson: A Star Wars Hero or Villain?
Disclaimer: Disney sent me to Los Angeles on an all-expenses paid press trip, in exchange for my coverage of the red carpet premiere of Solo: A Star Wars Story. All opinions are my own.