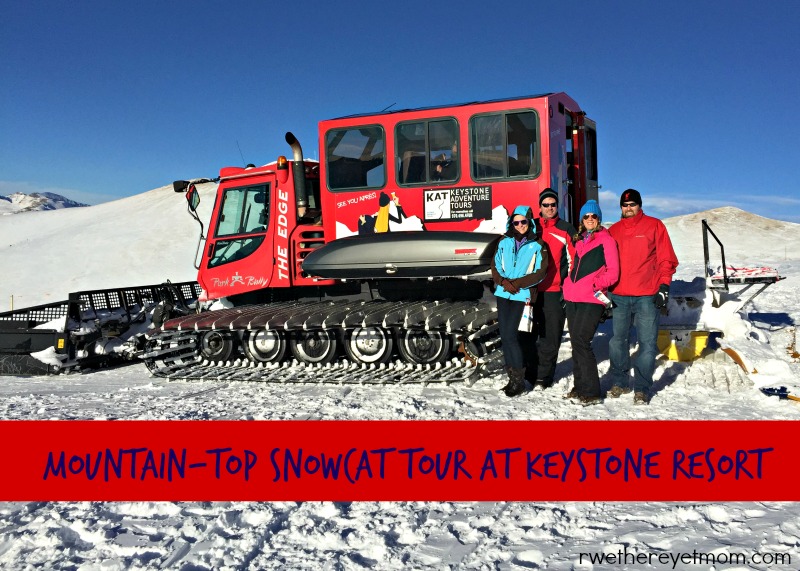 One of the coolest activities we did on our recent trip to Keystone Resort was the Mountain-Top Snowcat Tour. You know those "big cats" – it's the headlights you see on the ski mountains at night, grooming the runs for the skiers & snowboarders.  I've always been fascinated by their strength, climbing up & down those steep runs, and in the dark no less!  So when I found out we could take a tour of some of the highest peaks in Keystone, I jumped at the chance.
A Snowcat is  an enclosed-cab, truck-sized, fully tracked vehicle designed to move on snow.  Snowcat drivers meticulously keep the snow nice and packed, leaving ideal skiing conditions (ok, ideal in my book versus powder) in their wake.  I can't help but think my slight OCD-tendencies would love a job like this, smoothing out the snow, much like vacuuming or mowing the grass, right?  Uh no.
We took an afternoon tour, just as many of the runs were closing for the day.  We met in the Summit House onto of Dercum Mountain and walked over to our waiting cat on the top of Mozart's Run.  The cats they give tours in are different from the grooming ones, as they are outfitted with a nicely heated interior cab with comfy seats and windows all around.  Our tour was planned for 45 minutes, heading up to the top of Independence Bowl, a full 12,500 feet.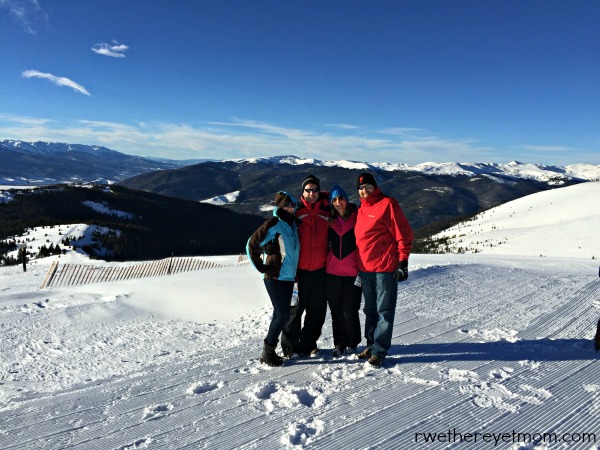 It was a nice, gentle ride up the mountain, as there was a clear path to take us through the trees and then up the peak.  Once we made it to the top, we got out and took in the sheer beauty of the Rocky Mountains.  We were so lucky to have our tour on a clear day, as we were able to see so much. Our driver pointed out all the runs in Breckenridge, and all the surrounding mountains.  The view was absolutely stunning.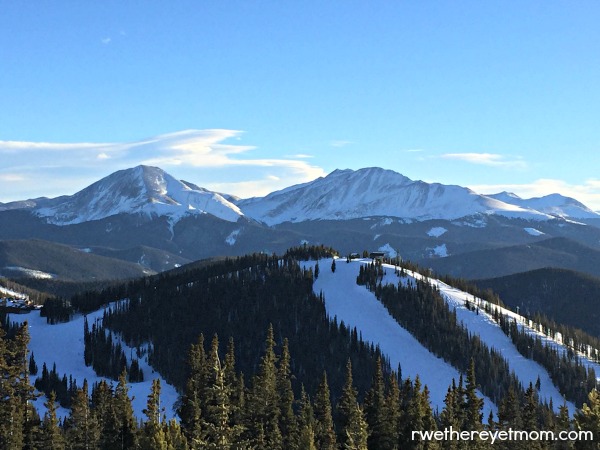 As we were a small group, he made another stop on the way down the mountain for more pictures.
And on the way down the mountain, I was able to ride in the cab with the driver to get a different perspective.  It was really cool to hear more about his job – he drives the tours, both sight-seeing like ours and the skiing tours – and to see what driving a snowcat is like.
A mountain-top snowcat tour is a great way to see more of the mountain as a family.  It's fun for the kids to be in this big, powerful machine and for them to have a chance to climb so high.  It was just the right amount of time before the kids on our tour got ancy.   I found the snowcat tour to be a fun activity that was also very peaceful and relaxed.  It's a great activity for when you need a skiing break.
And if you are up for an additional thrill, Keystone Resort also offers
Cat Skiing Tours
!
Tips for the Keystone Resort Mountain-top Snowcat Tour
Location: Dercum Mountain – check in 45 minutes prior to tour at the Adventure Point Check-In Hut in River Run Village & then ride the gondola up to the Summit House.
Dates Available: December -April (depending on snow conditions)
Time: 3pm daily & last 45 minutes
Ages: Any age, there was a baby on our tour!
What Should You Wear: Winter-weather clothing and snow boots.  You will have the opportunity to get out in the snow, so dress appropriately, including hats & gloves.
What to Bring: Bring your cameras, the views are stunning!
Price: $37 (adults) $27 (children)
Reservations: As there are only 13 seats in a tour, make reservations early!
More information: http://www.keystoneresort.com/activitiesdetail/Key+-+Mtn-top+Scenic+Snowcat+Tours.axd#fragment-1#Top
Other Keystone Resort Fun:
Snow Tubing at Adventure Point at Keystone Resort
Snowcat Tours at Keystone Resort
5 Things I Can't Wait to Try at Keystone Resort
Disclosure: My family & I were invited to participate in the Mountain-top Snowcat Tour.  I was not compensated for this article.  All opinions are my own.