As if
Natural Bridge Caverns
needed even more reasons to
love them
, they recently opened up an amazing ropes course and zip line.  The
Canopy Challenge & Zip Lines
is a fun way to stretch yourself, test your fear of heights, and have a ball doing it.
The Canopy Challenge is a 60-foot, four-tiered adventure course filled with 47 different obstacles.  You are fitted in a harness and clipped in throughout the entire challenge.  The obstacles include tightropes, small beams to cross, and other rope challenges as you work your way up to the top and towards the zip line.
Every participant is fitted in a harness and checked multiple times to ensure you are safely strapped in.  And then you are off! You have 30 minutes to make your way to the top.  Both of my older two really enjoyed the challenge, but they are fearless and raced their way to the top.
I, on the other hand, felt that if you concentrated on what you were doing and not where you were, you could relax and take on each challenge for what it was.
I love that they have a Canopy Kids Course for kids who are under 48 inches tall.  It is perfect for toddlers and children under 6.  They are strapped in, just like the older kids, and can go through their "challenge" as many times as they like – it's only a few feet off the ground. Mom or Dad can walk along side them (required).
You have the option of taking one of the four zip lines down for an additional price.  The zip lines are open depending on the weather.  You can always take the stairs down from the top of the Canopy Challenge if you wish.
A few things to know about the Canopy Challenge:
Participants must be at least 48 inches in height or be chaperoned by another responsible member of your party.
A chaperone can be another adult or older sibling at least 17 years old
All Canopy Challenge Zip Line participants must weigh over 60 lbs.
The minimum weight requirement can change due to wind or weather conditions daily.
Both the challenge & zip line have a maximum weight limit of 300 lbs and maximum height of 6' 8".
No flip flops or open heeled sandals are allowed.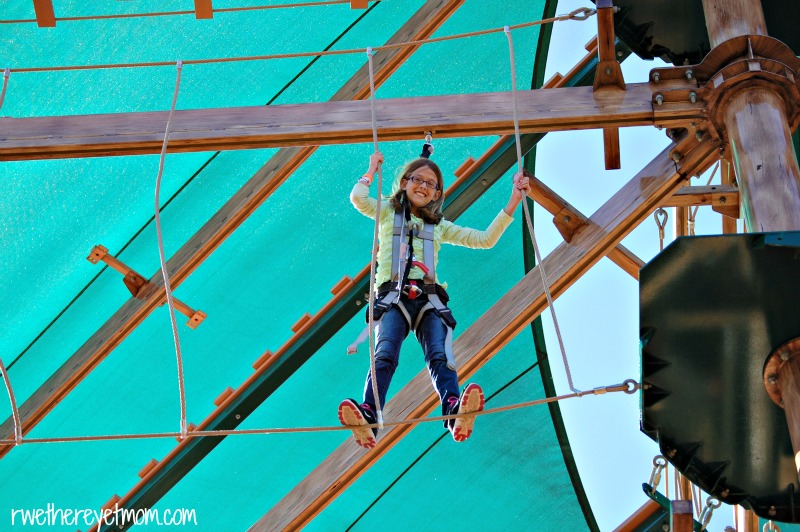 We felt the cost was minimal for a fun climb.  It will get HOT during the summer, so our best advice is to try the challenge when they first open at 10:30 am.  Also, visit during a weekday to avoid bigger crowds. You can always visit the Canopy Challenge without touring the Caverns, though the Caverns are amazing and should definitely be seen if you haven't yet.
Other great things to check out in New Braunfels:
Texas Travel Facts for the Natural Bridge Caverns:
Location: Exit 175 off I-35, Natural Bridge Caverns Rd
Hours: Mon-Sun: 9 am – 4 pm (closing hours vary in the summer)
Admission: Canopy Challenge Adventure Course $ 17.99
                    Canopy Challenge Zip Lines (one Tower, two Zip Lines) $ 17.99
                    Canopy Challenge Combo – Adventure Course and Zip Lines $ 27.99
                    Add a second Zip Line Tower (two more Zip Line rides) $ 9.99
                    Canopy Kids Adventure Course $ 4.99
Recommended Time: 2+ hours
Good to know: closed toe shoes, snack bar on site, free parking