We are big fans of Natural Bridge Caverns near New Braunfels, having been several times when my children were younger. We sent one of our newest writers, Addie Gross,  down with her young boys for their first time and she came back with some great tips!  Here are 10 Natural Bridge Wildlife Ranch Tips.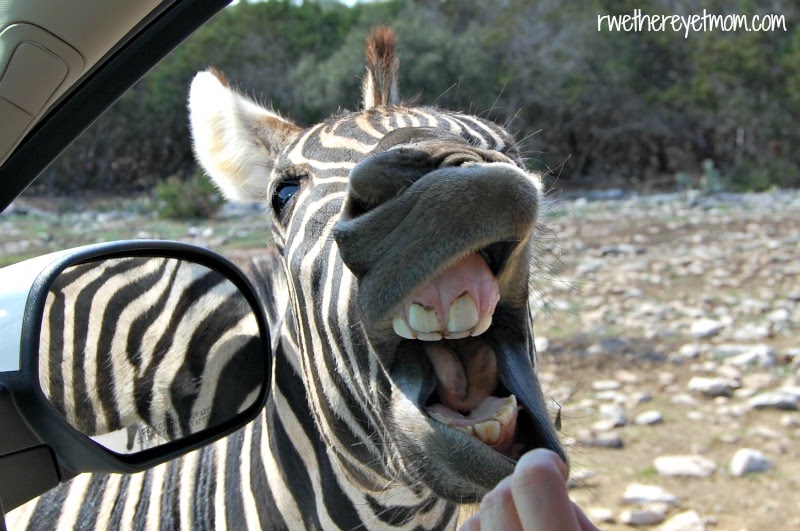 Have you heard? You can visit an African Safari, right here in Texas! The Natural Bridge Wildlife Ranch will exceed all of your expectations if you want to experience driving through a safari without having to leave the country. Here are 10 things you should know before you go!
10 Natural Bridge Wildlife Ranch Tips
10 Natural Bridge Wildlife Ranch Tips: Buy an extra bag of food
You will be given a free bag of food for the animals upon arrival, but having an extra bag of food (or two) is an excellent idea. With two bags, you can feed the animals from both sides of the car. Or you could save one bag for the petting zoo and use the other for the drive-through park.
10 Natural Bridge Wildlife Ranch Tips: Visit the petting zoo first
For us the drive was about an hour and a half coming from Round Rock (with a stop at Buc-ee's on the way down, of course). My boys (who are 4 and 7) had their fill of sitting in the car and desperately needed to stretch their legs. You could be sitting in the car for well over an hour on the four mile drive through the safari, so breaking it up by visiting the petting zoo or walking over to the giraffes makes it so much better.
10 Natural Bridge Wildlife Ranch Tips:

Rainy days are awesome!
As long as it's not pouring rain, don't be deterred if it's raining! It was a cloudy day when we went, sprinkling on and off, and I was worried we wouldn't see any animals. I'm happy to report that the animals were out and about, and they seemed delighted by the rain! I think it might actually be a smart time to go, because the rain keeps the crowds away and you'll have the place more to yourself.
10 Natural Bridge Wildlife Ranch Tips: Go early in the day.
This place can get really crowded on weekends and holiday/vacation times, so beat the crowds by coming early in the day. Fair warning, the lines to get into the park can stack up pretty quickly.  It's also the best time to see the animals, as most of them hide to nap in the afternoons. Siesta time!
10 Natural Bridge Wildlife Ranch Tips: Take the Tower Ranch drive to see the giraffes.
You will be given a couple of options while driving through the safari. The longer route includes seeing giraffes. It's a fun little detour to see these beautiful giraffes up close!  Sometimes, they will even trot over to the fence.  Keep an eye out for the only living set of twin reticulated giraffes, born right here at the Ranch in 2013!
10 Natural Bridge Wildlife Ranch Tips: The animals are bold.
Yes, they will definitely cross the road right in front of you, come right up to your car, and even eat out of your hand! Make sure you adhere to the 5 miles per hour speed limit at all times and use caution while feeding. The ostriches are especially aggressive! One even tried to eat our side mirror! I don't think I'd let one eat out of my hand (unless I was willing to lose a couple of digits). Your best bet is dropping the food down to the ground for them to eat to be safe.
10 Natural Bridge Wildlife Ranch Tips: Elevate your safari ambiance with music. 
It's your car, you control the soundtrack! Make it extra special with some fun tunes. We listened to Deep Forest along the way and it was perfect!
10 Natural Bridge Wildlife Ranch TipsYou can get food at the restaurant or treats along the way. 
Here's something I should mention: animal food is irresistible to kids. Mine had to try it for themselves. I do not recommend this, so keep a close eye on your sneaky snackers! You can feed them real people food at the Safari Camp Grill (near the entrance) or stop for a treat at the Safari Sweet Spot (in the middle of the driving tour).
10 Natural Bridge Wildlife Ranch Tips:

Don't forget the walk-a-bout!
Stretch your legs after driving through the safari and before you head back into the car for your road trip back home. Say hi to the lemurs, peacocks, peahens, and more! Then stop by the Trading Post Gift Shop for a unique souvenir so that you'll always remember what fun you had!
10 Natural Bridge Wildlife Ranch Tips: Bonus tip – poop is hilarious!
Everyone poops. The animals will confirm this for you right before your very eyes and your kids will laugh so hard. It might just be their favorite part of the whole trip!
Natural Bridge Wildlife Ranch
26515 Natural Bridge Caverns Rd, San Antonio
Open daily from 9 a.m. – 4 p.m.
Admission: $22 for 12 and older; $13.50 for ages 3-11; kids under 3 are free
Check out Rebecca's review of the safari here!

Addie Gross loves exploring Austin and Round Rock and is constantly looking for fun things to do with her kids, Mylo (7) and Gus (4.5). Addie grew up in Phoenix, AZ, went to the University of Washington in Seattle, and spent 7 years living in Champaign, IL before moving to Austin in 2014. She and her family finally decided on moving to Round Rock in January 2015 and they absolutely love living here! She also writes for Free Fun In Austin and frequently posts her adventures on Instagram.