With the opening of the Blockbuster movie, Star Wars The Force Awakens in December, Walt Disney World Resort opened several new Star Wars attractions, features, & entertainment at Hollywood Studios.  Last week I took my 6 year old and we tried them all! 
My children (ok, and ME!) are all in love with the new Star Wars The Force Awakens movie. It really is such a fantastic movie, that we could all watch it over & over again.  Just like the originals.  And I was so excited to see all the new Star Wars-themed attractions at Walt Disney World's Hollywood Studios back when I visited for my Walt Disney World half I ran in January!
I was better prepared to see everything when I went back 2 weeks ago with my 6 year old son.  The timing couldn't have been any better for his age as he loves everything Star Wars related.  We dressed him up in his Kylo Ren costume and he had a ball!
Here's a quick run-down on all the new additions. If you are visiting soon, make sure to plan for time to see it all – it will take a full day at Hollywood Studios, but for any Star Wars fan, that is worth it!
New Star Wars Attractions: Star Wars Launch Bay
Star Wars Launch Bay is located in Animation Court and features props from the movie, character interactions, video games, a theater, and of course, shopping for exclusive Star Wars merchandise.  At the Launch Bay Theater, you can watch a quick film from the creative minds behind the Star Wars saga. Walk thru the famous Cantina and check out the holochess table (the game seen in Star Wars).
At the Star Wars Game Center, you can play current and upcoming video games, including new Disney Infinity 3.0 Toy Box made exclusively for the park. We were excited to walk thru the Celebration Gallery  & Hallway to see the ships & prop replicas from throughout the Star Wars saga. And in Launch Bay Cargo there are some pretty cool Star Wars memorabilia you can take home, like this life-sized Bobba Fett (my son wishes!!!)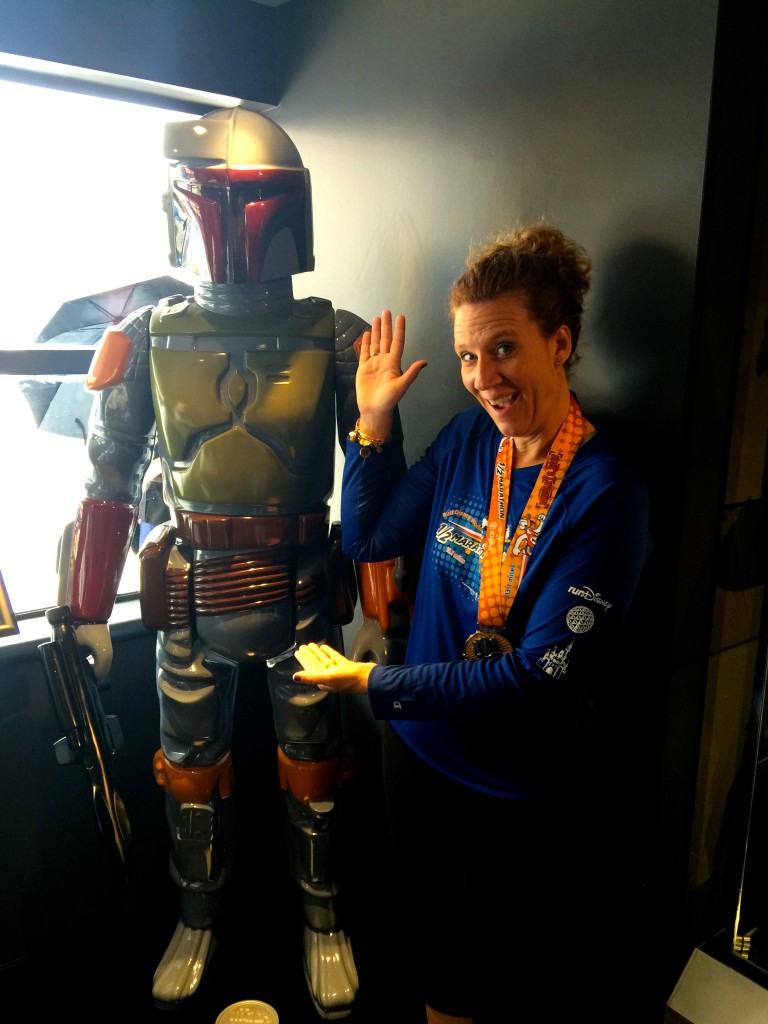 This is also the area where you can meet Kylo Ren & Chewbacca – live & in person!! In fact, you walk thru the Star Destroyer before you meet Kylo Ren. And meet Chewbacca as well as other Star Wars characters at the Rebel Base.
Here's my son's experience meeting them both:
New Star Wars Attractions: Path of the Jedi
Watch an abridged, cinematic reel celebrating the Star Wars saga (episodes I-VII) in a theater setting near Echo Lake.
New Star Wars Attractions: Star Tours – The Adventures Continue
We were so surprised to find that one of our favorite rides at Hollywood Studios, Star Tours, had been updated to include the new movie!  If you aren't familiar with this fun attraction, Star Tours is a 3D motion-simulated ride that takes guests to multiple Star Wars destinations where they interact with characters from throughout the saga. And it was so much fun! I don't want to give away too much, so make sure you get Fast Passes to this one!
New Star Wars Attractions: Jedi Training – Trials of the Temple
Jedi Training has been updated with new characters and a new villain to battle from Star Wars Rebels. Younglings will be guided to the site of a secret and ancient Jedi temple where they will face villains such as Darth Vader and the Seventh Sister Inquisitor from the popular Disney XD series Star Wars Rebels, and discover if they have the makings of a true Jedi.
This is a very popular show, and it is only performed 15 times a day with 15-20 participants per show. Arrive as early as you can to the parks and go immediately to the Indiana Jones Outpost to sign up your kids.
New Star Wars Attractions: Stormtrooper Patrols
Don't miss the Stormtroopers patrolling around the park – makes for a fun photo opp!
New Star Wars Attractions: Star Wars Shopping & Dining
Blue Milk Panna Cotta, Padawan Limeade, BB-8 Lemon and Butter Cream cupcake and a Han Solo Souvenir Kid's Meal served in a Han Solo-themed bucket, are available at various locations inside Disney's Hollywood Studios. And they even have X-Wing Fighter & Darth Vader popcorn buckets and BB-8 cups!
New Star Wars Attractions – Symphony in the Stars: A Galactic Spectacular
One of the most exciting new Star Wars offerings at Disney's Hollywood Studios is their new fireworks show that debuted on December 18! Symphony in the Stars is a 7 minute long fireworks show set to John William's Star Wars music from across the whole franchise. It is thrilling and exciting to see some of your favorite music come to life in such a fun way.  We all agreed it was hands-down the BEST Star Wars-themed fireworks show we had ever seen.  Here's a peek of it:
And coming this summer, Star Wars: A Galactic Spectacular, an upgraded fireworks show will begin.
I hope you have a chance to get to see some of the fun Star Wars events happening at Disney's Hollywood Studios this year.  It's amazing, even if you aren't a Star wars fan!
Other Disney Articles You May Enjoy:
My Thank You to Walt Disney World Cast Members
10 Cool Experiences at Epcot
New Star Wars Attractions at Walt Disney World
Animal Kingdom at Night
11 Tips to a RunDisney Race
Jungle Navigation Co., Ltd. Skipper Canteen Review
13 Cool Facts About Disneyland's Tommorowland
Walt Disney World's Coronado Springs Resort Review
10 Tips to a Multigenerational Trip to Disney Parks
A Visit from Tinkerbell at Walt Disney World