Norway in a Nutshell is a customizable travel plan that takes visitors on an unforgettable tour of Norway's verdant mountain terrain, through fjords and past more waterfalls than you can count. Tailor your itinerary online, then hop aboard to enjoy breathtaking Scandinavian scenery by train, bus, and boat!
My best friend and I recently visited Norway for the first time, flying in and out of the quaint coastal town of Bergen, a UNESCO World Heritage Site. With only one week to explore the entire country, we were searching for sightseeing solutions that would take us all the way to Oslo, by way of waterfalls, fjords, and snow-capped mountains. Enter Norway in a Nutshell, a fun and easy way to plan picturesque travels across Norway.
Norway in a Nutshell: What is it?
Norway in a Nutshell helps tourists book cross-country Nordic adventures, using a variety of public and private transportation. Travelers can traverse the country in one day, or, as the travel plan is completely customizable, extend their journey to include excursions or overnight stays.
Norway in a Nutshell: One-Way or Round-Trip?
Take a one-way journey from Bergen to Oslo, travel the reverse route, or try a round-trip excursion. No matter the itinerary, you'll be enjoying Norway's picturesque countryside in a fun and interesting way.
My friend and I wanted to see as much of Norway as possible in a single day, so we chose the day trip from Bergen to Oslo. This was our schedule:
08:43 – Train departure from Bergen Railway station (local train, no seat rerservation)
09:56 – Arrival at Voss Railway station
10:10 – Bus departure from Voss to Gudvangen, passing through farmland, the Stalheimskleiva hairpin bends, and panoramic views through the Nærøy valley
11:20 – Arrival at Gudvangen
11:45 – Fjord cruise departure from Gudvangen to Flåm on the Nærøyfjord and Aurlandsfjord
13:15 – Arrival in Flåm; stay for nearly three hours to enjoy lunch and shopping
16:05 – Train departure from Flåm on the Flåm Railway
17:03 – Arrival in Myrdal to change trains
17:54 – Train departure from Myrdal to Oslo by the Bergen Railway (regional train, reserved seat, dining car)
22:35 – Arrival at Oslo Central Train Station
It was a lot of ground to cover, but the jaw-dropping scenery made the day fly by!
Norway in a Nutshell: How to Pack?
I was concerned that bringing our luggage along on our one-way trip would be a hassle, as we switched from train to bus to train to boat. But, I needn't have worried. Changing transportation with suitcase in tow was never a huge inconvenience. And, there was plenty of storage space for my small roller bag in each vehicle. The only time my bag was a bother was during the three-hour layover in Flåm, where we spent time shopping in small, crowded stores.
If you are a worried about dealing with your suitcase, you can look into privately operated porter services. These services will pick up your luggage at your hotel in Bergen and deliver it to your hotel in Oslo, for a fee. (Note: This option will not work if you are staying at an Airbnb.)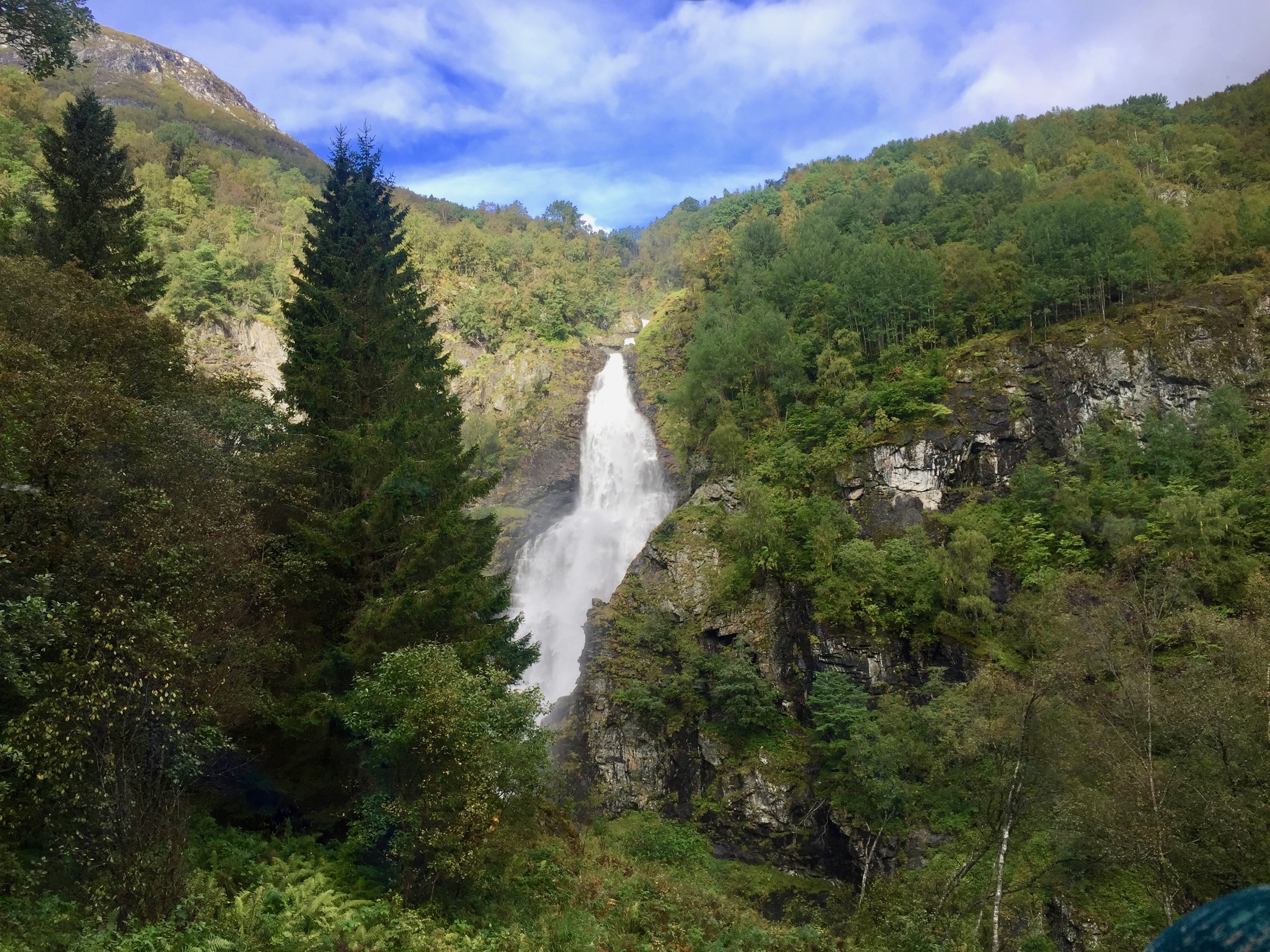 Norway in a Nutshell: Good for Kids?
Kids under four can travel for free, but they will still need a reservation. Here are a few things to consider before booking your Norway in a Nutshell package with littles in tow:
It's a long day if you try to cross the country in one go. You may want to plan an overnight stay in Flåm to break up the trip. 

There might be some rushing involved. 

Imagine running to catch a bus, while carrying your suitcase, and dealing with a child and their bag as well.

There are no bathrooms on the bus and that leg of the trip is an hour long.

Not every train has food options. Pack snacks!
Norway in a Nutshell: What Happens When a Train is Delayed?
On the very first leg of our Norway in a Nutshell itinerary, we experienced a 15-minute train delay. I was nervous that this would make us miss our bus at the next stop. But, transportation delays are common and the buses wait for delayed passengers. 
Norway in a Nutshell: How Much Will it Cost?
The price of your Norway in a Nutshell tour will depend on the travel options you select. You can start your journey in Oslo, Bergen, Voss, or Flåm. The tour can be completed in one day, or over the course of several days. Prices start at $166 USD.  
Norway in a Nutshell: Know Before You Go?
The most important thing to know is that Norway in a Nutshell is an incredible experience that serves up breathtaking views around every twist of the track and turn of the fjord. Train rides pass quickly and the stops break up the tour making for an enjoyable day! Here are a few tips to help you enjoy your travels to the fullest:
There are no bad sides to sit on, as photo ops are plentiful, but traveling from Bergen to Oslo we enjoyed sitting on the left side of the train from Bergen and the right side of the bus from Voss.

Snacks were sparse on early legs of our journey. Later in the day, we ate a hot dog lunch on the fjord cruise, a bakery treat and tea in Flåm, a waffle snack at the train station café in Myrdal, and dinner on the train to Oslo.

On the train from Myrdal to Oslo, be on the lookout for Finse, a small railroad town that has no roads. This town is so unique, it was used as a filming location for Star Wars, as the ice planet Hoth in the The Empire Strikes Back.
Ready to start planning your Norwegian adventure? Visit the Norway in a Nutshell website for more information!