Have you ever been to an American plantation?  It was a must do for me & the kids this summer on our #Austin2Boston road trip.  I figured we would have to go all the way over to North or South Carolina to see one but was surprised to find a few that you can tour in every state in the south.  I didn't find one quite as majestic as the Oak Alley Plantation just a little northwest of New Orleans.  Can you beat this gorgeous view?
History of Oak Alley Plantation
Oak Alley Plantation was established in the early 1800's and flourished as a sugar cane plantation, employing many.  It's estate had several owners that helped shape the gorgeous property over the years, planting the beautiful Virginia live oaks that line the entrance to creating self-sustaining pecan trees. It's history is rich and lavish and the stories are numerous.
The only way to hear all the wonderful history of this property is to take a guided tour through the main house.  Along with that, there are several spots you need to see around the property:
6 Things to See at Oak Alley Plantation
The "Oak Alley"
You can not visit Oak Alley Plantation without taking a walk along the majestic Oak Alley.  These Virginia live oaks were planted over 300 years ago and will live to be 600.  There is not a record of who or why they were planted in this formation, but someone must have had the vision of this amazing view. And each tree has a name – many after the previous owners.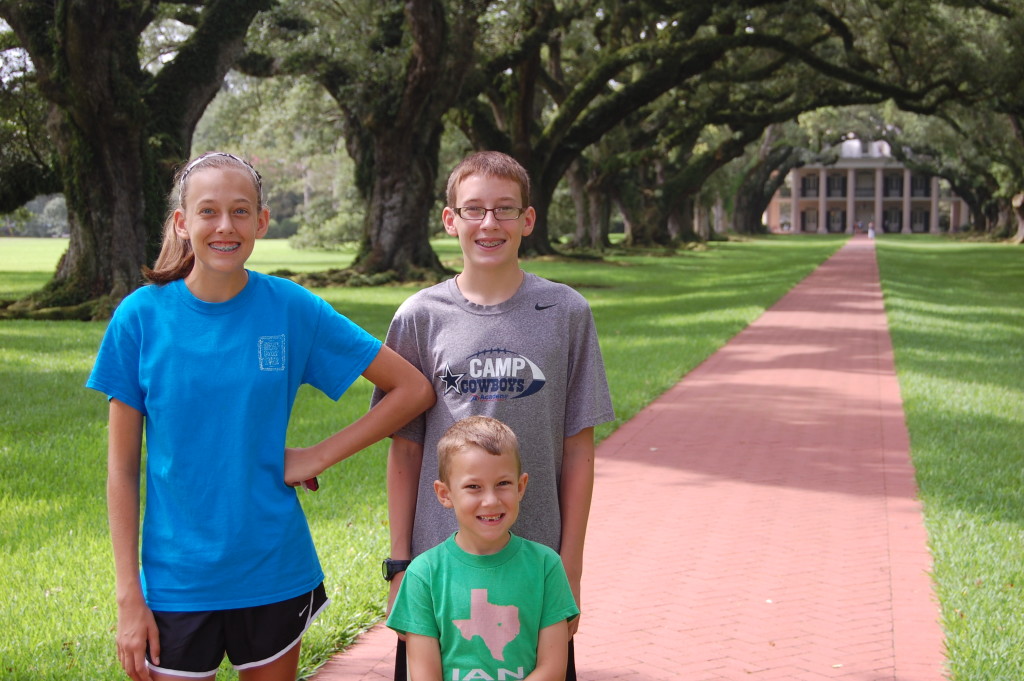 Guided Tour of the Big House
Tours are available of the Big House on the hour and half hour and it is an absolute must do.  The docents are dressed in period costumes and will take you though the home, room by room, and give you the rich & colorful history of the plantation.  Much of the house is restored and furnished from the 1800s, with some original pieces to the house.  You will see where the home was remodeled to include indoor plumbing in the early 1900s.
There is one room special room – the Lavender Room – that has been kept in the 1930's.  The last owner of the home, Mrs. Josephine Stewart donated the property to the Oak Alley Foundation and out of appreciation and respect for her family, they keep this room as she lived in it in the 1930s.
Lastly, because we were a small group, our docent opened both doors on the 2nd floor and gave us a moment to admire this gorgeous view:
Civil War Encampment
The Civil War had a big impact on Louisiana and the Oak Alley Plantation.  You can visit the  Confederate Commanding Officer's Tent and hear all about the impact the war played.  On most days, a docent will walk you through what that time period looked like.
Slavery at Oak Alley
Slavery was a big part of Oak Alley's history and I was happy to see the 6 replica slave cabins on property that provided a realistic portrayal of how the 90+ slaves lived during the plantation's heyday.  Not only will you see living quarters, kitchens, and the infirmary, but there are detailed explanations of life as a slave.  It was eye-opening for my children and done in a very respectful way.
Blacksmith Shop
Take the time to visit the Blacksmith shop to see demonstrations in the original forge – one of the remaining original ones in Louisiana.
Enjoy an Authentic Meal
Oak Alley has a wonderful restaurant that serves both breakfast & lunch.  You can have local cuisine – beignets for breakfast or Cajun and Creole dishes for lunch.  They also serve snacks and have a great gift shop as well.  Additionally, the property has overnight accommodations in cottages.
Oak Alley Plantation is located a good 40-60 minutes from downtown New Orleans and is best enjoyed in the earlier hours before it becomes warm.  Make sure to give yourself atleast 2 hours to enjoy all it has to offer.  I thought the tour and grounds were very well done and taught my children what it was like to live & work on a plantation in the 1800s. I highly recommend making the trip to see Oak Alley Plantation if you will be visiting the New Orleans area.
Here are some other helpful New Orleans articles you may enjoy:
7 Things to Do in New Orleans with Kids
French Quartour Kids Tour
Sheraton New Orleans
Disclosure: My family & I were invited to visit Oak Alley Plantation.  I was not compensated for this article.  All opinions are my own.