While at the World Premiere of Solo: A Star Wars Story in Los Angeles, we met one of the stars of Disney's A Wrinkle in Time, Deric McCabe, who plays Charles Wallace for quick Q&A before we watched the bonus features that are included in A Wrinkle in Time Blu-Ray DVD.  Here's that experience. 
Deric McCabe: Oprah's Eating My Popcorn
Deric McCabe is even more adorable in person than you think.  I mean, he was terrific in A Wrinkle in Time – especially when he played Bad Charles Wallace – but in person, he is personality PLUS! And we all adored getting to meet him.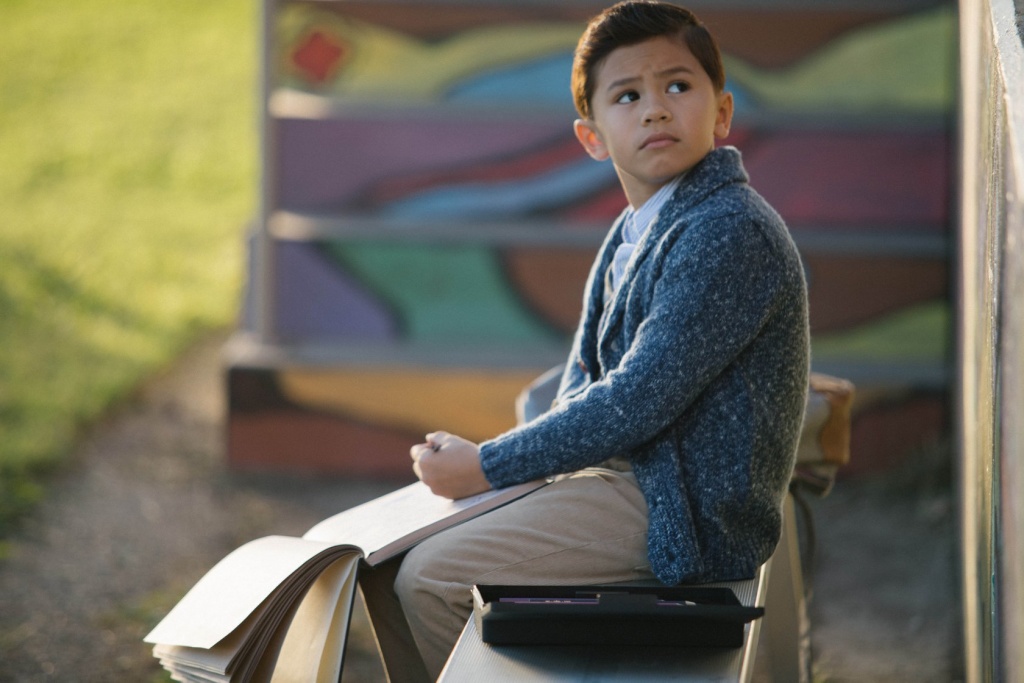 Our interview started off with us telling him what an amazing personality her had and this was his reply:
"Oh, I know, right."
Oh my goodness, this is going to be fun.  Here's a bit of what we learned from him about filming A Wrinkle in Time.
What are some of your favorite memories from filming?
Oh, the hallway seen.  The stuntmen were pulling them and they couldn't see because they couldn't be in the shot so I stopped and they kept going and I fell on top of all three of them.
Did they get that on film?
On DVD.  So, get the DVD everyone.
What was the hardest scene for you to film?
The end scene.  It's a little brain.  That was disgusting.  And I had to cry in it so that was hard.  And Ava was like, "okay, we're going to do this."  And the brain was super sticky and it kept sticking to my back.  So, I was like thinking of something to cry about.  And the wardrobe person comes up and says 'hey, you have something in your back.  Can you stand up and get it?'  And I'm like, oh, God, I was just in the middle of almost crying.  
This will just take a second.  Five minutes later, hey, you have stuff on your back.  We don't want that in the scene.  Can I have it?  I was just about to cry.  Yeah, that was hard.
What were your experiences with Mindy and Reese?
Mindy, I loved her, but I didn't love her only because I couldn't talk to her.  Because she's always speaking quotes.  I couldn't hear her real words.  I was like hey how's it going?  And she's like blah, blah, blah, American.  But it was only for the scene.  But I did actually talk to her.  We had some very good conversations.
And then with Reese, that was amazing.  She always gave me hugs on set and when we cut, we'd all just start talking and talking and talking.  And then we film the scene.  Cut.  Talking and talking. 
What was your favorite scene of the movie?
My favorite scene was the cabbage from What's-It scene where she's just flying.  We actually got to be in a robot arm.  It's just this arm colored blue and just juggles me.  And then Levi got to do flips and Storm was in a harness.  So that was cool. 
What was something you learned in making this movie?
Oh, I learned the place where they keep their snacks.  It's called Krafty and it's delicious.
What was your favorite snack?
Oh, candy.  Oh, and the popcorn maker.  Do you want to know why?
The first time I met Oprah they make this a really good popcorn and they make butter on it and put some cheddar on it and we were doing stunt practice for the cave and they set it (the popcorn) down on a mat and then it wasn't her turn yet.  It was Storm, Levi and I's turn and she just started eating my popcorn.  And she was like, who's popcorn is this?  This is delicious.  I'm like oh, that's me.  Oprah's eating my popcorn.
A Wrinkle in Time: The Movie
When A Wrinkle in Time first was out in the theaters, it was the week of Spring Break and we were traveling.  But we really wanted to see it, so we made the time during our week in Colorado Springs to catch it and I am so glad we did.
My two oldest children and myself had read the book and loved it, but this movie really brought it to life.  Everything was even more vibrant and realistic than I had ever pictured in my head.  And I loved the messages about being beautiful – so important for young girls especially to hear.
More than 50 years after Madeleine L'Engle's young adult novel "A Wrinkle in Time" was awarded the prestigious Newbery Medal, the big-screen retelling of this timeless classic takes audiences on a transformative journey, exquisitely illustrated through jaw-dropping visual effects, a stirring musical score and diverse, star-studded cast. Three celestial guides, Mrs. Which (two-time Academy Award® nominee Oprah Winfrey), Mrs. Whatsit (Oscar®, Golden Globe® and Emmy® winner Reese Witherspoon) and Mrs. Who (Emmy nominee Mindy Kaling), come to Earth to share their wisdom and love with struggling eighth-grader Meg Murry (Storm Reid) as she journeys across dimensions with classmate Calvin (Levi Miller) and younger brother Charles Wallace (Deric McCabe) in search of her father (Chris Pine), a world-renowned physicist who mysteriously disappeared four years ago.
As fantastical as the film's premise and imagery may seem, "A Wrinkle in Time" centers on a universal human need that feels particularly relevant and relatable today. "This is a story about belonging," says DuVernay. "It's about a girl who just doesn't feel strong in her mind, body and spirit. But through this epic journey, she finds her strength and learns that the center of the universe starts inside her. It's about Meg feeling like she belongs in the universe and has a mighty part to play… as do we all."
And for those who had not ever seen A Wrinkle in Time, you must grab the DVD when it come out today!  This story is powerful for children of all ages.  It kept my teenagers and my elementary kid interested. It's the perfect thing to do on a hot & sunny afternoon this week.
A Wrinkle in Time: Bonus Features
A Wrinkle in Time Blu-Ray had some great bonus features that tell how the movie came to life.  To me, this is the real reason to buy the DVD. Here's what you will get:
A Journey Through Time
Take an up-close look at the making of this magnificent movie with Director Ava DuVernay, Oprah Winfrey, and the cast and crew. 
Deleted Scenes (with optional director audio commentary)
Ant on a String
Aunt Beast
Meg Learns About Calvin's Dad
Papergirl
Audio Commentary
Director Ava DuVernay
Producer Jim Whitaker

 

Co-Screenwriter Jennifer Lee
Production designer Naomi Shohan
First assistant director Michael Moore
Editor Spencer Averick
VFX supervisor Rich McBride
Bloopers
These are always my favorite to watch!
Original Songs/Music Videos
"I Believe" performed by DJ Khaled featuring Demi Lovato
"Warrior" performed by Chloe x Halle
A Wrinkle in Time Blu-Ray DVD is available June 5, 2018
A Wrinkle in Time Blu-Ray DVD is out today!  Even if you have seen it in the theaters, it's a great family movie to watch again and again.  And the bonus features are outstanding!  It is available to purchase today, so pick up a copy for yourself.
Other Articles from the Solo: A Star Wars Story Event you may enjoy:
I'm Going to the SOLO: A Star Wars Story Red Carpet World Premiere in Los Angeles!
My Experience at the World Premiere of Solo: A Star Wars Story (I Met Mark Hamill!)
7 Secrets from the Set of General Hospital
Star Wars Fans Will Not Be Disappointed – Solo: A Star Wars Story Review 
Alden Ehrenreich Takes on the Pressure of Creating a New Han Solo
Emilia Clarke – The Newest Leading Lady of the Star Wars Universe
Ron Howard Takes on the Star Wars Franchise
Paul Bettany: How Do You Go from Vision to Villain?
Meet the New Chewbacca – Joonas Suotamo
The Newest Droid in the Star Wars Universe: Phoebe Waller-Bridge
Disclaimer: Disney sent me to Los Angeles on an all-expenses paid press trip, in exchange for my coverage of our time learning about A Wrinkle in Time Blu-Ray DVD. All opinions are my own.