Recently, we completed our Bigger Than Texas Road Trip, which encompassed over 4600 miles and seven states.  Beyond all the amazing sites we saw and experiences we had, we had a goal on our 21 day trip – We wanted to spread the Texas Love.  Ok, what?
I wanted to teach my children the importance of giving back, helping others, and simply being nice to strangers during our travels.   More importantly, I needed my 12 & 10 year old to stop being so wrapped in in their own little world and start noticing others and the simple things they can do to improve the world around them.
After we talked about it as a family, and brainstormed our ideas (
see our big list of ideas here
), it was very easy to implement.  All it took was a simple nudge at the beginning, but soon my children were noticing things left and right to do to make a difference.
Things like picking up trash – From the bottom of the Carlsbad Caverns in New Mexico to standing in line at Disneyland to the river beds of the Lower Animas River in Durango, CO – these kids became naturals at scooping up stray trash and finding a bin to put it in. Without Momma asking…..
One of the easiest ways to give back on a vacation is to simply Take pictures for Others – When it came to some of the amazing sites we saw, such as the Grand Canyon, mom or dad was always left out of the picture, so when ever it was possible, we offered.  Some people declined (mostly due to a language barrier) but most jumped at the chance.  And the cool thing was, they all offered to take our picture in exchange.  Even cooler, we noticed a family we had help out at one scenic view at the Grand Canyon, offer to help another family at a different point.  It was an awesome example of Paying It Forward.  It's a simple gesture that we even experienced ourselves through out the whole trip. – how else would we have been able to get this iconic picture?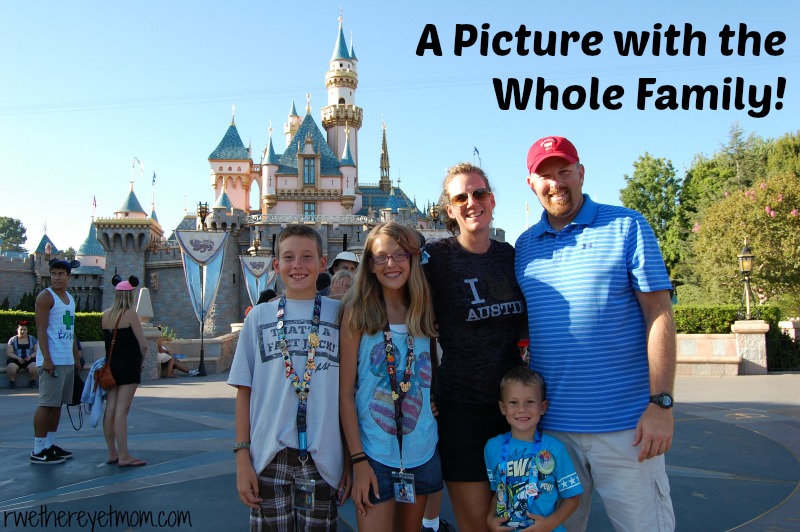 We looked for opportunities to Give to Others.   When we had an extra pass to ride the Sandia Peak Tramway in New Mexico, we found a family with lots of children to give it to.  And when we had a few extra Fast Passes at Disneyland, we found a service member to give them to.  Both were surprised at our gesture – exactly the response we had hoped for.
We looked for fun ways to give back too.  Doing laundry on the road was difficult.  It was time consuming and expensive.  We had purchased too much laundry detergent, so we thought it would be nice to leave it behind for the next weary traveler.  And then my daughter came up with the idea to leave our stack of extra quarters behind too!
My 10 year old wants to serve his country one day and he really looks up to those that do.  Every time we see a service member or Veteran, we try to make it a point of thanking them for their service.  We visit SeaWorld San Antonio often, and because it is close to a few military installations, we have ample opportunity to thank those in uniform every time we visit.  On this trip, I finally observed my son get out of his comfort zone, walk up to those he saw in uniform and thank them for their service.
At the USS Midway Museum in San Diego, several of the volunteers are Veterans and we were able to thank them.  But the coolest moment happened at the Planes of Fame Museum in Chino, CA. My son had the opportunity to hear from a former B-17 ball turret gunner who flew 30 missions in WWII before being hit by flak.  He was in awe of his stories, asking him several questions.  And afterwards went up to him to shake his hand and thank him for his service to our country.
We wanted to find a place to leave a big tip for our waitress on our travels.  We had discussed this before leaving on the trip that we wanted it to be given to a waitress/waiter who we really felt needed their day to be brightened.  Waiting tables is such a tough job (I did it for many years, so I have a soft spot in my heart for the hard work.) – if we could, we would have left big tips all across the Southwest! As it happened, we left one for a waitress in a little diner we happened into around 8 pm one night in Albuquerque, NM.  She wasn't overly friendly, in fact she looked quite distracted, like her mind was elsewhere.  The meal was nothing special – honestly, can't even remember the name of the restaurant.  But something told me she was the one.
So we left her a big tip and then left. We didn't wait around to see her reaction or get a "thank you." I explained to the children that we do good deeds because people deserve them and not because we want to see the reaction.  Sometimes, we just knowing in our hearts that we did something nice was all the reward we needed.
But we were rewarded ten-fold on our trip.  We smiled at everyone we came in contact with and met some amazing people who truly enriched our experience.
We met Bob, a former high school biology teacher who opened the
American International Rattlesnake Museum
in Albuquerque, NM to help teach people more about rattlesnakes.  He showed us a big rattler who was shedding and gave us some "behind the scenes" information about the museum.
While we were purchasing our tickets to get into the San Diego Zoo, my son struck up a conversation with the agent who had lots of Star Wars memorabilia.  She went on to tell us that her grandmother did still photography for the first 3 movies – so fascinating!!  And she then conveniently found a "extra" 50% coupon for admission.  Thank you Miss Star Wars!
Sometimes we experienced good luck without ever speaking to a soul.  My kids will be talking about how we were able to ride Space Mountain TWICE in a row without getting out of the car.  "Want to go again?" the Cast Member asked us – just a little bit of Disney Magic granted to us that day.
The coolest moment happened to us after a long day in San Diego.  I was looking for a place to eat dinner and made my husband drive us over to Pacific Beach in search of this particular restaurant I was dying to go to.  Turns out, it wasn't the same place and wasn't very good.  But my tired and weary crew  rallied anyway and after we ate, we took a quick walk down the beach.
Finding the only gift shop on the beach, I wanted to get some souvenirs.  While we were making our purchases, the owner noticed my son's USS Midway hat and asked us if we enjoyed the carrier. We politely said yes and he mentioned his father was the Commanding Officer of the USS Lexington.  We made small talk and he went on to tell us all about his father,
Eugene McDaniel
, who was also a POW in Vietnam for over 7 years.  It was an amazing conversation that all of us were enthralled to hear.  And here we were in the middle of a little gift shop in a town we didn't really mean to go to – It was an experience we were meant to have.  And it was incredible. We were completely paid forward.
When we started planning our "Bigger Than Texas Road Trip", it was all about what we would receive out of a trip of this magnitude.  Setting our sites on Paying It Forward on the trip rewarded us more than  we had ever hope.  And it made up realize the importance of having a mindset of doing for others rather than it be all about what's in it for me. It's a life lesson that I hope my children will maintain.
You don't have to Pay It Forward in special circumstances, like a vacation.  Doing good deeds, looking for opportunities to help and doing the right thing when people are not watching you are goals we all want our children to have.  And they can be done every day. 
It was natural to work with State Farm Insurance on our Road Trip.  It's their theme of "Like a Good Neighbor" that went hand-in-hand with teaching my children to be a "good neighbor", even on vacation.  For them, being a good neighbor is about good customer service.  But it is so much more than than – it's a philosophy we all can learn from.
I hope you are inspired to be more of a good neighbor at home and when you are traveling.  My children were very inspired and looked for opportunities every step of the way.  Our goal is to continue that excitement for doing for others now that we are home.
I am working with State Farm Insurance this summer in a series of sponsored posts.  All opinions are strictly my own and not endorsed.