We have been customers of PDQ ever since they opened in Cedar Park in 2014.  We like their menu, as it is fresh and good.  Recently, they started offering Zucchini Fries and invited us to come in and try them out.
PDQ: Ok, tell me, you think it stands for Pretty Darn Quick, right? Not the case my friends. People Dedicated to Quality created a new concept – Fresh Food Fast.  We have a fast food restaurant concept but everything cooked at PDQ is cooked to order and cooked fresh – no ingredients are ever frozen – all fresh! What a concept, right?
PDQ: Fresh Food
We took a tour with the Operations Manager of the Cedar Park PDQ and he showed us everything from where the potatoes are cut for the french fries to the fryer and prep area.  Y'all there is not one freezer in the entire restaurant.  Most everything is bought locally, including a local bakery that bakes the buns for the sandwiches 6 days a week.  I loved the open-kitchen look, so you can actually see your meal being prepared.  In fact, in a nod to their name, your food is prepared & served to you within 2 minutes – pretty darn quick huh?
PDQ: Tenders, Salads, & Sandwiches
PDQ features crispy or grilled chicken tenders in a meal, topping a salad, or in a sandwich.  We were able to try all three and I have to say, I enjoyed them all.  The tenders are juicy and the batter is light. PDQ also makes 11 different dipping sauces for your tenders as well.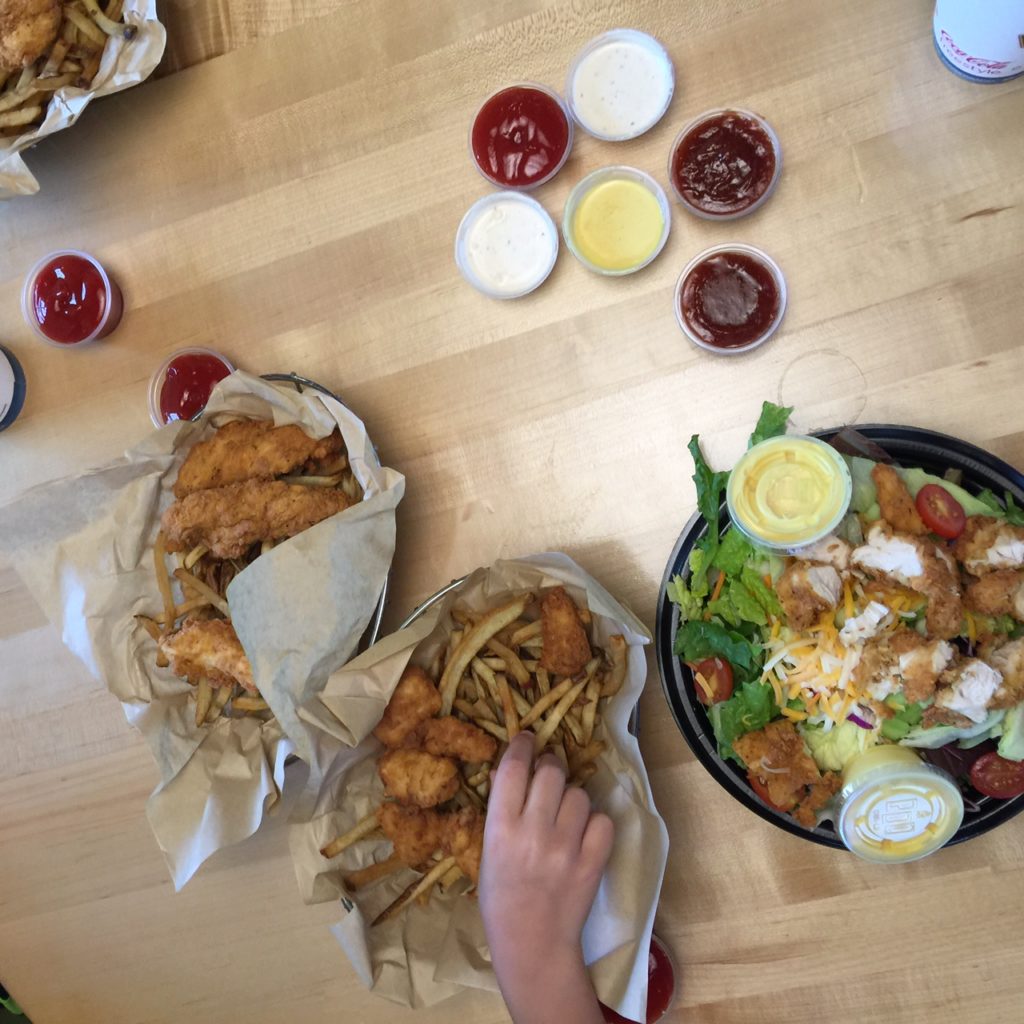 I am a sandwich girl, so I loved the crispy turkey sandwich rite sweet heat sauce.  But I have to say, the salads are awesome. The crispy chicken salad has the perfect balance of lettuce, cheese, chicken and honey mustard dressing.
PDQ: Zucchini Fries
We were invited in to try the Zucchini Fries and they did not disappoint!  Cut just like a normal french fry, they are very tasty and almost melt in your mouth.  You forget you are actually eating a veggie.  And truth be told, I liked them better than the french fries!
The new fries are made to order and feature hand-breaded, hand cut zucchini cooked to golden perfection. Each order of Zucchini Fries is freshly prepared in-store daily and is served with a choice of any of PDQ's eight beloved homemade sauces. The Zucchini Fries are available for just $1.49 with any order of a Tenders, Nuggets or Sandwich combo meal, and $3.49 as an a la carte item.
PDQ: French Fries
With all this love for the zucchini fries, I would be remiss to not tell you a little about the french fries.  PDQ goes through a process to make these tasty guys from measuring the sugar content of the potatoes (too cook them when they are perfectly ripe) to steaming them in an oven.  The french fries are only fried for a few minutes to make them as healthy as possible.  There are a few other steps to making their french fries, but trust me, all the steps are worth it.  They are tasty!
PDQ: More on the menu!
PDQ has so many yummy things beyond just the tenders that are worth mentioning.  For a light side, try the fresh blueberry coleslaw or fresh apple slices with toffee dip.  PDQ also makes their own fresh-squeezed lemonade, hand-spun milkshakes, and fresh-baked cookies.
Best part of all? I think the prices are reasonable.  Combo meals start at $7.69, sandwiches at $4.99, and salads at $6.99. The staff was all so nice and happy to be there – it's a great, family-freindly restaurant to try!
PDQ: Community Outreach
PDQ wants to be a vital part of the Community, welcoming sport-teams, schools, and booster clubs to host spirit nights, do fundraisers, or host parties in their restaurant.  They will even cater big events and deliver it to you!
PDQ also hosts Superhero Sundays at both the Cedar Park & Lakeline locations.  Kids 10 and under who are dressed in a superhero costume on Sundays will receive a free kids meal!
Disclosure: I was invited to try PDQ and given a tour of the restaurant.  I was not paid for this article.  All opinions are my own.