Another fun Holiday event that is a must do for the Austin Area! Penfold Theatre presents "It's a Wonderful Life" classic radiocast.
We are blessed to have such a robust theatre scene in Austin. We have so many fun holiday theatre productions to choose from. But before you buy your tickets, let me convince you that one of this year's MUST SEE holiday shows is Penfold Theatre Company's It's A Wonderful Life: A Classic Radiocast.
I promise you, this show will be unlike no others. The play, performed by 4-5 very talented actors, is a radio show – complete with really fun sound effects. Standing in front of microphones the entire performance, the actors all play a few different roles each and it is so fun to see them all change characters right in front of you, complete with their facial expressions. For the past few years, I have been blown away with how much I enjoyed their radio shows, A Christmas Carol & Miracle on 34th Street, they did such a fantastic job of storytelling, that you got lost in the story with them. You completely forget there are microphones in front of them and begin to "see" the story unfold.
The sound effects – glass breaking, dishes clinking, taxi cab horn tooting, shoes running, and more – enhance the story and performance.
Penfold Theatre Company presents It's A Wonderful Life – Classic Radiocast November 29 – December 21, 2019 at Old Settlers Hall at Old Settlers Park.
Back by popular demand, the show draws audience members back in time to 1946 as members of the KPNF radio station are assembling for a live radio performance of It's a Wonderful Life. Through dozens of characterizations and live Foley sound effects, five talented actors tell the entire story, putting an imaginative twist on a cherished holiday tradition. Guests of all ages will fall in love with George Bailey and his timeless tale of despair, redemption and hope all over again.
It's a Wonderful Life Classic Radiocast continues the Penfold tradition of presenting live radio plays for the holidays. Adapted and directed by Penfold's Associate Artistic Director Nathan Jerkins, It's a Wonderful Life Classic Radiocast invites nostalgia for the days of gathering around the radio together while providing an evening of enjoyment and amusement for the whole family. Says Producing Artistic Director Ryan Crowder, "After almost a decade, these holiday performances have become a beloved tradition, not just for our artists and staff, but also for our audiences who return year after year to be reminded what the season is really about."
The performance features mock radio commercials for local businesses and a nightly cameo role for a selected member of the audience. Glowing with warmth and undeniably evocative of the true Christmas spirit, the performance is a perfect way to ring in the holiday season.
Performances are Thursday – Saturday evenings at 8:00 pm, with two matinees on Saturday, November 30 & December 21 at 2:00 pm. The show will be performed through December 21, 2019.
Are you new to R We There Yet Mom?
Welcome! We are a website dedicated to having fun and making memories in Central Texas and beyond! We love to travel and give you inspiration to take trips with your family as well.
But we know we can't always be traveling (or maybe we can??), so while we are at home, we have lots of fun activities for you to try in the Central Texas area.
Are you home for the Holidays? Check out all these fun events we have found happening over the next few months in the Austin area!
And don't miss these 28 Holiday Events happening in Austin this season!
And we love our BIG LIST of Things to Do in Austin!! Try to check off some of these over the Holiday season as well!
And don't miss any of the spectacular Holiday Light Displays that you can find in the Austin area this season! We have a comprehensive list to help you find them all!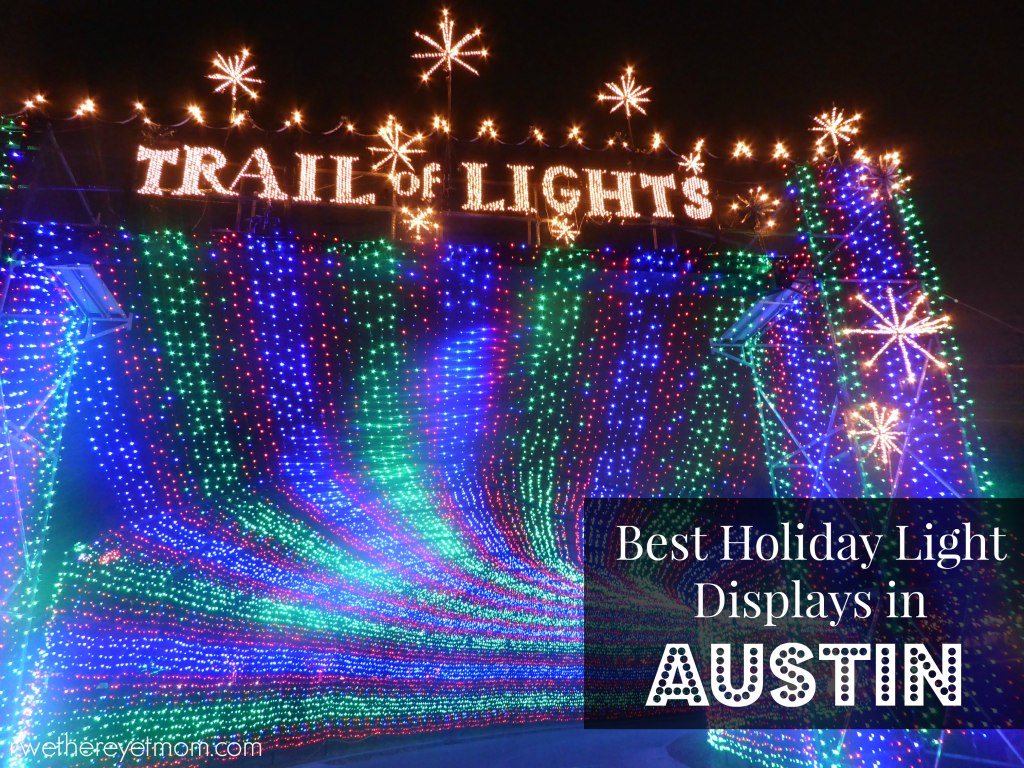 Best Holiday Light Displays in Austin ,Texas

Don't miss these great articles on more Holiday Fun in Austin!
28 Holiday Events in Austin
10 Things You Must See at Austin's Trail of Lights this Year
5 Tips for Austin's Trail of Lights
Holiday Light Displays in Austin
Where to Find A LIVE Christmas Tree in Austin
Zilker Holiday Tree
Where to Find Santa Claus in Austin