I have 10 weeks left with my 4 year old until the big kids come home for the summer. And you know what happened next fall? My baby goes to kindergarten. So in an effort to make some memories with him, I am instituting #101PreschoolDates
Follow along as we count down this list and find some really cool places in the Austin area to take your preschoolers!
Pet Sounds at Laguna Gloria and Mayfield Park
Spring is finally here! The sun is out and we have had some gorgeous days. So we wanted to get outside on our date today. I am a bog fan of outdoor art exhibits (murals, anyone?) and I have always loved the "out-of-the-box" displays that
The Contemporary Austin: Laguna Gloria
has on display.
Charles Longs' Pet Sounds, has been on display the past few weeks and I have been dying to get down to see it. These colorful blobs don't make any sense. They completely stand out with their bright colors and honestly, don't look like much. Until you touch them.
Your hands bring them to life, making a crazy sound. From chirps to clicks and hums and buzzes – the more you touch them, the more sounds you make. When you apply multiple hands all in different places, you make a symphony of sounds. It's pretty cool and delightful to a 4 year old. Pet Sounds is here through April 20, so make sure you don't miss it!
The display itself took less than 20 minutes, so we took the time to walk the grounds, check out other, permanent sculptures, and walking the path by the lake. Admission is FREE on Tuesdays and it wasn't crowded at all – we had the place to ourselves at times, which made for a nice quiets walk with my date.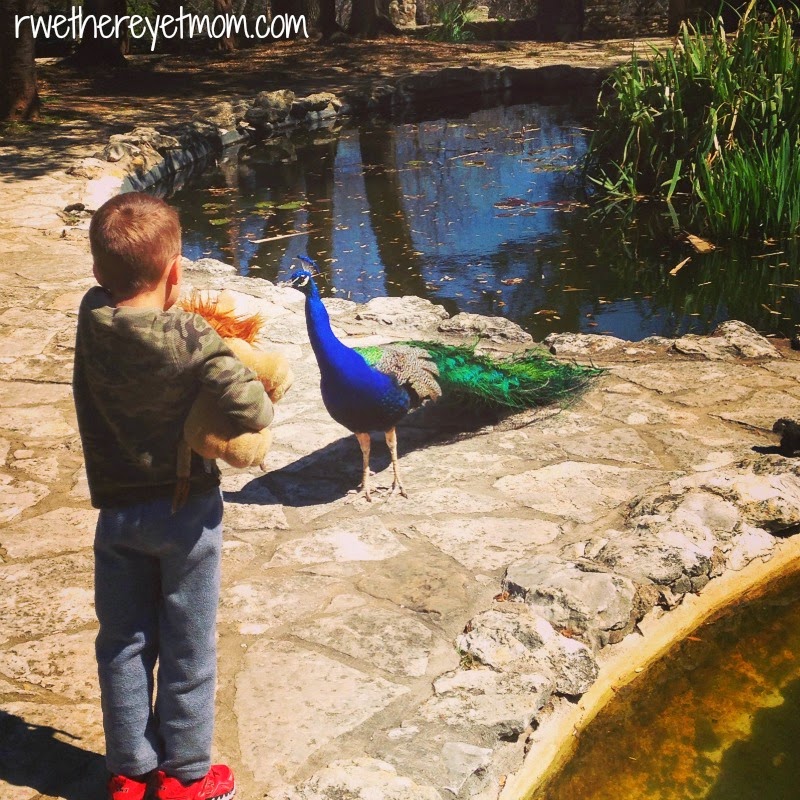 And since we were right there, we just had to pay the peacocks a visit. Right before you get to Laguna Gloria, you pass Mayfield Park, home of some beautiful grounds and just as beautiful birds. I love the quietness of this park – with the water features, the grassy lawns, and shaded benches, we enjoyed sitting still for a while. Until the birds came by.
Most of the peacocks want nothing to do with you. They are so used to people and if you don't have anything for them, they don't even care that you are there. Most of the time they just walk away. We kept following them around to get a picture and they just kept walking away. I kept wondering exactly how do you get a peacock to fan out his tail feathers, but quickly realized that I didn't really want to find out.
The quiet time we spent together made me realize how important these dates were going to be. Can't wait to see where the next few months take us! Follow along on our social media channels with the #101Preschool Dates.
Other Posts You May Enjoy:
101 Things to Do with a Preschooler in Austin
Special Events at Safari Champ
5 Tips for Your Next Trip to Thinkery
Blanton Art Museum & Whole Foods Picnic
A Free Fun in Austin Day
Katherine Fleischer Park