Two weeks ago, I had the amazing experience to attend the Solo: A Star Wars Story Press Junket in Los Angeles, which included the Red Carpet World Premiere of the movie, as well as interviews with Ron Howard, Woody Harrelson, Alden Ehrenreich and more.  We loved having the chance to meet with another Star Wars newcomer – and one who's face we never seen on the big screen, yet she makes a huge impact in the movie.  Let me introduce you to Phoebe Waller-Bridge. 
"Introducing, an Independent Droid"
Phoebe Waller Bridge is new to the Star Wars franchise, as she introduces us to a new droid, L3-37.  As I have already mentioned, we don't actually see Waller-Bridge's face in Solo: A Star Wars Story, yet her personality shines thru in her character.  L3-37 is a different droid than one we have seen before.  No longer do we have the submissive C3-PO taking orders from everyone, L3 is calling the shots – and I kinda love it.
Without giving away any spoilers, I can tell you that you will love L3 and come to see her as much more than any Droid who has come before her……even though technically, they all have come after her…..are you following? And these are strong words for someone who's favorite character growing up was R2-D2.
Waller-Bridge was such a delight to get to know, and even without seeing the movie yet, I think you are really going to like her to. Known for roles in both dramas and comedies mainly in the UK, she is also a writer and producer, most recently on Killing Eve with Sandra Oh. And though Solo is different from anything she has been a part of in the past, she does such a great job of bringing us L3-37.
"I hadn't actually seen any of the Star Wars films."
I read that prior to being cast for this role that you didn't know anything about Star Wars?  
Well, well, well, well. I did know about Star Wars. I hadn't seen any of the films. I think there's like, five of us in the world.  But, yeah.  I hadn't.  Which I think in some ways might've worked in my favor.  The thing is, especially from the droid perspective, because I was very loose in the audition with the idea of what a droid was.  And they were, like, "Wow, you're taking the droid thing very lightly."  And I'm like, "Oh.  Is she not a person?"   But I loved the film so much.  I'm completely obsessed now.  
Did you have moments where you'd actually sit and say, "Hey, I'm in a Star Wars movie" and it's really setting in, and you kind of get excited? 
Yeah.  Two major ones — there was the scene where I am in the Millennium Falcon– that was a big one, and I screamed when I saw the Falcon, and also when I met Chewie.  But the big one really came two weeks after we'd wrapped, and I was just on a bus going to get a sandwich somewhere in London.  And I suddenly just went, "What just happened?" So I called my sister.  And I was just like, "Was I just in a Star Wars movie?"  She's like, "Yeah.  Love, yeah.  We came to set.  We saw the whole thing."  My God.  How did that happen?  
How do you become a Droid?
I saw that you were actually in costume and acting along with the characters.  Tell us about that process of putting on the costume each day.  
Well, I had loads of fittings.  The weirdest thing is, I got a scan of my whole body, and then they built a complete replica of my body. And then they'd build this suit around it, so it fits perfectly.  So I had this green suit, this skin-tight, really attractive, green leotard.  And then, on top of that, I had the legs drilled onto me, and the arms, and the chest plate, and then the head.  
But it was heavy.  Because it was the first time that they'd created a droid that kind of moved properly and was more flexible. I could move all of my joints.  Because she's a self-made droid, so she created herself to be…as flexible, bigger, faster, stronger, than any other droids that she would've met.
How do you prepare for a role as a droid?  
Well, I was ready to do all sorts of preparation for that.  I was like, "Do you want me to work out?  So I can carry the suit stronger?"  And they were just like, 'no, no, that little weird, awkward walk you're doing is actually perfect.'  And I was like, "Really?  You don't want me to come across a bit more…?"  
I think the vision that Jon Kasden had from the writing point of view, and then carrying on through the whole production, was that she would feel — because she's created herself, she's built herself to be more relaxed, in her voice, and her body, and everything.  I would offer something droid-y, they would be like 'stop that, pull that it back.  Be more natural.'  
How did you go ahead and bring such heart and humor that's not even flesh and blood?  
I can't take full credit for that.  The script does that.  But I think you have to sort of start at the heart, with any character, no matter what they're made out of.  And I felt like she had a huge amount of heart and passion, and even though she sort of wakes up halfway through the film to what her passion is, and, it's nice, knowing you're building to something like that as well.  And humor as well.  Where there's humor, there's heart, and I think she's got a lot of it.  
How much ad libbing did you do with your character?  
We were allowed to go off-beat — once we got the script in the can, then there'd be like, "Does anyone else have any ideas" or "Let's just kind to be a bit looser with the scene."  And so we did get to do that a few times.  And then if anything good came out of it, then they would do a take of that.  It was really fun.  I mean, the whole atmosphere on set was just so fun.  And encouraging.  And everyone was just so excitable, and it was just like, "Ooh, that's a good idea, let's do that."  It was really nice.  
Working with Ron Howard, the King
What is the best advice you got from Ron Howard and Donald Glover?  What are some life lessons you picked up from those relationships?  
They are both so relaxed. And such consummate professionals.  But there's a real sense of just being able to be really present with both of them, and I really learnt that from them.  Just letting go of everything and letting your instincts speak first, really.  
And Ron Howard, he's a master. I was ready to meet Ron Howard, the king.  And then he comes in, and he's just like, "Hey.  How's it going?"  So friendly, and that makes everyone feel so relaxed, and you can just feel instantly why people just want to work with him over and over again.  Because he's so clear.  His eye is so brilliant, and he's incredibly kind, and very, very clever.  So you feel very safe.  
What do you hope people learn as far as an inspirational message within the film?  
It's a film celebrating individuality and individual causes and having courage of your own convictions.  So, that would be wonderful.  People want to fight for their sh*@.  But they're so many amazing relationships in it, and I think it's inspiring, and the trust it takes to partner up with somebody, and I hope that inspires them as well.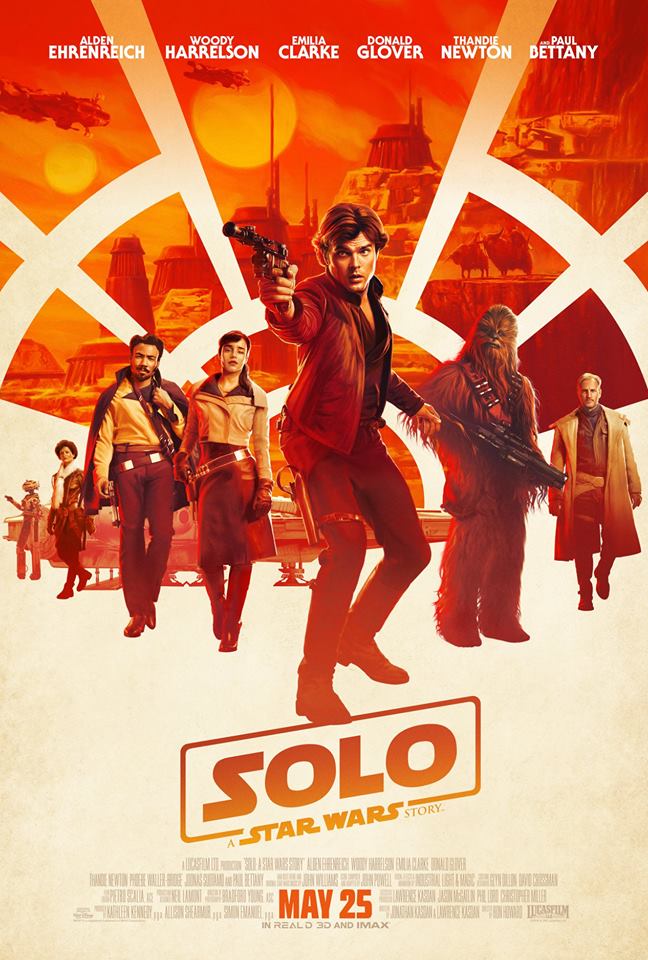 I was so impressed to meet this very accomplished actress, writer and producer and see what she brings to the role of L3-37 in Solo: A Star Wars Story.  I think your going to like her as much as I did.
As I have said before, Star Wars fans will NOT be disappointed.  Make sure you get your tickets now for this upcoming weekend.  You do not want to miss seeing this movie the weekend it releases!
Solo: A Star Wars Story opens in theaters nationwide Friday, May 25, 2018
Other Articles from the Solo: A Star Wars Story Event you may enjoy:
I'm Going to the SOLO: A Star Wars Story Red Carpet World Premiere in Los Angeles!
My Experience at the World Premiere of Solo: A Star Wars Story (I Met Mark Hamill!)
7 Secrets from the Set of General Hospital
Star Wars Fans Will Not Be Disappointed – Solo: A Star Wars Story Review 
Alden Ehrenreich Takes on the Pressure of Creating a New Han Solo
Emilia Clarke – The Newest Leading Lady of the Star Wars Universe
Ron Howard Takes on the Star Wars Franchise
Paul Bettany: How Do You Go from Vision to Villain?
Meet the New Chewbacca – Joonas Suotamo
The Newest Droid in the Star Wars Universe: Phoebe Waller-Bridge
Woody Harrelson: A Star Wars Hero or Villain?
Disclaimer: Disney sent me to Los Angeles on an all-expenses paid press trip, in exchange for my coverage of the red carpet premiere of Solo: A Star Wars Story. All opinions are my own.