Buick Lacrosse: Can a Roadtripping SUV-driving Family be Comfortable in a Car?
When the 2014 Buick Lacrosse showed up in my driveway a few weeks ago, I was quite doubtful that my family would be comfortable on a road trip to Houston in it.  I mean, we are an SUV-family.  How would we like riding in a car???
After only a few hours, my concerns were all gone.  And after 3 days to Houston and back,  I was pleasantly surprised that is was just as spacious and comfortable as a bigger car and came with some pretty great features that made road tripping even better.
Was there enough Space?
The first concern I always have when road tripping is will my family fit comfortably? We are a family of 5, but on this trip, it was just me and the kids. My teenager sat in the front where she help control the music selections and my 2 boys (12 & 5) sat in back. All of us felt we had plenty of room for the long drive. If my husband would have come, it would have been a little crowded in the back seat for the kids. But it was perfect for us.
The trunk was huge. We each had a bag (4) and there was still plenty of space left. I like that it had a cargo net to use. That would be helpful while grocery shopping to keep everything from rolling around.
Buick Intellilink & Navigation
When traveling to a new area, I rely heavily on my iPhone to give me directions as it is more updated than my navigational system in my SUV. When traveling in the Buick Lacrosse, we wanted to test out the fancy nav system, even if I really did know the way.
Like most systems, it provided me with a map & estimated time of arrival to Houston. But what surprised me the most, was the real-time traffic information it used to re-route us to our hotel in downtown Houston. We were due to arrive at 5:15 pm, and as you can expect traffic in Houston at 5:00 pm is horrific. The Intellilink "saw" the traffic when we were still 30 minutes away from downtown and re-routed us. I went with the new directions, even as it took us off the highway and we arrived at the hotel even earlier than predicted using only surface streets downtown. I never could have done that with my phone and would have spent hours in that traffic.
The Intellilink Infotainment System is a color touch-screen that provides voice-recognition commands, hands-free phone calls, SiriusXM and Pandora Radio, and much more. My teenager really got to know it on our travels and had it figured out within half an hour. It's easy to use and if you are a music lover, you will love some of the special features, such as Gracenote – which tags songs you like and will find more like it for you.
Adaptive Cruise
I tend to rely on cruise control when driving on long trips. I immediately put the Lacrosse on cruise when we got to an open highway but it kept changing the speed on me – as if it was driving on it's own. Reluctantly, I turned it off and it wasn't untilI was reading more about the car when we got to the hotel that I learned my Lacrosse had Adaptive Cruise Control (ACC).
ACC allows the car to automatically slow down or speed up to keep the pace of the car in front of you. I will admit, that it takes some getting used to as it's hard to let go of control of the car, but I was amazed at how well this worked. When in the right lane, when I came up upon a car, we would slow down when we were at least 2 full car lengths away. As soon as I switched into the left hand lane, it would speed back up to the speed I had designated. So besides this being a really cool feature, why would you want this? Its a great feature to have if you make long car trips (commutes or factions) that you will be in traffic for.
Everything at Your Fingertips
Many of our road trips are just me and kids, so safety is an utmost concern when driving. I really enjoyed having controls for everything in the steering wheel. From the radio to the cruise to my phone, I could keep both hands on the wheel at all times. I also really enjoyed the Head-Up display, where my speed, navigational directions, and even music was projected out in front of me, like this: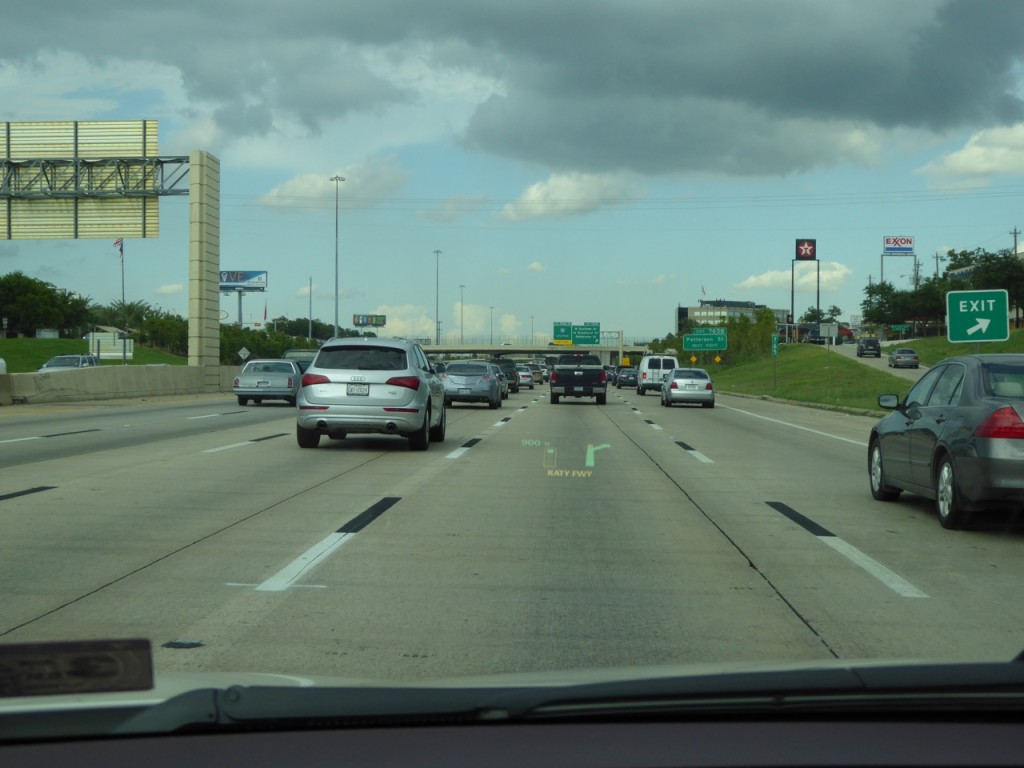 I didn't have to look anywhere but forward while driving.
So was the Buick Lacrosse a good road-tripping vehicle?
Yes, for a family of 4 or smaller, it was very comfortable and has some incredible features to help you get to your destination safely and efficiently.
2014 Buick Lacrosse Details:
4 year/ 50,000 mile bumper-to-bumper warranty
Fuel Economy – 21 MPG Combined City/Highway
Annual Fuel Cost = $2500
Rear Parking Assist
Rear Vision Camera
Driver Confidence Package (additional cost) – Forward Collision Alert, Rear Cross Traffic Alert, Side Blind Zone Alert with Lane Departure Warning
Standard Vehicle Price = $39,755.00