One of my dear friends who shares a passion for history and travel with me, just returned home from a trip to Rome. She traveled there with just her husband for a wedding anniversary. I fell in love with everything she saw while visiting and she graciously made a long list of everywhere I HAD to go in Rome.  
Lucky for me, I was persuasive enough to get her to write an article about it to share with all of you. Here is her Love Letter to Rome…..
Dear Roma,
It makes me happy just to type your name.  People ask me why I love you so much.  My short answer: the history.  My long answer: ah, keep reading.
Rome, you are an intoxicating mix of chic, modern, marble, & ancientness (I am pretty sure that is a word).  You are a spiritual awakening.  You are a fancy pair of shoes on a cobblestone street.  You are drinking wine in the twilight in the Piazza Della Rotonda.
My most recent realization is that you are the embodiment of continuity.  The Eternal City.  Ancient ruins still stand and give testimony to the greatness of the Roman Empire.  Pieces of those temples adorn Catholic churches all over town.  Medieval buildings, still standing, look out across piazzas at these churches.  Red porphyry marble, originally from Egypt,  brought to Italy during the Roman Empire, now adorn several churches.  And zipping through it all are modern Romans.  Fantastico!
I have visited with you four times so far and will be back again as soon as I can.  I often think about first time visitors, however, and how they might be intimidated by all you have to offer.  It is to them, these lucky people about to meet you for the first time, that I shall share our secrets.
11 Tips for a First Time Visitor to Rome
My friends, while Rome is wonderful in all regards, it is overwhelming.  We have all felt that sense of dread while planning…"Ack, We don't have enough time!"  I feel that dread every time I go.  Relax.  Rome is forgiving.  It has been there over 2000 years and will continue to be there.  Decide what is important to you.  Everyone is different.
Take a Tour: There is so much history in Rome. If neither you nor anyone in your party are familiar with a certain subject, a good alternative is to take a tour.  Most major attractions offer them in multiple languages.  The tours we have taken of the Colosseum and Palatine have been very good.
Be Your Own Tour Guide: Another fun way to get to know Rome is to split up the sights you plan to visit and have members of your group learn the history and importance of each sight.  You can be your own tour guide! Plan your days, however, around an area, not a subject. With the exception of the Vatican and Forum areas, rarely are the sights isolated from other places you will want to see.
Must See Attractions: Rome's sights are some of the most photographed, filmed, and written about in the world.  There are obvious must see attractions: the Colosseum, the Forum and Palatine Hill, the Circus Maximus, the Pantheon, St. Peter's Cathedral, the Vatican Museum, the Fontana di' Trevi, and the Spanish Steps.
Lesser Known Attractions: However, there is beauty everywhere.  Some of my favorites are less familiar.  Listed below are some beautiful churches, each with something unique to share.
San Clemente is a 12th century church with two sub levels that consist of a 4th century church and ancient Roman ruins, including a temple to Mithras.
San Pietro in Vincoli houses St. Peter's chains as well as Michelangelo's Moses.  
Santa Maria Maggiore blends several architectural features: Cosmatesque and twin towers from the Baroque period.  mosaic floor, Romanesque bell tower, Renaissance style coffered ceiling,
San Giovanni in Laterano has a magnificent marble altar.
Santa Maria sopra Minerva, an example of Gothic architecture, is home to the tombs of Popes  Leo X and Clement VII, Baroque period Bernini art and the tomb of St. Catherine of Siena and Fra Angelico.
Rome also has several fabulous museums.  Museo Nazionale Romano contains 1st century AD frescos from Emperor Augustus's wife, Livia's villa, Prima Porta.  The Musei Capitolini, two separate buildings on either side of the Piazza Campidoglio, is composed of the Palazzo Nuovo which has a fantastic classical statue collection and the Palazzo dei Conservatori which not only has  the Etruscan bronze She-Wolf and a marble bust of Medusa by Bernini, but also opens out over the Forum in its Tabularium.  The Museo e Galleria Borghese is also worth a visit.
A short distance from the historic center, the Baths of Caracalla are beautiful ruins with intact mosaic flooring in some areas.  Walking through the bath complex gives you a sense of the magnitude of the buildings themselves and also the importance of the baths to Roman life.  These are some of the most amazing ruins I have visited.
Take in the Food: In addition to the culture and history, the FOOD will make you fall in love with Rome.  Each region of Italy has its own specialities, and in Rome, you can find them all.  If you are running between sights, grab a quick panini.  If you are enjoying a more leisurely paced meal though, it is polite to order at least two courses (antipasti & primi, or primi & secondi, your choice.)  Some of our favorite restaurants are:
Ambasciata d' Abruzzo (www.ambasciatadiabruzzo.com) This is my favorite restaurant.  The food is amazing and the staff are always engaging.  The meal begins with a bowl of salamis (this is not something you order, it just happens.)  The food here is from the Abruzzo region.  The Montepulciano wine is fantastic (even the house wine.)
Gusto (www.gusto.it) Fabulous Buffalo Mozzarella
Gino's in Trastevere (Via Della Lungaretta 85)  This family owned restaurant in  Trastevere has spectacular Cacio y Pepe.  This pasta with cheese and pepper is a Roman staple.
Vecchia Roma (www.ristorantevecchiaroma.com) Located in the Jewish Quarter, this is a very old restaurant.  It has great atmosphere and a very cool, old vibe.  The food is fantastic.  We had our 20th anniversary dinner here and it was spectacular.  Very authentic Roman cuisine.
Girarrosto Fiorentino (www.girarrostofiorentino.it.) The house specialities are from the Tuscan region – ribollita, bistec Fiorentino, etc.  Very good.  This is a great restaurant for a celebration dinner.
Cin Cin Bar – This snack bar across from the Vittorio Emmanuel monument has a good sandwich that you can grab and keep moving.  It is a ham and cheese with hash browns instead of bread.  Not healthy, but tasty.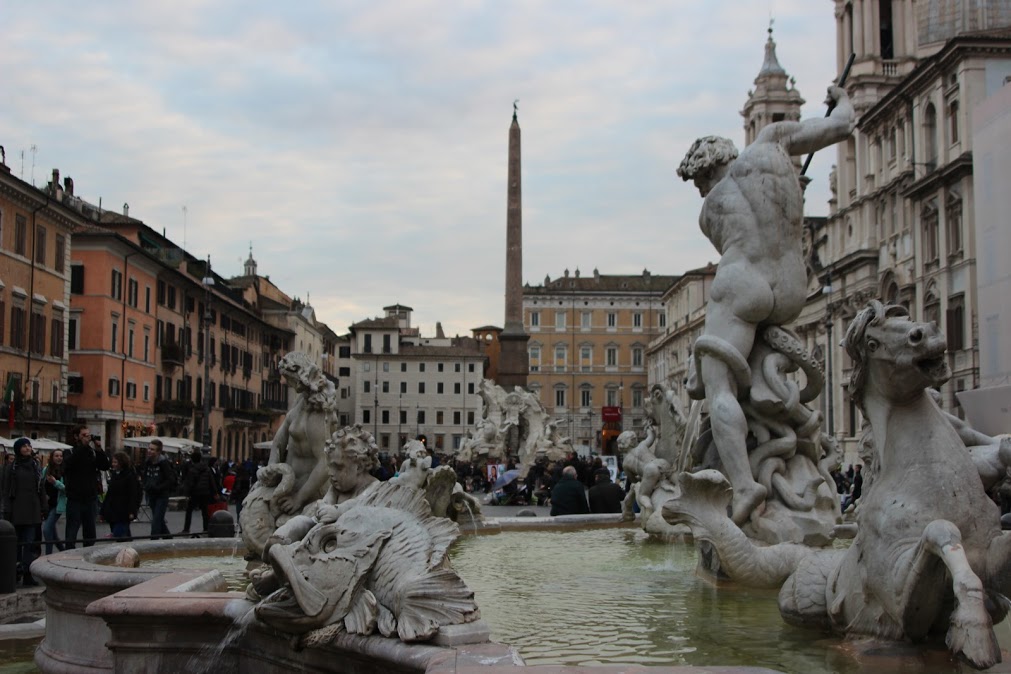 Be Aware: Alas, as with any beloved friend, there are some flaws.  Most of these can be avoided and will not detract from your visit.
Be wary on the Metro of pick pockets.  When we were there last, they were traveling in packs and would enter and exit at the same stop.  We have never had any problems using the Metro.  Just be alert.
At several larger piazzas, panhandlers will be selling various items.  Just ignore them.  This includes people selling tickets for the Vatican Museum.
The wait for security to enter St. Peter's causes considerable lines to form, so I would visit here early.  Also, tickets to the Vatican Museum can be bought online.  You can buy just an entrance ticket, a timed entrance ticket (to skip the extensive line) or a timed entrance ticket with a tour.
Most restaurants close from around 2:00 pm until 7:00 pm.  A few snack counters and restaurants in larger tourist areas will remain open.
Churches, generally require both shoulders and legs to be covered.  Either wear jeans on days you are visiting churches, or take a  long scarf to tie around your waist.
Streets in Rome are incredibly old and made, mostly, of cobblestones.  Take comfortable shoes.  Also, Rome was originally built on seven hills.  Make sure you know how far, and what elevation, you will be walking and plan accordingly.  Otherwise, you may be walking a mile and a half, uphill, at 8:00 in the morning, while dragging your luggage. (It has happened.)
There.  That should help you enjoy meeting and getting to know Rome.  Take your time, don't rush.  Enjoy the food, the people, the views.  Everywhere you turn, Rome will have something fabulous to show you if you are patient enough to look. I am so envious!
Rome, I will return for my fifth visit soon.  Hopefully, that will be the visit I introduce you to my children.  They will love you too.  Until then, I will think of you often.
Love Always,
Jen
Jennifer Shockley-Daniels is a mom of 3 children and a few furry ones too. She is an avid reader, traveler, and you will learn more history from her than any book you read.  She's also a really cool chick I am lucky enough to call my friend. Thanks Jen for this awesome article. Can I come on your 5th trip?