Two weeks ago, I had the amazing experience to attend the Solo: A Star Wars Story Press Junket in Los Angeles, which included the Red Carpet World Premiere of the movie, as well as interviews with Ron Howard, Woody Harrelson, Alden Ehrenreich and more.  One of the most exciting interviews we had was meeting with the legendary Ron Howard. Here is my time with him. 
"Just Me & Ron"
Yes. That's me interviewing the legendary film director, Ron Howard a little less than a week and a half ago in Los Angeles, California.  I am choosing to start this article with this photo for 2 reasons.   The first is obvious – it's me and RON HOWARD.  And it seems as if it's only me & Ron Howard – which is so not the case because there are 24 other bloggers in the room (but let's forget that minor detail).
But the second reason I start this article with this photo is to show you that where as you may not be the only 2 people in the room, when he speaks to you, he makes you feel like you are.
Ron Howard looks you in the eye when he speaks to you.  He listens intently to you question and then intentionally takes his time to give you a meaningful answer.  He really cares about his interaction with you, making you feel as if you are the most important person to him at that moment.
In fact, it was this quality of his that we heard over & over all day from the actors on Solo: A Star Wars Story as they described how much they enjoyed working with him.  Emilia Clarke spoke of how Howard "allowed us all to feel heard" and Paul Bettany described him as "close to family as you can get in this business."
And Howard was our last interview scheduled for the day.  After seeing Solo: A Star Wars Story and hearing from others' about their experience with him, we couldn't wait to meet him.
Ron Howard on Directing an Iconic Star Wars Film
So can you tell us about when you got the phone call (to direct Solo: A Star Wars Story)?
Well it really came out of a conversation that I was having with Kathy Kennedy. It was just a scheduled breakfast appointment that I had with her. I was in London meeting with other writers for Imagine Entertainment projects and working on things. I didn't know that there was any conflict, any creative differences going on with the project at all. I hadn't heard any of those rumors. And when I got there, Larry & Jon Kasden was there as well. And I thought I wonder what they wanna talk about? And about halfway through it just sort of came out that they were in this crisis with the young Han Solo movie.
And he said,' would you ever consider coming in and taking over?' And I said, well, it's very flattering but I can't imagine that I would. And I urged them to reconsider and think about it. And they said they had already made their decision. They were, they were, you know, they were, they knew they were gonna make a change.
And so I read the script and I was so compelled by it.  It answered the questions of what a young Han Solo's life experiences might be that would shape him, form him, push him toward that iconic figure that we would know later. And did it in ways that surprised me. It was really satisfying and logical. But it also had these twists and turns that were unexpected.
I knew what a fantastic cast it was. And over a period of about three days, I began to weigh it and at a certain point my wife, Cheryl, said 'I know you pretty well and I think you're gonna be disappointed if you don't do this.'  I thought she was right, as she most always is. 
This story was hatched before Disney acquired LucasFilm and came up with this business plan to do more Star Wars movies.  It was a conversation that Kathy Kennedy and George Lucas had with Larry Kasden, basically picking his brain and saying beyond the saga movies, what else do you think would be interesting for fans and creatively exciting? And Larry and George just instantly felt and agreed that it was young Han Solo.
So this has been a story that Larry's been wanting to tell for a while and the studio wanted to initially commit to the saga movies, which they did. But Larry kept saying, I really do believe in young Han Solo. So that's how it happened, before there were any directors involved or anything.
It's Like Playing Three Dimensional Chess to Direct this Movie
You did an amazing job at capturing that Star Wars feel. Were there any barriers that you saw along the way?
Well, there are challenges. What I did discover is that the reason that these Star Wars movies resonate with us and we see them more than once is because they entertain you in so many different ways. I didn't realize that as a fan. But when I was directing the scenes, I realized that's a real challenge. You've go action elements, sci-fi elements that are very particular to this galaxy.  You've got this blend of sort of humanity and humor and drama and then these deeper, bigger themes. It's like playing three dimensional chess to direct these scenes. And when the harmonics are right, it, it creates a range of ways that the movies entertain you.
But a real challenge. So I recognized and respected the movies that came before me all the more when I realized how complicated it was. And George Lucas had said to me, just trust your instincts. I think you're gonna find you're comfortable in this filmmaking style. And he was right.
Ron Howard takes on Harrison Ford's Han Solo
What has been the most daunting or scary part in taking on Star Wars?
I think that just the responsibility of the cast, especially, Alden Ehrenreich. It's really such a daunting challenge. I knew that there would be a lot of judgement surrounding him and his performance. But he's such a cool customer. And he wore the responsibility very well. But I know it something that really meant a lot to him. And, you know, did you hear that Harrison Ford just surprised him today?
Side note – We just loved the moment when Harrison Ford surprised Alden Ehrenreich moments before our interview with him:
I had talked to Harrison about a week ago. He had seen the movie and I had told Alden that Harrison really loved what you did. He respected it. But, of course, I couldn't announce that to anybody because no one speaks for Harrison Ford but Harrison Ford. And so, it was amazing today that he surprised us and showed up.
So speaking of Harrison Ford, did you have to walk a fine line of Harrison Ford's Han Solo while creating a new version, a younger version with Alden?
It was all about taking inspiration from Harrison. I think Alden thought a little bit about the body movement – that's a sort of subtle almost subliminal link you can create for the characters. When I did Einstein, Genius (for National Geographic) and Geoffrey Rush was playing the older Albert Einstein and Johnny Flynn was playing the younger – one of the things that they did, was they spent some time together to work out some physical traits and some body language choices that the younger Einstein could use that he would then reverberate with the older Einstein.
Alden, of course, had already thought about it. But you also have Larry Kasdan who has written for the iconic Han Solo played by Harrison so many times.  That phrasing and those rhythms was there for Alden to develop. And so it was not only right for the character but sort of familiar for audiences.
Han Solo dies in The Force Awakens, so how did that affect how you directed this film?
I thought it was very powerful in that movie. And it also reflected the kind of complexity, the thematic ideas that I think give the Star Wars movies their lasting value. It's fun. It's playful. It's exciting. But it also has these themes that are complicated and run deep.  
And in it's own playful way, I think Solo, asks some of those questions of what's it like in those more moral gray areas? Like when your survival is at stake and you're presented with choices that you might not necessarily be proud of. This is a story about young people who are on a quest for their freedom. And they're struggling for that in very difficult oppressive times. 
So I think knowing the outcome gives the story of young Han Solo even more power and more weight. And in many ways, it makes you even more curious about what might have made him tick.
So your not the only one in the entertainment industry in your family – you have a very talented daughter.  And she has a little movie, Jurassic Kingdom, coming out very soon as well.  What does it feel like to have competing blockbuster summer movies? 
Well, it's hard not to root for your daughter.  And I think either way, we're in a very fortunate position. This whole experience of being a part of Star Wars and this summer's movie lineup was so unexpected. And then we realized that our movies were coming out a month apart,  it's kinda like a gift, I suppose.
You work at something that you love. I give 110% to everything that I do. Some things click, some things not as much. But I just love it as a lifestyle, our way of life. I've felt very rewarded by this opportunity.  I hope fans feel really good about the movie because these movies are made for the fans.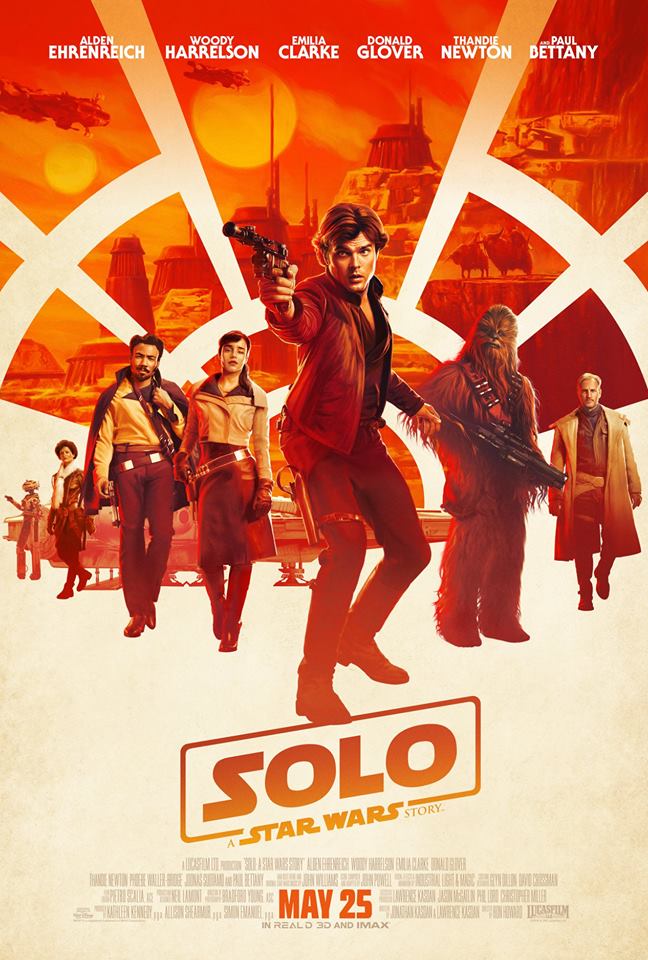 As I have said before, Star Wars fans will NOT be disappointed.  Make sure you get your tickets now for this upcoming weekend.  You do not want to miss seeing this movie the weekend it releases!
Solo: A Star Wars Story opens in theaters nationwide Friday, May 25, 2018
Other Articles from the Solo: A Star Wars Story Event you may enjoy:
I'm Going to the SOLO: A Star Wars Story Red Carpet World Premiere in Los Angeles!
My Experience at the World Premiere of Solo: A Star Wars Story (I Met Mark Hamill!)
7 Secrets from the Set of General Hospital
Star Wars Fans Will Not Be Disappointed – Solo: A Star Wars Story Review 
Alden Ehrenreich Takes on the Pressure of Creating a New Han Solo
Emilia Clarke – The Newest Leading Lady of the Star Wars Universe
Ron Howard Takes on the Star Wars Franchise
Paul Bettany: How Do You Go from Vision to Villain?
Meet the New Chewbacca – Joonas Suotamo
The Newest Droid in the Star Wars Universe: Phoebe Waller-Bridge
Woody Harrelson: A Star Wars Hero or Villain?
Disclaimer: Disney sent me to Los Angeles on an all-expenses paid press trip, in exchange for my coverage of the red carpet premiere of Solo: A Star Wars Story. All opinions are my own.