One of our favorite cities in Texas, San Antonio, is a fantastic location for a weekend stay with the family. Filled with tons of fun activities, culture, history, & good food, here is your itinerary for 3 Days in San Antonio with Kids.
San Antonio is easily one of my favorite places to visit in Texas with my children. The city itself has 2 major theme parks – Six Flags Fiesta Texas and Sea World San Antonio – and is filled with great, family-friendly activities. Mix in a little bit of Texas history and culture and you have the perfect place to take the kids.
Quite honestly, there is so much to experience and do in San Antonio, you could stay an entire week and not get bored. But if you have a long weekend, we found some fun places that are must sees when visiting San Antonio with Kids.
San Antonio with Kids: Day 1
We recommend staying downtown in a hotel on the Riverwalk when vacationing San Antonio. The Riverwalk is lush and green and quiet – you almost feel like you are on vacation in a tropical forest than in the bustling downtown of a major city. With so much to do in the downtown area, it just makes sense to park your car, as most attractions are within walking distance. We recently stayed at the Hotel Contessa along the Riverwalk and found it to be a great place to stay with the family. It's right on the cool & shaded Riverwalk and we ate breakfast each morning on the patio – it was lovely.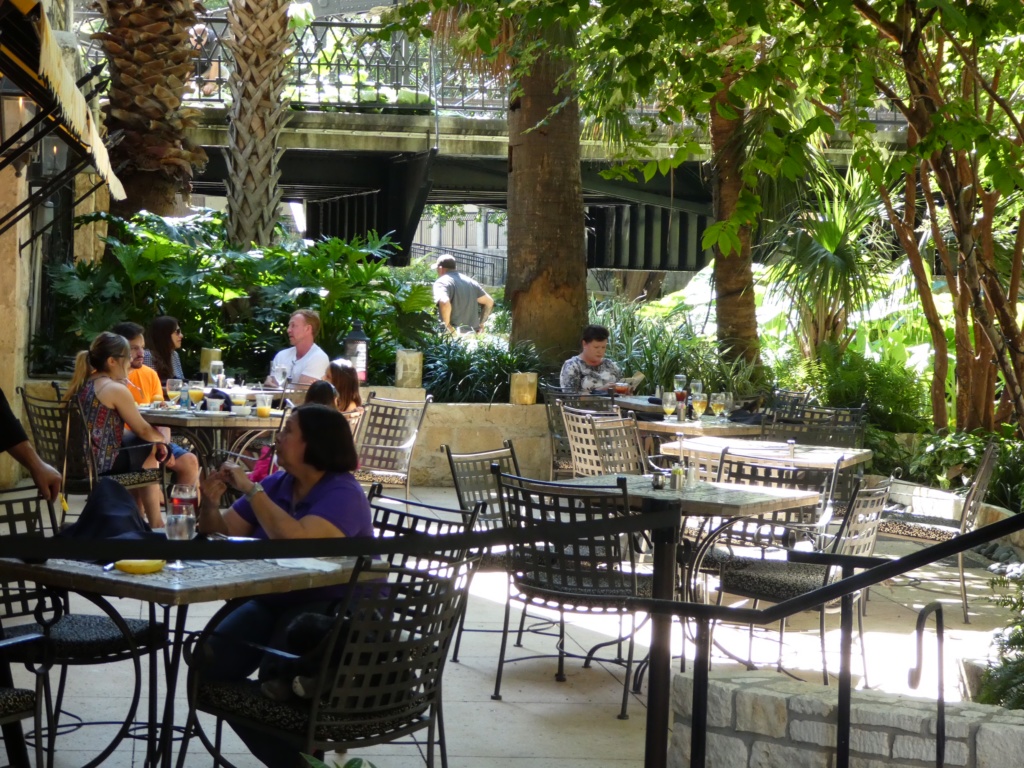 San Antonio with Kids –

Stop #1: Bus Tour

When you first arrive in a city, we always recommend a narrated bus tour to familiarize yourself with where you are & what attractions may interest you. I also love to learn the history of a city. There are several bus tours to choose from, including the Alamo Trolley or City Sightseeing Tours San Antonio. Most all have the same route and you can hop on and off to see the sites. We recommend hopping off at Market Square, the largest Mexican market outside of Mexico. You can grab a bite to eat, a frozen margarita, and do a bit of shopping at El Mercado. If you have older kids and are looking for a bit different type of tour, then check out the San Antonio Bike Tours or Segway Tours.
San Antonio with Kids

– Stop #2: Buckhorn Saloon & Museum

After lunch, pop over to the Buckhorn Saloon & Museum to see over hall of horns and over 500 species of wildlife. While there, make sure to walk through Ranger Town in the Texas Ranger Museum – a recreation of old San Antonio. Or if you are wanting to learn more Texas history, the UTSA Institute of Texan Cultures is a terrific museum that walks you through all the different cultures that helped to form our state. What we like the most about it are the docents that bring the history to life.
San Antonio

with Kids

– Stop #3: Dinner on the Riverwalk

As I mentioned, the Riverwalk is such a beautiful part of downtown that I can't recommend enough having dinner on a patio along the river. Stroll along and take a look at the menus, picking restaurant that sounds good – we really like Rita's on the River or Cafe Ole. Make sure to request a song from the traveling mariachi band.
San Antonio with Kids

– Stop #4: Rio San Antonio Cruises

After dining on the banks, watching all the quiet riverboats drift by, it's your turn for a Riverboat tour. Rio San Antonio Cruises feature a 30-40 minute narrated historic tour of the river. It's great fun for all ages as you get to see gargoyles, Marriage Island, and trees that grow out of walls.
San Antonio with Kids: Day 2
San Antonio with Kids

– Stop #1: Alamo: The Price of Freedom

Start your day with a bit of history, leaning about Texas Independence and how the Alamo played an important part of that. We always recommend watching the IMAX movie, Alamo: The Price of Freedom at the Rivercenter Mall (located on the Riverwalk, less than 2 blocks from the Alamo). This is 45 minute movie that depicts the battle and tells the story before you see the actual shrine. I think it provides great context, especially for those who didn't learn about it in school – and ensures you understand the importance of this historic building. I recommend the movie for kids 7 and up. The Alamo itself has a brief movie, though not as entertaining, if you don't have time.
San Antonio with Kids

– Stop #2: The Alamo (FREE)

The Alamo is always a Must See for everyone visiting – even if you have seen it before. We Texans are very proud of the Shrine, as it helped share the great state of Texas. And it's important for me for people to understand it's so much more than a silly part of Pee-Wee Herman's Big Adventure. I recently wrote on the 5 Things You Must See at The Alamo, which gives you much more insight on a visit there.
San Antonio with Kids

– Stop #3: Louis Tussaud's Wax Works & Ripley's Museums

After the Alamo, we like to have a little fun. Across the street and wildly popular with the kids, are a few fun museums: Louis Tussaud's Wax Works features over 200 life-like wax figures like Madonna, Oprah, Superman, & even the cast of Harry Potter. Ripley's Believe it or Not Odditorium (my kid's favorite) has fun, interactive displays that bring out the kid in you. We played in the Hall of Illusions for a long time.
If you like to be frightened, check out the Ripley's Haunted Adventure – a haunted house with live actors & special effects. The Guinness World Records has several themed galleries with interactive exhibits as well. All of these museums are fun & light hearted and my kids (15, 13, & 7 years old) really enjoy them. Look for admission discounts at combined museums online or in hotel brochures.
San Antonio with Kids

– Stop #4: Schilo's Deli

Just a few blocks away is one of my favorite German Deli's, Schilo's Delicatessen . My mom introduced me to this spot as a child, and we always try to fit it in when we visit. Schilo's has a traditional German menu – schtznil, potato pancakes, and braughtwurst, as well as a great Deli menu to custom make your own sandwiches. And you can't visit without trying their homemade root beer – some of the best I have ever tasted.
San Antonio with Kids

– Stop #5: Yanaguana Garden (FREE)

Let the kids burn off some steam at San Antonio's coolest new playground. Yanaguana Garden is a family-friendly, 4.1 acre park that features the coolest climbing structures & swings we have ever seen. There are ping png tables, chess boards, a splash pad and more. My kids (even the big kids) loved this park and wanted to stay for a long time. It has plenty of shade and lots of seating for parents to get a bit of rest too. It is located in Hemisfair Plaza (which is currently undergoing a big makeover).
San Antonio with Kids

– Stop #6: Tower of Americas

We love to go up to the top of the Tower of Americas when we visit San Antonio, as it is just such a fun view of the city. This last trip, we went right at 8:00 pm and we were able to catch the sunset from the top. My children loved it! The Tower of Americas also has a 4D movie that allows you to fly over the entire state – lots of fun!
San Antonio with Kids

– Stop #7: The Saga

Finish your day with this Must Do – San Antonio The Saga at San Fernando Cathedral. This projected light & music show was fantastic, all three of my children were fascinated. The 24-minute show is by French artist, Xavier De Richemont and tells the story of San Antonio from it's beginning to today. It shows each Tuesday, Friday, Saturday, & Sunday at 9:00, 9:30, & 10:00 PM. We arrived about 10 minutes before it started on a Tuesday and had no problem finding seats.
San Antonio with Kids: Day 3
San Antonio with Kids

– Stop #1: Breakfast at Lulu's Bakery

If you like unique dining experiences when you are traveling, then you have to add LuLu's Bakery in downtown San Antonio to your itinerary. A little cafe, you would not give this nondescript restaurant a second glance, unless someone told you about the cinnamon roll….the Big-As-Your-Head Cinnamon Rolls. My kids loved ordering this monster roll, which was just as fluffy & sweet as you would want it to be.
San Antonio with Kids

– Stop #2: Doseum

Fueled on pure sugar, the next best place to take the kids is to San Antonio's new children's museum, the Doseum. My kids are big fan's of museums that have a lot of hands-on-exhibits and all of them – the 7 to the 15 year old – agreed that this was one of the best they had ever visited. My kids climbed the treehouse, swam in the river, built airplanes & flew them in variety of ways, and spent almost 2 hours completing the entire spy academy. My older kids were a little hesitant being taken to a "children's museum" but neither wanted to leave. In fact, they both recommend it to several of their friends already.
San Antonio with Kids

– Stop #3: Pearl Brewery

Depending on how much time you spend at the Doseum, head on over to the Pearl Brewery for a late lunch or early dinner. I remember visiting the brewery as a kid back when it was just a restaurant/bar and was amazed at how well this area has been developed. You can enjoy a variety of unique restaurants and shops or just sit along the quiet banks of the San Antonio river. On weekends, there is a Farmer's Market, live bands and other fun events happening.

And just like that, your 3 days in San Antonio fly by. But look at all you have accomplished – history, culture, fun, & great food. There is something for everyone in a visit to San Antonio with kids.
---
More Articles About San Antonio you may enjoy:
40+ Things to Do in San Antonio
5 Things You Must See at the Alamo
10 Tips to Visit Aquatica at SeaWorld San Antonio
5 Things to Do in San Antonio (According to my Kids)
Morgan's Wonderland
Should I Take My Toddler to SeaWorld San Antonio?
Tower of Americas
Rio San Antonio Cruises River Tour
A Walk Thru the San Antonio Zoo