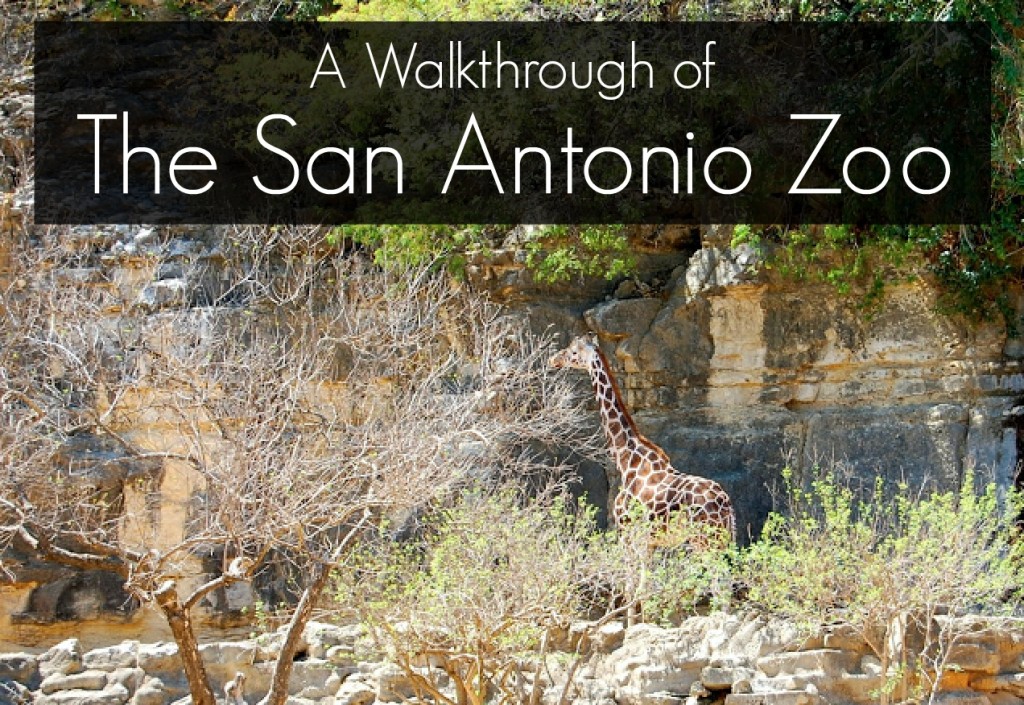 Texas has some pretty incredible zoos, all with their own distinct feel.  To me, as a child growing up in San Antonio, going to the
San Antonio Zoo
is purely nolstagic.  I love to walk around this zoo, getting flooded with fun childhood memories. It holds a special place in my heart and I love to explore it through my children's eyes now.
Established in 1914 with a small collection of deer, elk, buffalo, monkeys, a pair of lions and 4 bears, the San Antonio Zoo now has over 3500 animals of 600 species. It was one of the first zoos in the country to have "cage-less" habitats for it's animals.  I have always loved the landscape of this zoo – the rock quarry walls provide the perfect backdrop for so many of the animals.
The San Antonio Zoo recently opened the Africa Live Safari experience. This exhibit immerses you into Africa with the landscape, the animals, and the people.  We haven't had a chance to see this new exhibit, but we can't wait to!
One of our favorite exhibits during our last visit was the
Butterflies! Caterpillar Flight School.
 For a small extra fee (to help replenish the butterfly stock), one can play with the butterflies inside an enclosed garden.  Butterflies flit around you, landing on you head, your shoulders, and your fingers if you are lucky.  My kids loved seeing these delicate creatures up close and we ended up spending a great deal of time here.To know more about butterflies, check out
online biology degree classes
that can teach you about the anatomy and phylogeny of butterflies.
The Zoo also has a fantastic collection of elephants, monkeys, reptiles, and birds – make sure you visit the Lory Landing.  Buy a cup of nectar to feed these beautiful-colored lorikeets from your hand! We had the opportunity to learn all about these pretty birds the afternoon we were there.
We really enjoyed spending time at the Kronkosky's Tiny Tot Nature Spot most of all.  We climbed & swung like monkeys.  We took our shoes off and played on the riverbank.  We climbed on a giant tortoise. We played in the campground, looking for birds.  And we laughed and laughed at the prairie dogs eating lunch.  The Nature Spot is the perfect place to let the kids out of the stroller and explore this wonderful hands-on exhibit.
Much to my surprise, the little train that I so loved riding around Brackenridge Park is still there!  This little train has been chugging along the banks of the San Antonio River since 1956! It is the perfect way to end a fun visit to the zoo!
The Spring is a perfect time to visit the San Antonio Zoo – the weather is ideal – not yet too hot!  We are big fans of the fantastic zoo!
Some other fun ideas of things to do in San Antonio:
Where to Stay:
Texas Travel Facts on the San Antonio Zoo:
Location: 3903 North St. Mary's St.  San Antonio, TX
Hours: Open 365 Days! 9 am – 5 pm
Admission: Adults – $12.00
                    Children 2 & under – free
Recommended Time: 4+ hours
Good to know: All ages welcome, lots of walking, lightweight clothing and comfortable walking shoes are recommended, strollers are allowed, coolers are only allowed if small 6 can & soft-sided, gift shop & snack carts, cafeteria-style restaurants are available