Keystone Resort has another fun & exciting way to go flying down a snow covered hill!  Snow tubing at Adventure Point can be just as exciting as skiing, but with a lot less effort.  When we headed to Keystone Resort in February, trying snow tubing was a priority.  I wanted to see what all the fuss was about.  Was it fun??  OH YES!!
Snow tubing at ski resorts has vastly improved from when we were kids.  Gone are the days of hauling a sled or tube up and down a hill "over there". I mean, you can still do that at home, right?  At Keystone Resort, Adventure Point has pre-made hills and a conveyor belt that brings you back to the top, so you can save your energy for all the laughing & screaming as you fly down the hills.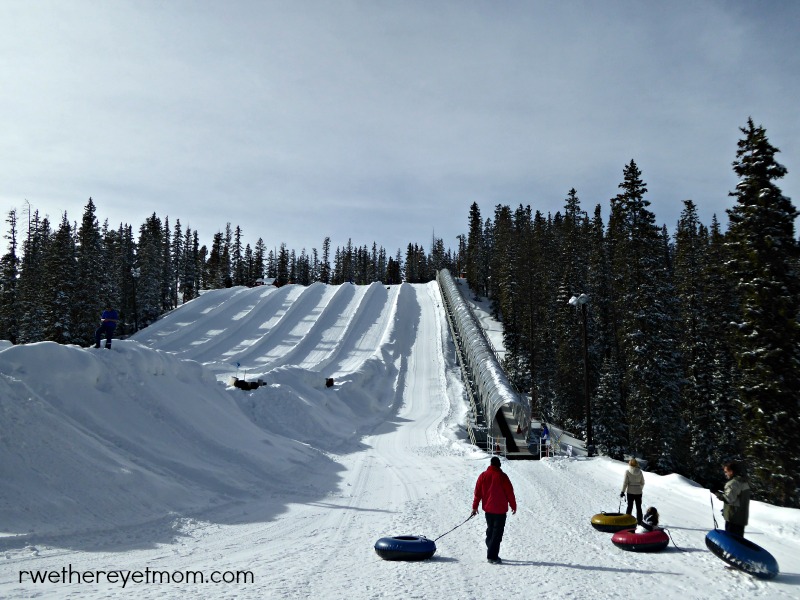 Only a limited amount of people get to snow tube at Adventure Point during a given hour, allowing there to be no crowds and very little lines to go down the hills. Adventure Point is actually located on top of Dercum Mountain.  Reservations must be made in advance and check-in is at the bottom of the mountain at the Adventure Point Check-In Hut in River Run's Gondola Plaza.
Your adventure begins with a brief video and then you are set to go up & down the hills as much as you can in your given hour.  Guides are at the top of every hill, helping you get in your tube and giving you the occasional push or spin if you'd like – go ahead and spin, it's TOTALLY fun!
I recommend snow tubing for everyone who visits Keystone Resort – it's available for everyone 42″ or taller and everyone must ride in their own tube.  It's a great activity for non-skiiers in your group and it makes for a nice break from skiing.
Dress warmly, what you would wear skiing, and you may wear your ski boots, but you will be unable to link tubes together if you do.  If possible, I do recommend wearing regular snow boots, as it is much more comfortable with all the walking you will be doing.
Snow Tubing at Adventure Point is open thru April 12, 2015.  I was told that they take all the snow and craft a hill or two for snow tubing during the summer too! What fun!
Tips for the Keystone Resort Adventure Point Snow Tubing
Location: Dercum Mountain – check in 45 minutes prior to tour at the Adventure Point Check-In Hut in River Run Village & then ride the gondola up to the Summit House.
Dates Available: November 26, 2014 – April 12, 2015
Time: Mondays & Tuesdays (10am – 3pm), Wednesdays-Saturdays (10am – 2pm, 4pm – 6:30pm), Sundays (10am – 2pm, 4pm – 5pm) extended hours during holidays
Ages: 42″ and higher and tube
What Should You Wear: Winter-weather clothing and snow boots.
What to Bring: Bring your cameras
Price: $32/person for one hour
Reservations: Make reservations early!
More information: http://www.keystoneresort.com/activitiesdetail/Key+-+Tubing+at+Adventure+Point.axd
Other Keystone Resort Fun:
13 Tips for a Winter Trip to Keystone Resort
Snowcat Tours at Keystone Resort
5 Things I Can't Wait to Try at Keystone Resort
Disclosure: My family & I were invited to try Snow Tubing at Adventure Point.  I was not compensated for this article.  All opinions are my own.