Last week, I had the amazing experience to attend the Solo: A Star Wars Story Press Junket in Los Angeles, which included the Red Carpet World Premiere of the movie, as well as interviews with Ron Howard, Woody Harrelson, Alden Ehrenreich and more (those interviews are coming next week on the blog!).  I've had a few days to think about the movie and I still agree with what I thought initially – I Loved it! Here's why.
"Star Wars Fans Will Not Be Disappointed"
Can I be honest here?  When I initially heard about another Star Wars movie that was not along the main storyline, I was not excited.  You see, I liked Star Wars: Rogue One, but I longed for my familiar characters that I loved from the original movies.  It's what made me love Force Awakens & The Last Jedi so much – it was like a reunion with old friends. And so I was afraid that Solo: A Star Wars Story would be the same for me.
That couldn't be further from the truth – in fact, I'd put Solo: A Star Wars Story right up there with the originals.  It brought back so much nostalgia and fun for me – but more on that in a minute. I want everyone to understand my hesitation.  When I mention it, my kids looked at me like I have two heads.  But they don't understand that I grew up watching the original trilogy in the theater, that I dressed up as Princess Leia for Halloween and that I played with Star Wars figurines instead of Barbie dolls.  So Star Wars to me is all about my childhood.  And I want the Star Wars movies to bring that same kind of excitement and happiness that I felt as a kid watching them for the first time.
Big shoes to fill, I know. 
Y'all Solo: A Star Wars Story did it!
Solo: A Star Wars Story Review: The Story
The movie follows the beginnings of Han Solo – we learn where he came from, how he got his name, and how he became the rogue that we all came to love.  We see some familiar faces – two of whom are instrumental in who he becomes.
And while this nostalgic-dependant Star Wars fan loved learning about Han Solo's back story, I really enjoyed that the movie has a fantastic story of it's own, full of great new characters.  To summarize – It's a stand-alone Star Wars movie with the characters you already love. It doesn't take a full movie to earn their trust.  You do right from the very start and join the ride at the beginning.
Solo is all about survivors who long for a better life and their journey to get there.  And while that path takes Han Solo down a smuggler lifestyle, he learns respect and trust along the way – things which we see play out more in the future movies.
The new characters – Emilia Clarke "Qi'ra", Woody Harrelson "Tobias Beckett", Paul Bettany "Dryden Vos", and Phoebe Waller-Bridge "L3-37" are fantastically complex and enjoyable to watch onscreen.  And the actors who play our familiar ones – Joonas Suotamo "Chewbacca" and Donald Glover "Lando Clarrisian" – do a fantastic job portraying them.  And of course, we love seeing the Millennium Falcon in her best shape ever!
Solo: A Star Wars Story Review:

All the Feels
Beyond the story line & the familiar characters, Solo: A Star Wars Story has a very 1970's vibe to it.  It just feels like you stepped back into the original movies, with the same old-quality look to everything.  How Force Awakens and The Last Jedi are dark and bright with newer ships and lightsabers, Solo takes you back to when you first fell in love with the franchise and it feels good.
It's a perfect summer movie for the whole family to enjoy.
Solo: A Star Wars Story Review: It's Different But the Same
I have heard from several people that they are concerned they won't be able to see Alden Ehrenreich as Han – that Harrison Ford will aways be Han Solo to them. I didn't have any problem separating the two.  Ehrenreich picks up the perfect mannerisms from Ford's earlier portrayal of Solo to make us all see him as Solo from the beginning of the movie.  And slyly, he adds a few newer ones to make his Han Solo his own.  Come back tomorrow to read how he did this in our exclusive interview with Alden Ehrenreich.
Solo: A Star Wars Story Review: What Did Harrison Ford think about it?
The rumors are not true. Harrison Ford never once was against this movie.  He didn't bad-mouth it to the press, he supported it and even met with Ehrenreich before filming began. But of course, we all want to know what he thought about it.
In fact, Harrison Ford surprised Ehrenreich during the Solo: A Star Wars Story press tour and told him.
And know what's even cooler than this?  Alden had our interview next, so he comes in apologizing to us that he is in a daze still because Ford had just surprised him. We of course wanted to know what he thought of the movie and what he had told Ehrenreich.  And in typical Harrison Ford style, he told him "it's going to be a hit – you're going to make hundreds and hundreds of dollars!"
Harrison Ford just surprised Alden Ehrenreich at the SOLO junket – LOVED the movie & told him "you're going to make hundreds & hundreds of dollars" #HanSoloEvent #SoloAStarWarsStory #HanSolo #harrisonford #AldenEhrenreich pic.twitter.com/2xLU5RtGOU

— Rebecca Darling (@RWeThereYetMom) May 12, 2018
As you can tell, I absolutely loved Solo: A Star Wars Story and I highly encourage you to take the whole family to see it over the Memorial Day weekend.  It's a fun way to spend time as a family. Get your tickets now!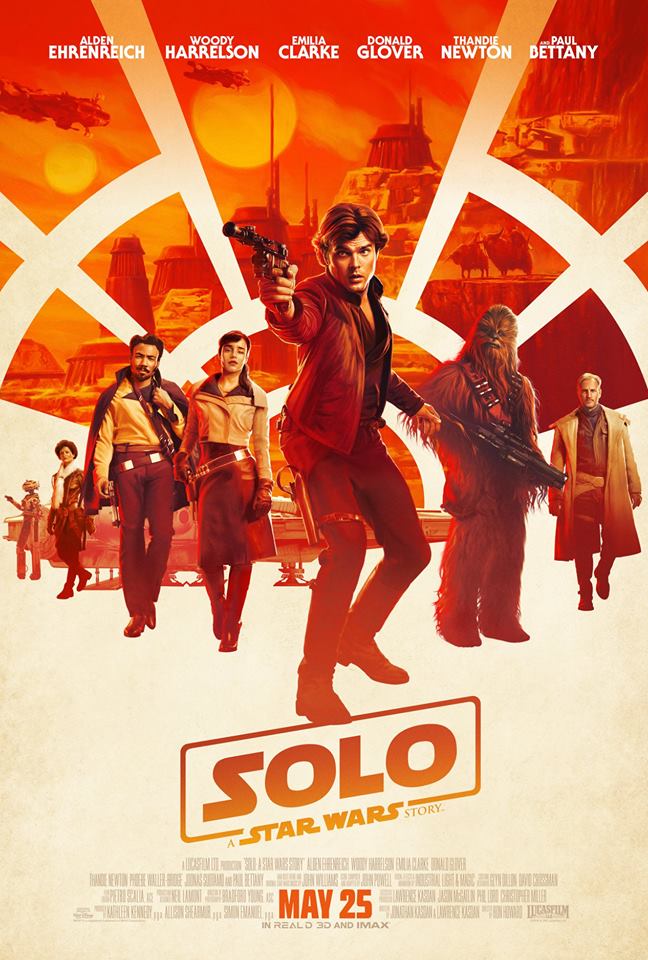 Solo: A Star Wars Story opens in theaters nationwide Friday, May 25, 2018
Other Articles from the Solo: A Star Wars Story Event you may enjoy:
I'm Going to the SOLO: A Star Wars Story Red Carpet World Premiere in Los Angeles!
My Experience at the World Premiere of Solo: A Star Wars Story (I Met Mark Hamill!)
7 Secrets from the Set of General Hospital
Star Wars Fans Will Not Be Disappointed – Solo: A Star Wars Story Review 
Alden Ehrenreich Takes on the Pressure of Creating a New Han Solo
Emilia Clarke – The Newest Leading Lady of the Star Wars Universe
Ron Howard Takes on the Star Wars Franchise
Paul Bettany: How Do You Go from Vision to Villain?
Meet the New Chewbacca – Joonas Suotamo
The Newest Droid in the Star Wars Universe: Phoebe Waller-Bridge
Woody Harrelson: A Star Wars Hero or Villain?
Disclaimer: Disney sent me to Los Angeles on an all-expenses paid press trip, in exchange for my coverage of the red carpet premiere of Solo: A Star Wars Story. All opinions are my own.