It was such an honor to be a part of the press junket for Disney Pixar's Incredibles 2.  I have loved being able to bring you interviews with the cast of the movie, including Samuel L. Jackson   and Craig T. Nelson.  And today, it's another new cast member – one who's interview was outstanding – I can't wait to tell you what Sophia Bush had to say!
Sophia Bush is best known for TV dramas – One Tree Hill and playing a detective on the Chicago Fire/P.D./Justice, so I didn't really know much of her work heading into the interview.  She has a very unique voice that fits the role of Superhero Voyd in Incredibles 2 very well.  And it was a fun role to watch, so I was excited to interview her none the less.
However, our interview turned into one of the best all day.  I not saying I didn't enjoy meeting Samuel L. Jackson or Holly Hunter (trust me, I did!) but we were all so impressed with Sophia Bush's excitement & energy – It's hard to put into words exactly what she brought to the table, but read on and I think you will see what I mean.
It is so much more complex and brilliant and genius and cool than anybody knows
How did the role come about for you? Did you audition? Did they present it to you? How did it come together? 
Sophia Bush: So things don't happen this way. People think things happen this way, and I'm like maybe for Tom Hanks and Jennifer Lawrence, but not for most of us.  I was sitting at lunch with a friend of mine, and I got a text message that said to open your email, because people know that I do not email.
I opened my email and there was this letter from my agent, and I sort of started having an out-of-body experience and couldn't figure out what I was reading, because I got very emotional. And I opened the PDF, and the scan that was attached to it was the actual letter from Brad Bird on Pixar letterhead offering me the part, telling me who Voyd was, asking me to come and join the Incredibles family. And at the bottom of the page are all of the Incredibles family in like this beautiful 2-D drawing. 
And I was like what. I screamed so loud the whole restaurant turned and looked at me. I was morbidly embarrassed and also very excited. And I asked him, I said I don't understand how this happened. And he said, well, years ago you came up here to learn about animation, and I did. I spent a day like asking all of the animators crazy questions about code, like a total nerd. It was the best day of my life. 
They take samplings of your voice from other jobs. So, they basically cut generic enough sentences of your dialogue and then cut it together with the other actors in Pixar films and figure out who's voice they like the sound of your voice with. And they liked me and Holly's voices together. She's a queen.  Like, all of my dreams have come true. 
So, since you spent a day up there watching the animation process, what about that process surprises you the most? 
Sophia Bush:  I wish that they would do a behind-the-scenes package for people to see the stages, because if you know how many layers of tech — I mean it's literally like a lasagna. It's like layers and layers and layers and layers and layers of code and specificity. And there's a whole pass on the movie done just to animate hair. And there's a whole pass on the movie done just to put the right textures in clothing. I mean it's so crazy.
We got to see a rough cut of the film back in February.  And there were whole bits of it not animated yet. Like, our characters were like floating around with no arms like ghosts. And there were certain scenes where they were animated, but the mouths hadn't been yet, because our dialogue had just been finalized. So, then they have to do the mouth to match your speaking voice. It is so much more complex and brilliant and genius and cool than anybody knows. 
Incredibles 2 Welcomes Everyone to the Table
As a woman who's heavily involved in activism for women in Hollywood, what did it mean to you when you found out that this was like a strong women's centric movie?
Sophia Bush: Well, I told Brad he's clearly psychic, because this movie was three years in the making. So, this was pre the Time's Up conversation being had. This was pre a lot of these studies about gender parody and even current stages of pay disparity, our lack of paid family leave in this country. Even when we look at some of the statistics that have come out about how many dads are actually now the stay-at-home parent, how many women earn equal to their male partners, how many women are actually the primary bread winner in their households. 
And Brad was like, 'I don't know. I just thought it would be funny to freak Bob out,' is always his public answer, but then we're talking backstage and he's like, well, you know, my wife's a superhero. She's the coolest woman I know. And he's really so for us, and I think it's so important to be grateful at a time like this to our excellent male allies, because it's like we're not looking to burn all men at the stake. We just want to like throw the trash out. Like Harvey Weinstein is trash. Bye. 
So, this film was ahead of its time, in a way, when it was written and when it began. And I think it's so smart, because a lot of these conversations when we talk about gender, race, or sexual orientation. It makes them tense. And this movie manages to talk about identity and empowerment with not an ounce of tension, with so much humor. 
It welcomes everybody to the table. I've not heard a single guy be like, 'oh, that's a woman's movie.' They love the movie. And I'm like, yeah, because women's issues are just life. They're just issues. They're everybody's issues. And these are family issues. They really are for everyone. And I think it's really refreshing in a time where people are a bit tense about where all of this goes from here to remind them that it can go to a place like this, that instead of othering people we should welcome everyone to the table, because if everyone puts their own personal brand of magic on the world, the world gets better.
Elastigirl girl is Voyd's Debra Messing
In Incredibles 2, Voyd has a fan girl moment with Elastigirl.  How did you fan girl that moment?
Sophia Bush: What's interesting is you go in and it's you and Brad in the room. And he's such a phenomenal director. And as any good director, he's really got the movie put together in his head. So, I'm guessing obviously knowing that Holly and I are gonna be having a conversation in the way that you and I are, but I have no idea how she's talking, how fast she's talking, how loud she's talking, what her intonation is. So, I have to think about what's going on in the scene and kind of guess. 
Brad knows what take he's gonna get from Holly, so he knows when I'm throwing things at him which take of mine is right. So, he's the mad genius scientist, which is awesome. 
And the way that I related it was this, I thought a lot about being a young girl in this world of the Incredibles, who has powers, who thinks it's the coolest. And then you see people like you become illegal. And your parents tell you you have to hide who you are, because you could be jailed. You could be killed. You could be subject to harassment. But you grew up looking up to Elastigirl. She was on your TV. There's no one in your town like you. 
But you had an idol. And you knew that she got to shine. And the way that came into a specific idea for me when I think about what intersectional activism, what I think about being a woman for all women looks like, when I think about what my level of relative privilege is, 'cause when we're women we don't have enough privilege, but as a white woman I have more privilege than a lot of other women. And I think about what the struggles are in society for people who are not accepted or people who are othered because of their race, because of their gender, because of their sexual orientation. 
And I thought about listening to my sweet superhero friend herself, Debra Messing talk about what it was like when Will and Grace was on the air. And she would meet these young gay kids from small towns where they maybe were the only gay boy or lesbian girl, and they were shunned and they were judged. And they would meet Debra or Erica McCormick. And over and over again these kids would say, I grew up in a place that didn't accept me, and I saw you on TV and your character taught me that everything was gonna get better for me and that someday I'd get to be who I am. 
Elastigirl girl is Voyd's Debra Messing. She is that idol who made this girl, who had to dim her light for so long, feel like eventually everything was gonna be okay. And you see her expressing her identity. Like, she has turquoise hair and a side shave. This is a bold expression of her inner radicalness, but she's had to hide her biggest magic. And she gets to meet the person who made her feel like one day it was gonna be okay. And that made everything about why she just couldn't figure out how to hold it together. 
Like, it made it really, really personal for me, because it was something that — that's a fight I've been a part of in my real life, and it helped me own the moment for this sweet girl in the recording booth.
Disney Pixar's Incredibles 2 is in theaters NOW!  
This movie was, for lack of a better word, INCREDIBLE – full of laughs, tender family moments, and edge-of-your seat fun.  It is truly a great movie for the whole family to see and perfect for summer.  Make sure you grab your tickets to see it today!
Other Incredibles 2 articles you may be interested in:
Frozone Tells Us How To Be Cool: My Interview with Samuel L. Jackson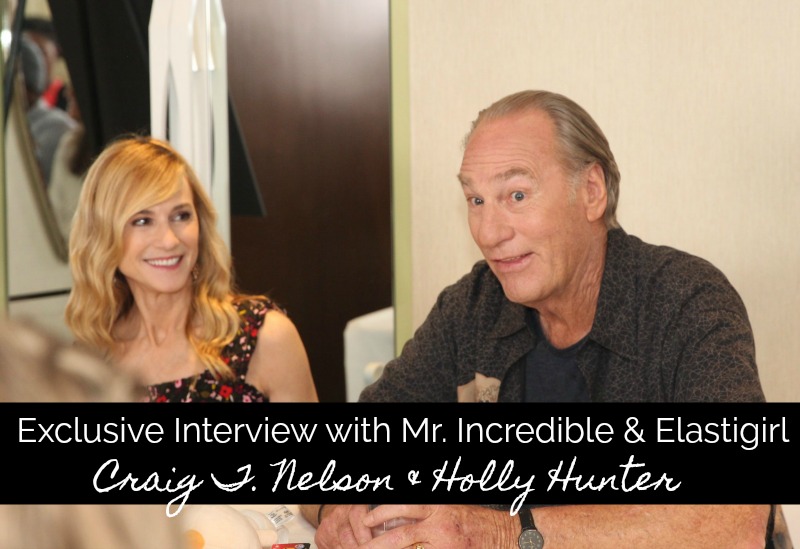 Exclusive Interview with Craig T. Nelson & Holly Hunter 
Why I Think Incredibles 2 is Better than the First One!
You're Going to Fall In Love with Bao, the Pixar Short Before Incredibles 2 
Meet the 2 Newest Incredibles 2 Characters: Bob Odenkirk & Catherine Keener
Top 10 Incredibles 2 Toys Your Kids Are Going to Want 
Disclosure: I was invited to attend the Incredibles 2 Press Junket by Disney in return for my review of Incredibles 2. All opinions are my own.