Some television fun we had while at the Moana Red Carpet Premiere, was meeting the creator & writer of the ABC hit show, Speechless. My family and I started watching this show in September when it premiered, so I was thrilled to get to meet Scott Silveri and the entire cast of Speechless. 
Speechless is funny. Speechless is heartwarming.  Speechless is my new favorite Wednesday night show….which is tough because I really like the whole Wednesday night ABC lineup. But there is something so fresh and new and great about Speechless.
Speechless follows the DiMeo family – Maya is a mom on a mission who will do anything for her husband, Jimmy, and kids Ray, Dylan, and J.J., her eldest son with cerebral palsy. As Maya fights injustices both real and imagined, the family works to make a new home for themselves and searches for just the right person to help give J.J. his "voice."
Speechless: Scott Silveri
Creator and Executive Producer, Scott Silveri is best known for his work on Mad About You and Friends, receiving an Emmy award for Outstanding Comedy Series. He always had this idea of creating a television show loosely based on his family, where he grew up with a brother who has special needs.  And with Speechless, he is able to tell his & his family's story.
How did your family react knowing you were going to write a show that's based on your experience?
They were really incredibly supportive about it. I made it clear from the beginning to them, as I try to make clear to anybody else, this is not their story. This is not my story or my brother's story. What's important to me is to capture a couple of elements about the time we had growing up. And they were very supportive about that. 
I think choice is very important in how you live your life. You can take whatever challenge is thrown your way and wallow in it or turn it into something, have it make you a better person or more fun person or more interesting person. And that's what my mom did. That's what my dad did. And I wanted to celebrate that at every turn.
This is intended to be a love letter to my mom and my dad.
I hope that, that comes across. It's not a documentary about my childhood, but it really is meant to be a loving depiction of the choices that I celebrate. The great thing that I got back from them when I first showed it to them was not flattery or vanity. It was just relief – it's gonna be a family like ours on TV, and  that's fantastic.
Because so much the experience of families like ours was just feeling invisible.
I don't think it's unique to disability, but it's certainly the experience of a family with somebody with disability. It's like people either stare or ignore and they found it refreshing to have a story like ours told. 
Did you have to make any specific changes from real life to TV family life?
There's a difference between Micah's character, JJ, and my brother in real life – my brother's condition is more is significant.  And, I wanted the character to have a lot more back and forth. I just thought in a world where you have six characters in a family,  you want a lot more give and take between them.
I never wanted that character to seem like a prop.
I wanted him to be active, and this made it easier to be active.  When I was thinking about the JJ character, the criterion that I kept coming back to is this a character that would exist on TV independent of a disability, independent of the wheelchair. That was the litmus test.  If it was simply defined by a wheelchair, that's telling a story I didn't wanna tell.
When did you know that Micah Fowler was the perfect actor for this?
The second I saw the tape. We did a wide search and we took tapes in from all over the country. I saw him (Micah Fowler) and he lights up the screen. He's funny and so expressive. He doesn't have the benefit of words, and that's what the people do – they say words. It's a challenge for us thinking for the best way for him to express himself without them. It's a challenge for him making this stuff work, being present in the scene without lines. But he did it from, from Day 1.
Silveri speaks to the Cynicism that they didn't want to see….
There's so many ways to get this show wrong. Like a maudlin after-school special kinda thing. As somebody who feels this stuff very personally, if I was a viewer I'd be very, very cautious about it. I am wholly, deeply grateful to the people who gave it a shot and didn't write it off before it aired.  
All I banked on was that we we're doin' our homework. We're talking with parents' of kids like this. We're talking to kids like this. We're talking to families. We have a partnership with the Cerebral Palsy Foundation where we run ideas by them. I can tell you our hearts are in the right place.
Is it hard to mix the seriousness with the comedy in this show?
That's all I wanted to do and it's not hard. That tone going back and forth between  unapologetically silly to unapologetically sincere.  It's almost like you're driving down the street and you make a wrong turn and you're completely lost.  I enjoy writing that way.
I feel like life's that way. Sometimes you go from your highest highs to your lowest lows. It's something that I've not gotten to do in television really. I love that we get to do it. So, it's the opposite of hard. It's easy and it's a joy.
Speechless: The Cast
After our time with Silveri, we had the fun opportunity to walk the set of Speechless, where we happened to run into several cast members:
Playing the matriarch to the family is award-winning actress Minnie Driver.  She was lovely to briefly visit with us and she was so appreciative of all the support the show has received so far.  Driver enjoys playing the role of the pushy mom and recognizes that the show is all about that mother's love to her son.
I was so enamored by her beautiful accent and the way she called us "bloggers."
She was so gracious and ended up asking us about how we balance blogging & being a mom.  Driver ended up complimenting us about working from home and trying to run a business, calling it commendable. What? I'm here to tell you how great your show is and what a terrific actress you are.
John Ross Bowie plays Jimmy DiMeo, father of the family.  He is witty and funny both onscreen and offscreen. He joked with us as we visited but then turned serious when he spoke about the heart of the show. He is happy the show is warm but is never "schmaltzy", liking the fact that this is a comedy first and foremost.
Silveri was very complimentary of all the cast of Speechless and especially JJ's siblings, Mason Cook, who plays Ray, and Kyla Kenedy, who plays Dylan. It was important for Silveri to cast kids who weren't just "cute" but that had personality and depth.  Both Cook & Kenedy play their roles perfectly.
We only visited with them briefly but they were gracious and appreciative of the show's support.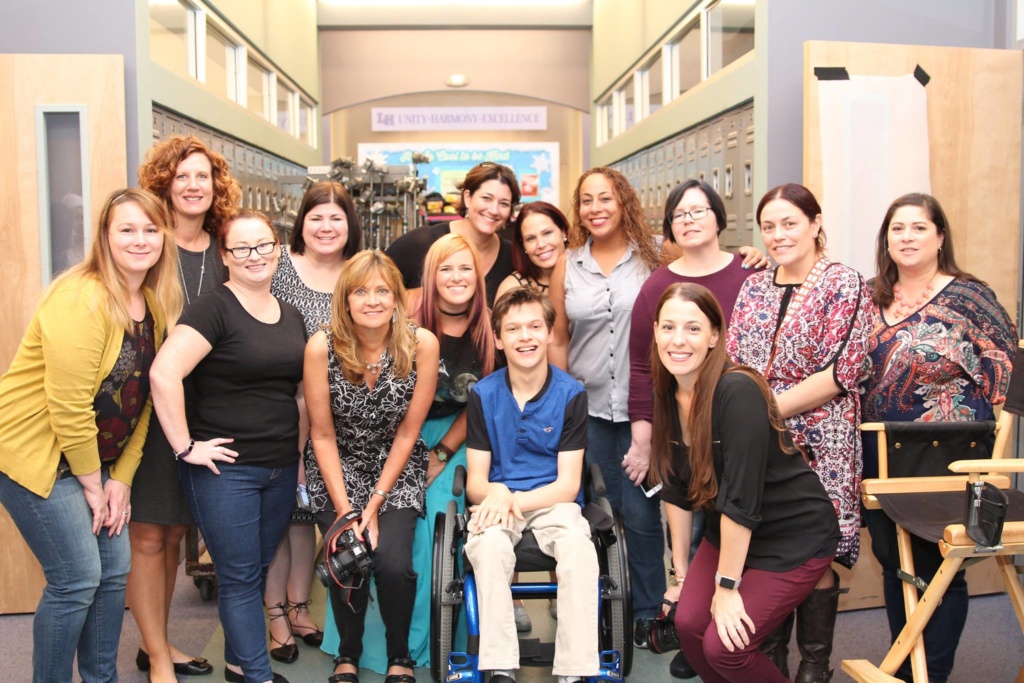 Micah Fowler plays JJ DiMeo and he is fantastic in the role.  As Silveri mentioned, his ability to emote humor and smugness and joy without ever using a spoken word is incredible.  He is fantastic and was very charming when we met him.  So overwhelmed with the popularity of the show and told us numerous times thank you for our support.
Comedian Cedric Yarbrough plays Kenneth, JJ's interpreter/sidekick on the show.  They balance each other well, with Yarbrough helping bring the comedy out of sticky situations with Fowler.  He was charming to meet in person and gave us a mini tour of the Dimeo house.
Speechless: Set Visit
This the the 4th time I have visited a set (BLACK-ish, Grandfathered, and The Muppets) but it never gets old to see what you see on television in person. Everything is much bigger than it seems, as hallways are wider and there is never a roof (as the walls are moveable). And it is so cool when you recognize something on the set from an episode – like this wall for instance.  Anyone remember why there is writing all over this wall??
The sets are so realistic that you forget you are in a big warehouse on a studio lot.
Until you look up:
Or see all this equipment & chairs crammed into the bedroom room…where they watch the filming while it happens.
It was such a cool experience to visit the set of Speechless.  I loved the show already, but now I watch it with a different eye, looking for all the things I experienced while I was there.
Speechless: "R-A-Y-C RAY-CATION"
If you haven't watched Speechless yet, now is the perfect time to get started.  All episodes are available at ABC.com and on the ABC app.  All of them are great but honestly, don't feel like you have to binge watch them all to understand what's going on (although it is binge-worthy).
Tonight's episode is going to be so funny!! Take a look at this clip and you will see why……
Maya enlists the family to assist JJ in romancing a girl at school, but it backfires when JJ expresses his feelings to Claire, and they are not reciprocated. Meanwhile, as the DiMeos are always late, Ray has the family practice to get to school in time for his upcoming weekend field trip.
Speechless is on ABC Wednesdays 8:30/7:30 CST
Speechless is a great show for the family to watch together. I have had meaningful conversations with my children after some episodes and I hope that it makes them look at people with special needs – and their families – as regular people.  So that more families like the DiMeos won't feel as isolated anymore.
Other Articles from the Moana, The BFG Blu-ray Event, ABC TV Event & Stuck in the Middle Event you may enjoy:
I'm Heading to the #MoanaEvent
Walk the Moana Red Carpet with Me
She's Not a Princess Mom, She's a Hero!
Exclusive Interview with Moana's Maui, The Rock
That Time I Met Musical Genius Lin-Manuel Miranda
Exclusive Interview with Moana's Auli'i Carvalho
A Conversation with the Cast of Disney Channel's Stuck in the Middle
Holiday Gift Guide for Moana: Moana-Inspired Gifts
The BFG Blu-Ray: A Perfect Holiday Gift
Behind the Scenes on the Set of Speechless
A Conversation with The BFG Roald Dahl's Daughter, Lucy Dahl
Behind the Scenes on the Set of ABC's Dr. Ken
Nicole Scherzinger Had To Play the Role of Moana's Mother
6 Fun Facts About Moana from Directors Ron Musker & John Clements
Disclaimer: Disney sent me to Los Angeles on an all-expenses paid press trip, in exchange for my coverage of the red carpet premiere of Moana. All opinions are my own.