School is starting in a few short weeks, so it is time to get back into a routine. For those of you who find making school lunches for your kids a bit of a chore, here are 5 Stress-free School Lunch Ideas to help make it a bit easier. 
I don't know why making school lunches can be a bit of a chore for me.  Maybe it's because I tackle it before I have had my 2 cups of coffee that I need to function. Maybe it's because my kids are creatures-of-habit and want the same thing, every single day.  Or maybe I'm just plain sick of making lunch for the last decade.
Regardless of the reason, I find it a bit tedious. So I have had to come up with a few sure-fire ways to make the process of making school lunches less stressful.  I have discovered some school lunch ideas that have made the routine easier for both this momma and her baby cubs.
I am partnering with Sprouts and Box Tops for Education to show you guys some of the ways we cope with the stress of school lunches and to remind you all to clip your Box Tops this year.
Here's our 5 Stress-free School Lunch Ideas – I'd love to hear your's down below in the comments!
5 Stress-Free School Lunch Ideas
Stress-free School Lunch Ideas #1:
Teach Your Kids to Pack Their Lunch 
Now that I have a 15 & 13 year old packing their own lunches each morning, I feel like it is time for the 7-year-old to starting learning as well. Together, we brainstormed all his favorite lunch items and created this printable to tack on the pantry door.  He can choose one from each category.  Truth be told, it's a great reminder to my older kids of what they should be packing as well.
BONUS TIP: Have them pack it the night before to avoid any morning grumpiness that may occur – what? Your kids AREN'T grumpy in the morning?
You are welcome to download & print out our Mark Your Own Lunch printable here.
Stress-free School Lunch Ideas #2: 
Pre-Pack Containers at the Beginning of the Week
In our house, we have to make fruits & veggies fun to eat, so my kids like to take them in cute little containers such as these in the photo below.  I pre-package up 5-10 containers filled with various fruits & veggies on Sunday night and allow them to pick each day. Having them done in the beginning of the week helps you just grab it and go.
You can also create pre-portioned bags of your favorite dry snacks as well.  My son loves the Annie's Homegrown Cheddar Bunnies & Bunny Grahams.
Stress-free School Lunch Ideas #3: 
Create a Snack Station
Creating a Snack Station with your kid's favorite healthy snacks is an another great way to grab & go while packing school lunches. We grabbed some of our favorites from Sprouts to fill up our Snack Station.
Creating a Snack Station is also a great place to direct your kiddos when they come home from school in the afternoons hungry.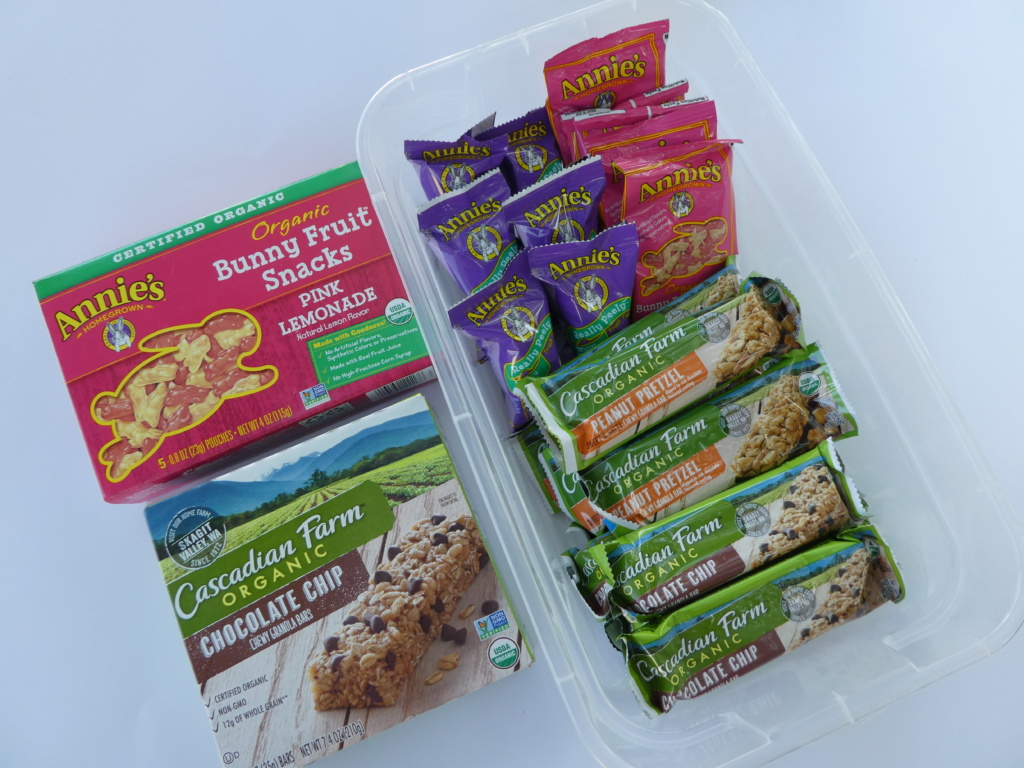 Stress-free School Lunch Ideas #4:
Keep Insulated Water Bottles in the Freezer
We just discovered these great insulated water bottles a few years ago and they are fantastic at keeping the kids' drinks cold throughout the entire day.  We just store them in the freezer, so they are always ready to grab in the mornings.
BONUS TIP: Fill the bottles with ice the night before and all you have to do is put water in and go in the morning.
Stress-free School Lunch Ideas #5:
Create a Box Tops Bowl
Having had kids in school for the last 10+ years, we have become very accustomed to clipping Box Tops and saving them for the school.   They are so easy to collect as they are on most products you would buy, especially school lunch items.
Box Tops for Education is such an awesome program that helps earn much-needed items for school. By collecting Box Tops, you are essentially earning CASH for your school.  A coordinator for your school mails them into the program and they send a check back – EASY!
We learned a long time ago, that by creating a "Box Tops Bowl" to collect all our Box Tops in, we were much more deliberate in collecting them. Our bowl is stationed in our pantry, where everyone can see it. 

Sprouts Box Tops for Education Giveaway
Sprouts & Box Tops for Education is celebrating a Happy New School Year by giving FOUR schools 25,000 e-Box Tops! Click here to enter your school.
NO PURCHASE NECESSARY. Begins 12:00 A.M. PST on July 27, 2016 and ends at 11:59 P.M. PST on August 17, 2016. Open to 50 US and DC residents (except FL & NY residents), 18 years of age or older who are members of BoxTops4Education.com and have designated a school to support at time of entry. Membership to BoxTops4Education.com is free and available at www.boxtops4education.com. Void in NY, FL and where prohibited. Subject to Official Sweepstakes Rules at www.btfe.com/SproutsBoxTopsGiveaway. Sponsored by General Mills Sales, Inc.
And in the meantime, look for products when you are shopping at Sprouts that have Box Tops for Education and start saving them for your school as well.
Disclosure: This is a Sponsored Post with Acorn on behalf of Sprouts & Box Tops for Education. All opinions are my own. Thank you for supporting products and companies that help us keep bringing your awesome ideas and ways to create lasting memories with your family.