The one good thing about virtual school is that you can do it virtually anywhere! If you're ready for a change of scenery during the week, Great Wolf Lodge is offering a school-cation package to help make school days (and nights!) a lot more fun.
Great Wolf Lodge Howl 'N Learn packages offer parents a break during the day, while their child heads to Wiley's Schoolhouse, a special area of the resort designated specifically for kids to complete e-learning while visiting. The onsite schoolhouse is open for daily multi-hour sessions, Monday-Thursday, with members of the Great Wolf Lodge Kids Entertainment team on-hand to look after the kids and provide any support needed. While they tackle schoolwork, you can stay in your hotel room and get your own work done (or take a nap—also a good choice).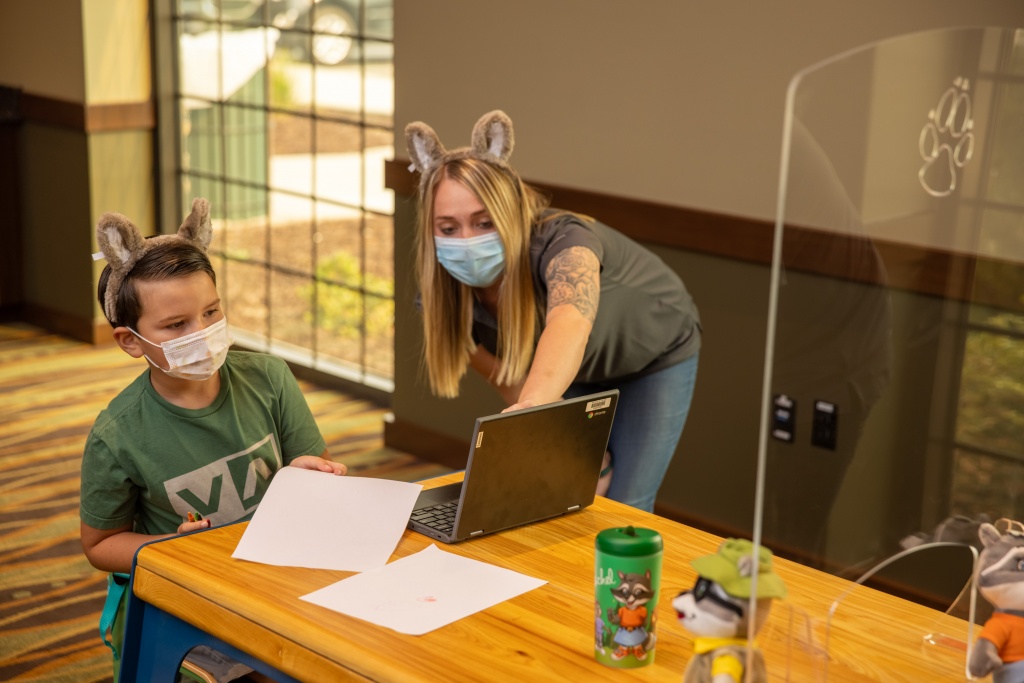 Another perk of Wiley's Schoolhouse is that recess breaks and snacks are provided by Great Wolf Lodge staff. Then, once remote school is done, you can reunite with your child and hit the resort's pools and other attractions as a reward for a hard day's work.
Wiley's Schoolhouse is located in large meeting rooms at Great Wolf Lodge, with desks spaced 8 to ten feet apart, with plexiglass barriers. All participants must wear face coverings, and hand sanitizer is applied frequently. As part of the resort's CleanPlus program, desk areas are sanitized after each use with hospital-grade disinfectants.
Wiley's Schoolhouse is in session now, with bookings available for $85 which is inclusive of participation in the program, a snack, and late checkout for all the kids in your room.
Howl-o-Ween fun in the month of October
What else is happening this month at Great Wolf Lodge? The annual Howl-O-Ween celebration! Neighborhood Halloween festivities may look different this year, so why not head to the resort instead, for a physically distanced entertainment? Dress up to enjoy the Trick-Or-Treat Trail through the lodge, a nightly costume parade, a costume contest, the Monster Bash Dance Party, crafts, and all sorts of spooktacular activities.
For the Howl-O-Ween celebration, guests pre-select a time window to begin the Trick-Or-Treat Trail, so Great Wolf Lodge can manage capacity levels and allow for adequate physical distancing. Distance markers will be displayed at each trick-or-treat location and the costumed staff distributing candy will wear protective gear, such as a mask and gloves.
To learn more about safety measures in place and to book your next stay, visit Greatwolf.com.