With November here, it's time to focus on a time of gratitude and thanksgiving, before the fast pace of the Holidays get to us.  So to kick off the month, we found these 10 Thanksgiving Books for Kids – many of which come highly recommended, as they are on our bookshelves!
Don't let the Thanksgiving Holiday pass by without taking the time to focus our families on gratitude.  One easy way to do that is to incorporate Thanksgiving books for kids into story time at night.  We love the books below as many help refocus our minds and hearts on being grateful.  And some are just so darn adorable, my kids loved them growing up and deserved a mention.  Grab a few books to read with your family!
10 Thanksgiving Books for Kids
Old Lady Who Swallowed a Turkey by Lucille Colandro
10 Fat Turkeys by Tony Johnston
Pete the Cat: The First Thanksgiving by Kimberly & James Dean
Turkey Trouble by Wendi Silvano
God Gave Us Thankful Hearts by Lisa Tawn Bergren
The Thanksgiving Story by Alice Dalglish
A Charlie Brown Thanksgiving by Charles Schulz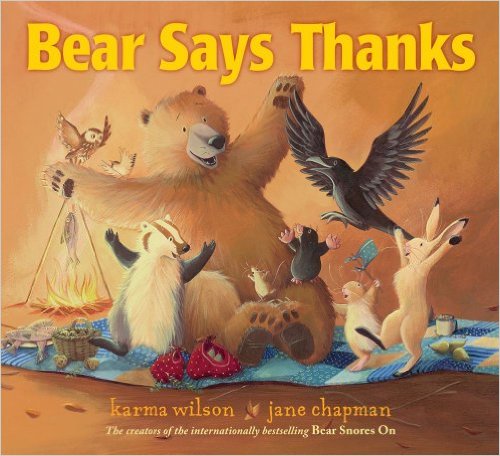 Bear Says Thanks by Karma Wilson & Jane Chapman
Tom the Turkey by Arnie Lightning
Pinkalicious Thanksgiving Helper by Victoria Karr
Do you have any favorite Thanksgiving books?  What about Thanksgiving traditions?  Check out some of these posts for more ways to celebrate Thanksgiving this year!
Other Fall Posts You May Like:
13 Leftover Halloween Candy Recipes
Disclosure: Some links contain affiliate links.  When you purchase, a tiny percentage comes back to me and keeps me in coffee to write fun posts like this.  I appreciate your clicks!