Are you in town for the Thanksgiving holiday weekend? Check out these 7 fun Thanksgiving Events in Austin we found:
At home & looking for something different to do this Thanksgiving Holiday in Austin? Here are 7 cool ways to spend Thanksgiving in Austin, TX!
Thanksgiving Events in Austin
29th Annual Thundercloud Subs Turkey Trot: Thursday, November 28, 2019
What better way to start a day of eating off than with a 5 mile or 1 mile run?? The Turkey Trot starts at the Long Center and benefits the Caritas of Austin. Last year almost 20,000 people participated. The Turkey Trot is a great way to start the day!
Operation Turkey: Thursday, November 28, 2019
Looking for an opportunity to give back to this community we call home? The Austin-based Operation Turkey is always looking for additional volunteers to help prepare & distribute Turkey meals on Thanksgiving Day. Children are welcome to help as well. What an awesome way to spend your day.
Turkey Dinner at Alamo Drafthouse: Thursday, November 28, 2019
Celebrate Turkey Day in a fun way – at the The Alamo Drafthouse! They also have several fun quote-a-longs & family events scheduled for the week of Thanksgiving break. Check out your local Drafthouse calendar to see what fun, family movie you'd like to go to.
Thanksgiving at Hyatt Regency Lost Pines: Thursday, November 28, 2019
Start a new family tradition and head to the Hyatt Regency Lost Pines for their annual Thanksgiving Day Buffet. If this doesn't sound like the ideal meal, I don't know what does:
Create your next family tradition at our annual Thanksgiving Day Feast, with a buffet filled with your favorite holiday eats. On the buffet line, you'll find the traditional, like butter-basted turkey and jalapeno cornbread stuffing, as well as the eclectic, like shrimp, Gulf Coast oysters, cedar-planked salmon, pecan-smoked prime rib, and much, much more. Don't miss the dessert spread, with pies, cakes, and pumpkin-flavored whoopie pies.
They have a week full of fun events for the whole family – check out all the fun they have planned – including Breakfast with Santa! For reservations, call 512-308-4860.
Special Thanksgiving Events in Austin for the weekend…..
The Blue Man Group: November 29- December 1, 2019
The Long Center has some fun events – see the Blue Man Group on Friday, November 29 thru Sunday, December 1. And The Nutcracker starts on December 7.
A Christmas Carol: November 20-December 29, 2019
This hit show is back at ZACH Theatre – perfect for the whole family! It's our favorite holiday show to see this season!
Chuy's Children Giving to Children Parade – Saturday, November 30, 2019
Don't miss this classic parade complete with big balloons and Santa! It's a 29-year tradition of children giving back to the Blue Santa program, so bring an unwrapped toy to give to the parade!
Happy Thanksgiving everyone!
Looking for a unique Holiday Gift? Take a look at the Pogo Pass & use our unique code to get $10 off: RWETHEREYETMOM
Are you new to R We There Yet Mom?
Welcome! We are a website dedicated to having fun and making memories in Central Texas and beyond! We love to travel and give you inspiration to take trips with your family as well.
But we know we can't always be traveling (or maybe we can??), so while we are at home, we have lots of fun activities for you to try in the Central Texas area.
Are you home for the Holidays? Check out all these fun events we have found happening over the next few months in the Austin area!
And don't miss these 28 Holiday Events happening in Austin this season!
And we love our BIG LIST of Things to Do in Austin!! Try to check off some of these over the Holiday season as well!
And don't miss any of the spectacular Holiday Light Displays that you can find in the Austin area this season! We have a comprehensive list to help you find them all!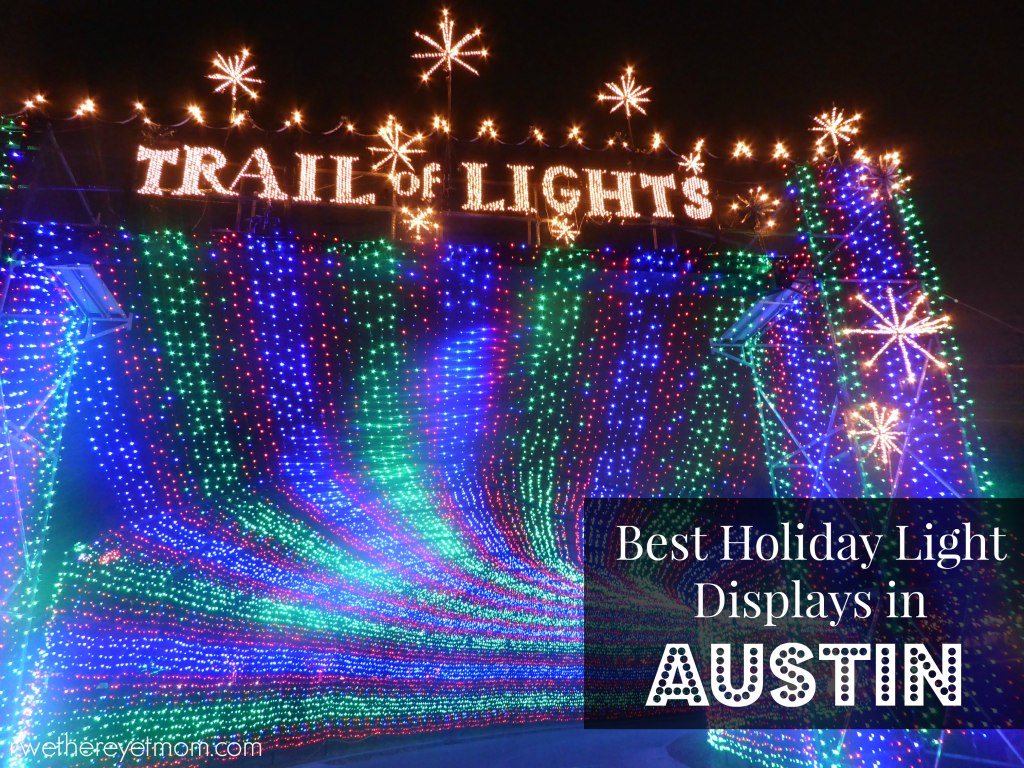 Best Holiday Light Displays in Austin ,Texas

Don't miss these great articles on more Holiday Fun in Austin!
28 Holiday Events in Austin
10 Things You Must See at Austin's Trail of Lights this Year
5 Tips for Austin's Trail of Lights
Holiday Light Displays in Austin
Where to Find A LIVE Christmas Tree in Austin
Zilker Holiday Tree
Where to Find Santa Claus in Austin