Last year, we spent a whole day at Rodeo Austin. It's coming back this spring and we think you should head out to the fairgrounds and check it out.  Here's why: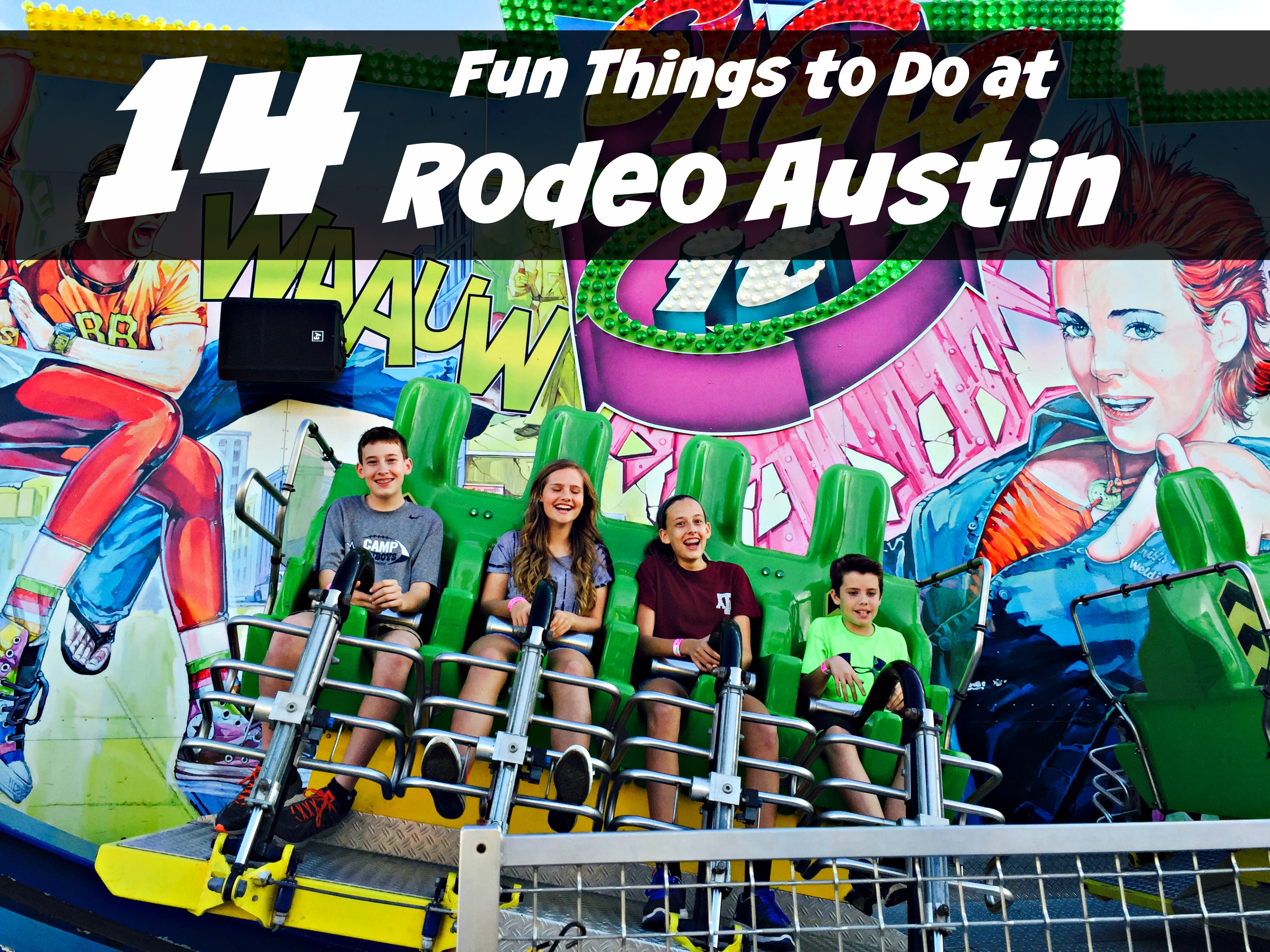 Rodeo Austin is in town, March 10 – 24, 2018, and y'all, it is tons of fun for the whole family.  We spent a full day – like all day – out at the fairgrounds and never stopped moving, there was so much to do.
I was surprised to learn that Rodeo Austin is all a non-profit.  The organizations entire goal is to raise money for scholarships for Texas kids to go to college.  In fact, last year Rodeo Austin gave out more than 2.5 Million in scholarships!  If that doesn't make you want to support them, I don't know what will!
If you are planning a day out at the Rodeo or on-the-fence about going, make sure you don't miss these 14 fun things to do at Rodeo Austin:
Rodeo Austin: The Rodeo
Truth be told, the last time I went to a Rodeo, I was too young to remember it.  And my kids have never been.  Y'all – I shouldn't have waited so long to take them – they LOVED it!  The Rodeo is one of America's Top 10 ProRodeos. All the events feature top athletes who are eliminated in a bracket-style tournament, making their way to the top to compete in the final days.
We saw barrel racing, calf roping, team roping, bull riding, and more.  My kids favorite of course was the mutton bustin' – there were 5 year old kids out there riding sheep bareback – it was amazing!
We really enjoyed the rodeo – learned a lot of new thing – perfect family fun. See their full schedule & events here.
Rodeo Austin: The Concert
After each Rodeo, there is a concert in the arena.  We happened to go when The Beach Boys were playing and this momma couldn't have been more excited.  They were fantastic and played non-stop for over a full hour.  The price of the concert is included in the Rodeo ticket and we thought it was a really fun way to end the night.  Check out the full Concert schedule here.
Rodeo Austin: The Carnival
The Rodeo would not be complete without a Carnival!  Full of rides for every size, my kids really enjoyed the carnival, especially the teenagers.  There are tons of rides & games to choose from and if you go on a weekend, there is not much of a crowd to wait for lines.  The best deal is to buy an unlimited ride wristband.  Ride-All-You-Want Wristbands are $43 (they are $35 online).
Special for Spring Break Week – $20 for the unlimited wristband but it is only good until 5PM.  The carnival opens at 11 am.  When we got there at 2pm last year, we literally walked on every ride for the first 2 hours.
Rodeo Austin: Fair Food
Oh the food – can't go to the Rodeo without trying something fried (ok, maybe you can).  The Rodeo Austin has all the yummy goodness you'd expect – corn dogs, fried taters, turkey legs, burgers, pizza by the slice, funnel cakes, homemade lemonade, and more.  We didn't see it until after we had bought our food, but on the backside, near the Rockin' A Outdoor Stage is a HUGE BBQ booth that looked amazing.  Also, there is a great seating area to relax while you eat.  It is fully in the sun, but there was a great breeze that made it comfortable.
Rodeo Austin: Taste of Texas

Rodeo Austin's newest feature on the north side of the fairgrounds. Craft beer garden featuring Revlover Brewing Company. Tasty eats from local food trucks and H-E-B's Taste of Texas food sampling tent. Enjoy it all while listening to some tunes on the KASE/KVET outdoor stage.
Rodeo Austin: Swifty Swine Pig Races
Another fun show you don't want to miss is the Swifty Swine Pig Races. These little guys run fast for the trophy – an oreo cookie.  It's a fun show to watch, catch them at the Rockin' A Ranch.
Rodeo Austin: Petting Zoo
We spent a good deal of time in the Petting Zoo at KidsTown this year.  My little guy is not so afraid of the animals that are his height anymore, so it was fun for him.  We bought a cone for food for 1 Token ($1) and feed the goats, deer, llamas, and more.  Yes, they were a bit "in-your-face" and followed you around long after you ran out of food, but it was a very clean facility and we really enjoyed it.
Rodeo Austin: KidsTown
Other than the petting zoo, KidsTown offers a puppet show, a Farmer for a Day exhibit  for kids to learn about chores on the farm, a pedal tractor maze. Kids can also take a ride on a pony or learn about where your milk come from at the Southwest Dairy milking demonstration. It was the perfect area for the little kids.
Rodeo Austin: Livestock Show
Exhibitors across the nation travel to Austin each year to show their animals. Rodeo Austin hosts fifteen different livestock and horse shows during the Fair and Rodeo in the Show Barn. Fairground admission grants fairgoers access to each show. Check the schedule, as this can be a great place to learn more about the animals and rest your weary feet in the cool barn.
Rodeo Austin: Avenue of Breeds in the Show Barn
If you can't make a Livestock Show, make sure to stroll through the Avenue of Breeds in the Show Barn.  My 5 year old and I really enjoyed seeing the miniature horses, baby chicks, llamas ("I've never seen one of those before!" – he told me) and more. Plus, there is a clean bathroom here (no port-a-potties for me.).
Rodeo Austin: Shopping
I discovered the shopping barn right before the rodeo actually started, or I would have spent WAY more time in here.  I saw great home decor, clothing, boots, hats, and more to be had. There are lots of private vendors set up in the building, so take some time to help support local businesses.  Its a great respite from the heat in the afternoon.
Rodeo Austin: Rockin' A Outdoor Stage
Daily concerts are planned on the Rockin' A Outdoor Stage, with a great big lawn for kids to run & play in.  There are also plenty of picnic tables to sit and enjoy the music while munching on some fair food.
Rodeo Austin: Kids Carnival
We discovered a big set of kiddie rides near the Rockn' A Stage – perfect for the little ones.  When my little one was turned down at the big carnival for being too short, it was great to have these rides just for him.
Rodeo Austin: Zip Line, Hamster Balls, Bungee Jumps & Mechanical Bulls
For an additional fee, you can enjoy some more thrilling fun at Rodeo Austin.  This "big-kid" fun in located near the food midway, across from the Wild West Arena. With 2 sizes of hamster balls, all ages can try this 360-degree craziness.  And the zip line looked like a fun ride too.
Lots to do, right??  It was a full day of fun for us that I would highly recommend – my kids loved it.  Ok, truth be told – they didn't "love" the concert (or their mom signing along to every song) but they said the day was awesome and they all were fast asleep way before we got home.  In my book, that's a full day!
Check out my 7 Tips for Surviving Rodeo Austin.
Rodeo Austin is located at the Travis County Expo Center at 9100 Decker Lake Road, Austin, TX 78724. Click here for more information.
Disclosure: My family & I were invited to experience Rodeo Austin and were provided tickets.  I was not compensated for this article.  All opinions are my own.