While at Universal Orlando CityWalk, you must try the new Toothsome Chocolate Emporium & Savory Feast Kitchen for a full meal or a sweet treat. Here is our experience while there this past Spring:
After a long day saving Hogwarts with Harry, running from Kong, and hitting the streets of New York with Jimmy, you have worked up an appetite. Our favorite place to find a great meal after a full day at Universal Orlando or Islands of Adventure is the Universal Orlando CityWalk. There are a number of terrific restaurants to choose from there but I want to tell you about our new favorite, Toothsome Chocolate Emporium & Savory Feast Kitchen.
Y'all know I am all about trying new places to eat while on vacation and after seeing some photos from this place pop up in my newsfeed, I knew I had to try them. I mean look at these milkshakes!
But I promise you, there is so much more to Toothsome: Chocolate Emporium than just the extreme milkshakes!
Toothsome Chocolate Emporium: Chocolate Bread….and the rest of the Menu
Like I promised, there is more to the menu than just these elaborate milkshakes. So as much as you want to skip ahead to dessert, you would really miss out on a terrific meal if you did. The Toothsome Chocolate Emporium & Savory Feast Kitchen (so it's called on the menu) has a full menu with appetizers, salads, sandwiches, pasta, and more. There is so much to choose from that it is almost hard to save room for dessert, but it would be a BIG mistake if you didn't!
Chocolate Almond Bread (yes, you read that right) is served warm to each table with salted caramel butter. You must immediately cut into this delectable treat and butter it right away so that you can still taste the chocolate chunks melting in your mouth. It's not a full-fledged chocolate taste and I think that is why I loved it so much. It's a very dark, stout bread with the chocolate chunks embedded inside. I thought it was delicious!
We started with the Kettle Chip Nachos – Housemade Chips, Shredded Pork, Andouille Sausage, with smooth Cheddar Cheese Sauce.  It was a perfect start for a large table, as there is plenty to share.
We tried a variety of plates for dinner that evening. My daughter tried the Fettuccine Alfredo, my son had slider burgers, my husband had a Red Ruben sandwich, and I tried the Wild Mushroom Chicken Risotto. All of the meals were full of flavor and delicious. Honestly, they were perfect to fill us up after a full day in the parks. But there was more to come, so we had to save room.
Toothsome Chocolate Emporium: Jacques' Specialty Milkshakes
Who is Jacque and what are his "specialty milkshakes?" I'll tell you more about the theming in a bit, but I have to show you some of these milkshakes. All the rage now, these extreme milkshakes topped with unbelievable toppings like cupcakes, key lime pie, and candy bars!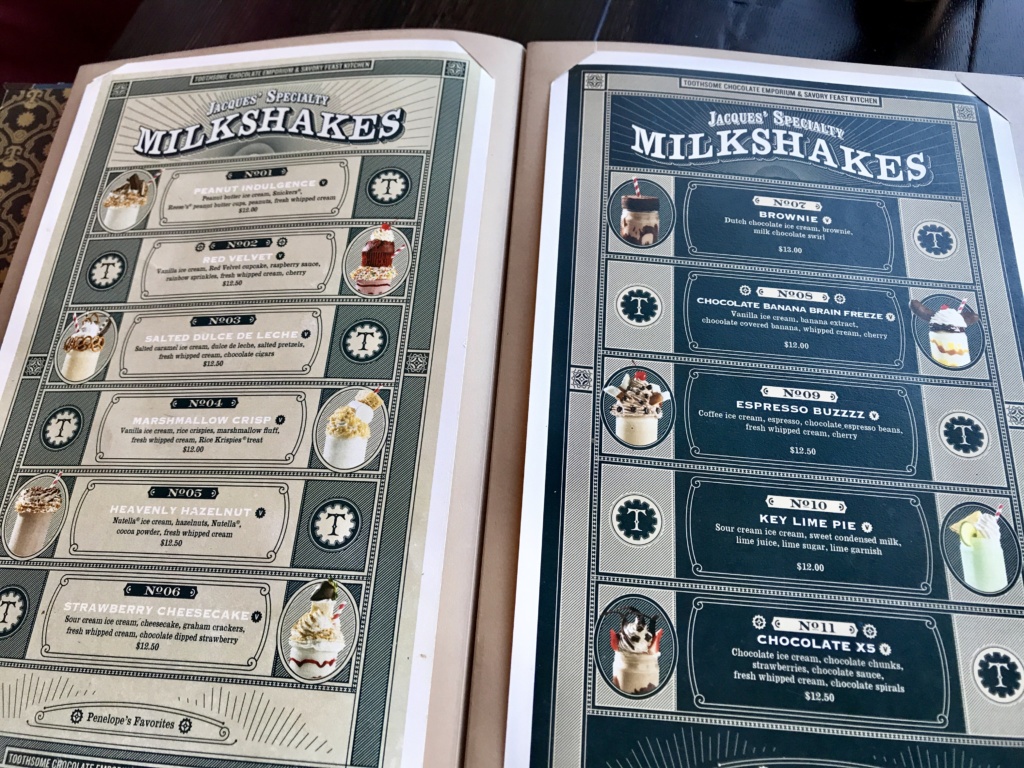 There are 11 different milkshakes to choose from here ranging from Red Velvet to Strawberry Cheesecake, to an Expresso Buzz. Creatively developed, they are almost too pretty to eat, but don't let that stop you. Our milkshakes were our favorite part of your meal!
We tried the Key Lime Pie (sour cream ice cream, sweetened condensed milk, lime juice, lime sugar, topped with an actual slice of key lime pie), the Salted Dulce De Leche (salted caramel ice cream, dulce de leche, salted pretzels and fresh whipped cream) and the Peanut Indulgence (peanut butter ice cream, Snickers, Reece's Peanut Butter Cups, peanuts, and fresh whipped cream). Each milkshake comes in a souvenir take home glass so you can attempt to make your own extreme milkshakes!
Any guesses what our favorite was?
Toothsome Chocolate Emporium: Steampunk!
I was excited to try this restaurant from the moment we walked by it heading into the parks in the morning. The factory-themed facade with steam & chocolate smells wafting beckon you in, even if just to shop in it's elaborate candy gift shop. And with it's factory-steampunk look, you are drawn into another world. The theming is fantastic – from the clothes the staff wears to the decor, everything is done well, just like you'd expect from Universal Resorts.
When you walk in, you are faced with a gift shop full of fantastic colorful candy jars. With so much to choose from, this is a cool place to get some gifts for the folks you left at home.
The factory actually has a "story" (make sure to read it in the menu) and 2 fun characters that make appearances throughout the meal. When Doctor Penelope Tibeaux-Tinker Toothsome showed up, my overly-tired 8 year old barely noticed her as he was wearily absorbed in his dad's phone. She actually thought it was humorous and made me get up so she could sit in my seat to see if he noticed. Nope. But just because my 8-year old wasn't impressed, doesn't mean we did enjoy her visit.
Toothsome Chocolate Emporium: What Did We Think?
I love a themed restaurant – especially one that takes it all the way like the Toothsome Chocolate Emporium & Savory Feast Kitchen does. We thought the food was good and priced well considering we were at a theme park. I like having a nice restaurant choice to sit down at and enjoy a good meal after a long day of walking. My recommendation is to go with a hearty appetite as the portions are big. And make reservations! Being that Toothsome Chocolate Emporium is now, it's harder to get reservations unless you do it in advance. Enjoy a Specialty Milkshake for me!
Learn More About Universal Orlando Resort
Everything You Need to Know about Volcano Bay at Universal Orlando Resort
4 Steps to Planning a Trip to Universal Orlando Resort
7 Cool Reasons to Stay at the Hard Rock Hotel Orlando
13 Things to Do with a Teen at Wizarding World of Harry Potter 
Loews Sapphire Falls Resort at Universal Orlando
5 Ways to Skip the Line at Universal Orlando Resort
Disclosure: I was hosted for dinner at Toothsome Chocolate Emporium & Savory Feast Kitchen at Universal Orlando. All opinions are my own and I was not compensated for this article.