This past week, I was in Los Angeles for Disney Pixar's Incredibles 2 Press Junket. While there, we spent the day at Disneyland learning all about Pixar Fest, the summer-long celebration of all our favorite Pixar characters and movies.  Here are the Top 10 Things You Can Not Miss at Pixar Fest at Disneyland.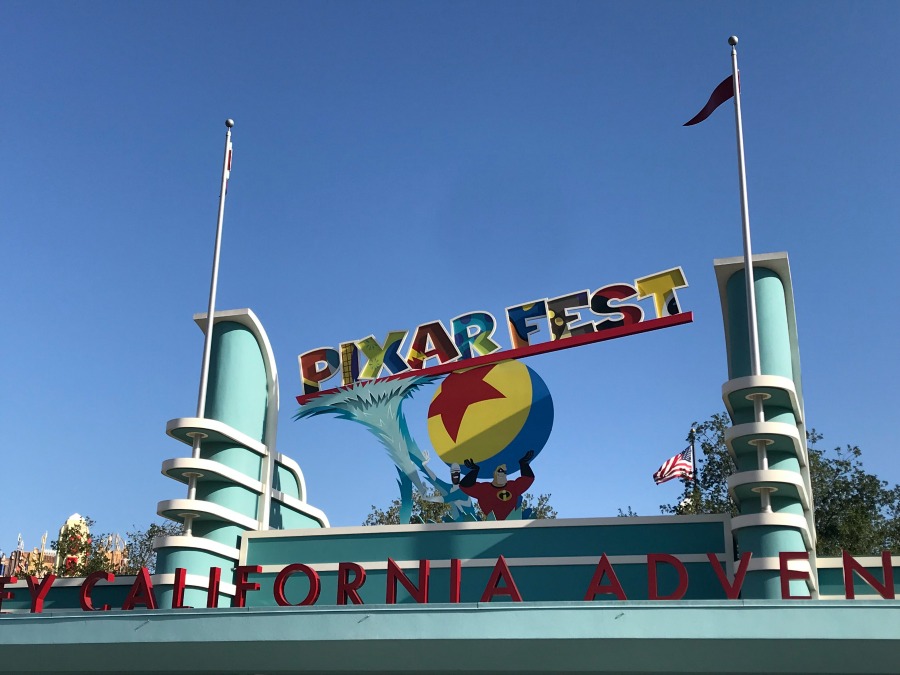 As a mom whose children all grew up on Pixar films, there is a special place in my heart for Buzz and Woody, Lightening McQueen, and Mr. & Mrs. Incredible.  I get a tiny bit of sadness in my heart when I hear those iconic theme songs.  And I could go toe-to-toe with anyone when it comes to quotes from Cars.  Pixar was such an important part of my kid's childhood. 
And so I was thrilled to be asked to Los Angeles to not only screen Pixar's newest film, Incredibles 2, but to also experience Pixar Fest at both Disneyland and Disney's California Adventure this past week. Pixar Fest brings the magic of the Pixar films to life all over the parks but just for summer.  All the fun goes away September 3, 2018.  
Pixar Fest is so much fun and definitely worth a trip to the California theme parks this summer.  From new & entertaining shows, parades, food & characters, here are my favorite must-sees from Pixar Fest, with a few permanent Pixar attractions that can't be missed either. 
10 Things You Can Not Miss at Pixar Fest at Disneyland

Pixar Pier Frosty Parfait
One of the prettiest frozen treats you will find in the parks this summer is found at the Adorable Snowman Frosted Treats along Pixar Pier.  The Pixar Pier Frosty Parfait is a non-dairy lemon-flavored frozen read mixed with blue raspberry slush and topped with a pretty red cherry. It will definitely be one of the most Instagrammed desserts of the summer.  But fair warning, on a hot day lines can get long in the afternoon, so grab your treat early!

Pixar Play Parade
This adorable daytime parade begins with the iconic Pixar Lamp and ball bouncing down the street.  With characters and floats from all your favorite Pixar movies, this parade is just happy.  It brings a smile to your face and makes you want to get up and dance with them. 

Radiator Springs Racers
Radiator Springs at Disney's California Adventure opened 6 years ago, way before Pixar Fest, however, the best Pixar-themed attraction in my opinion deserves to be on this list.  Radiator Springs Racers takes you on a ride through the lovely town of Radiator Springs, meeting with all of Lightening McQueen's friends, before racing towards the finish line at the end.  I loved it when I first rode it 6 years ago and I still love it today. 
There are many permanent Pixar attractions scattered throughout both parks, so make sure you take the time to enjoy a few of them while you are there for Pixar Fest. 

Alien Macaron

 
Another instagram-worthy treat found at Pixar Fest is the Alien Macaron. Grab one of these inventive green macarons – you will love the surprise lemon center! You can find them at the Alien Pizza Planet in Tomorrowland.
Together Forever – A Pixar Nighttime Spectacular

 
A new fireworks show was created for Pixar Fest that features projections, lasers, music and even a few surprise characters.  The show features moments from 19 Pixar movies and celebrates the endearing friendships we all love.  I'm a total sucker for Disney Fireworks shows, but this one brought tears to my eyes many times.  From the House from Up flying over Sleeping Beauty Castle to the special songs, this show is NOT TO BE MISSED.
And even if you can't sit on Main Street USA in front of the castle, the projections are being shown up an down Main Street, at the Rivers of America and on It's a Small World building, so you can have a new experience at each location.  Makes we want to go back and see it again. 

Alien Pizza Planet
This summer, Redd Rockett's Pizza Port located in Tomorrowland,  transforms into Alien Pizza Planet, which we all know was the name of the restaurant that Andy & his family went to in Toy Story.  We enjoyed dinner there, sampling the salads, pasta and pizzas.  
But forget the traditional cheese pizza, you must try  the new cheeseburger pizza. Topped with cheese, caramelized onions, diced tomatoes, slider patties, a house-made burger sauce, and pickles, it's tastes just like a burger!
Toy Story Mania
Another classic Pixar attraction that you can't miss, Toy Story Mania is SO MUCH FUN.  The arcade-style game encourages you to get a little competitive with your seat mate and will have you laughing the whole way thru. 
Meet Your Favorite Pixar Characters
There is nothing like meeting your favorite characters from Disney movies and you can meet all your favorite Pixar friends at the parks this summer.  We met both Buzz Lightyear and Woody on our visit over in Disney's California Adventure.  And Edna Mode was recently introduced in anticipation of Incredibles 2. 
The Pixar Fest Celebration Cake

 
Made with the iconic colors of the yellow Pixar Ball, this simple, yet delicious treat features layers of yellow vanilla cake, blue raspberry cake and red velvet cake with raspberry purée and vanilla frosting, topped with a chocolate Pixar Ball. You can find this yummy dessert at both the Plaza Inn at Disneyland Park and Boardwalk Pizza & Pasta at Disney California Adventure Park.
Pixar Pier

 
Over in Disney's California Adventure, the Pier has been permanently transformed into "Pixar Pier" with several of the attractions taking on a Pixar theme.  Mickey's Wheel has now become XYZ and California Screamin' has taken on a story from Incredibles 2 and renamed the "Incredicoaster." The Pixar Pier is where you can also find the Adorable Snowman stand to pick up the Pixar Pier Frosty Parfait.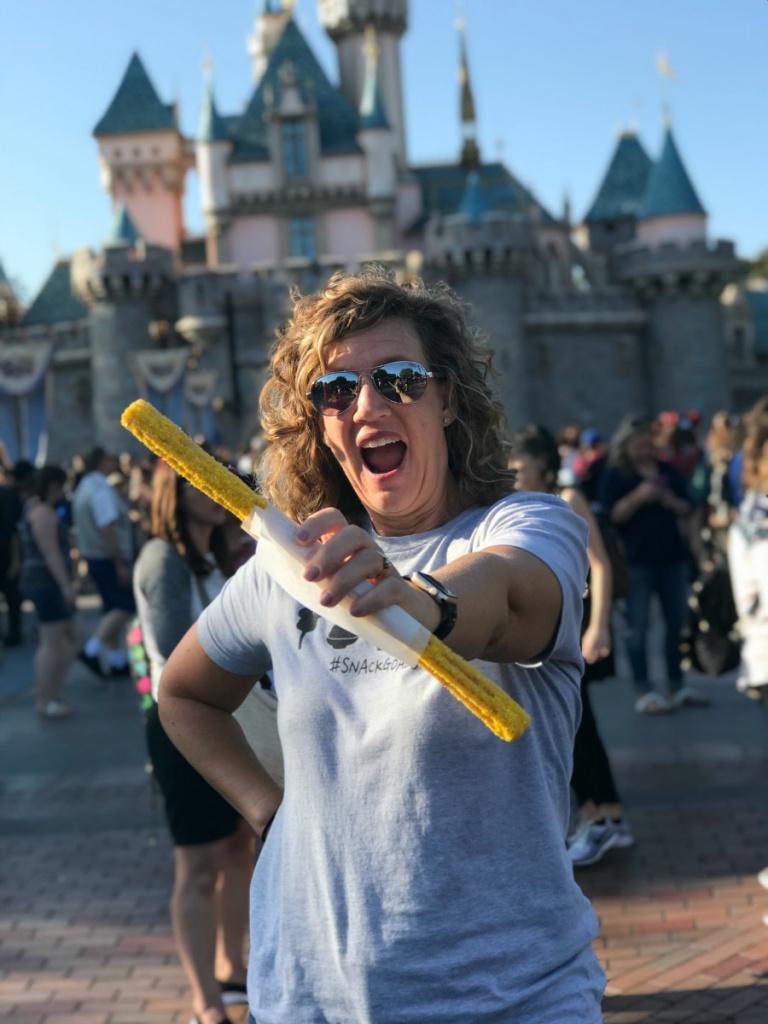 Honorable Mention – Pineapple Churro

 
For those of you who follow me on social media, you know my obsession with Disney's Dole Whip.  It's my absolute, number one Disney Snack, an honor that no other treat found at either Walt Disney World or Disneyland has ever been able to top. 
But for "research-sake", we tried A LOT of Pixar-themed treats during our visit and I opted to skip my beloved dole whip this once.  Lucky for me, while we were waiting for the Pixar Play Parade to begin, I overheard several people talking about the pineapple churro.  I had just enough time to grab one and Y'ALL it tasted just like DOLE WHIP – light, delicious, and pinapple-y!
In fact, there are lots of themed churros this summer for Pixar Fest.  You can find the Coco Churro with Mexican chocolate dipping sauce, Ants on a Log – a fruity pebble covered churro, and even a carrot cake churro.  I wanted to try them all.
And while I have a lot of fun Pixar treats you can find at Pixar Fest in the article, my friend, Britni tried them all recently! Here's a great overview of what you need to try and what you can skip.
Pixar Fest is good, silly, happy fun.  The brightly-colored food is worth finding.  The attractions are laugh-out-loud fun. And you best get a spot early along the parade route and the nighttime show – it's so worth it. 
But like I mentioned previously, enjoy Pixar Fest while you can! Most of the fun goes away after September 3, 2018! Find tickets here. 
Don't miss Incredibles 2 before you go to Pixar Fest! It's in theaters June 15, 2018
While in Los Angeles, we saw a screening of the newest Pixar film, Incredibles 2 and attended the press junket to visit with the stars of the film, Craig T. Nelson, Holly Hunter, Samuel L. Jackson and more.  I will have all the interviews here next week, but in the mean time, grab your tickets now – it's prefect Father's Day fun! 
Disclosure: Disney invited me to attend the Incredibles 2 Press Junket and Disneyland in exchange for my coverage of Pixar Fest.  All opinions are my own.