This Summer, I have asked several friends to tell us the Top 5 Things to do in their cities.  Join us each week as we learn about a new city!  This week let's head to Richmond, Virginia.
If you happen to be headed to Virginia this summer and want to experience the capitol, here are a few ideas on places to see. My husband and I have 7 children, home educate, and love to take advantage of all of the wonderful and historical sites in the city. There is so much to do in the whole state, but I will share some of the top places to visit in Richmond.
No, it's got nothing to do with Los Angeles. The name comes from the types of trees on the hilly terrain that sits above the James River. The Hollywood Cemetery is the resting place of many historical figures.

 

Presidents James Monroe and John Tyler, Confederate President Jefferson Davis, General J.E.B. Stuart, a Prince Wolkonsky (?) and many Revolutionary and Civil War soldiers are buried here.

 

We all can spend a few hours there walking and reading. Only during the day, of course!
The markers and statues are interesting to read and observe. Most of the famous (the past Presidents and the generals) have elaborate graves with intricate iron works, gardens, statuary and engravings that educate us on their roles in history. The gardens and old trees are just beautiful in and of themselves. All those brave and righteous forefathers and mothers of our nation who are resting there forever, have a scenic view of the James River below and Belle Isle on the horizon (not that I really believe that ; )!
BELLE ISLE


Across the James River from the Hollywood Cemetery, is a pedestrian bridge that takes you to Belle Isle. It a popular place to visit for many city dwellers who want a break from the busy city. We only go during the day, as you may run into some shifty characters at times. Our kids love the walk bridge (although I get nervous with the heights). The view is spectacular of the downtown city skyline and of the island itself.

 

Many visitors in the summer spend time on the numerous large flat rocks and swim and kayak in the rapids there. We have not done that yet, just jump around the rocks and watch the river roar. It is a short hike around the Isle and it too has significant history. Belle Isle was once a no-walled Civil War Prison, a Powhattan Native American fishing village and an iron works manufacturing plant (for the war artillery, nails and horseshoes). We hike around and read the plaques set at many of the ruins on the island. Mostly, the kids want to play near the rapids. Many city folks jog and ride their bikes, so we need to take heed of them speeding by us. 
THE JEFFERSON HOTEL, CAPITOL BUILDING AND GOVERNORS MANSION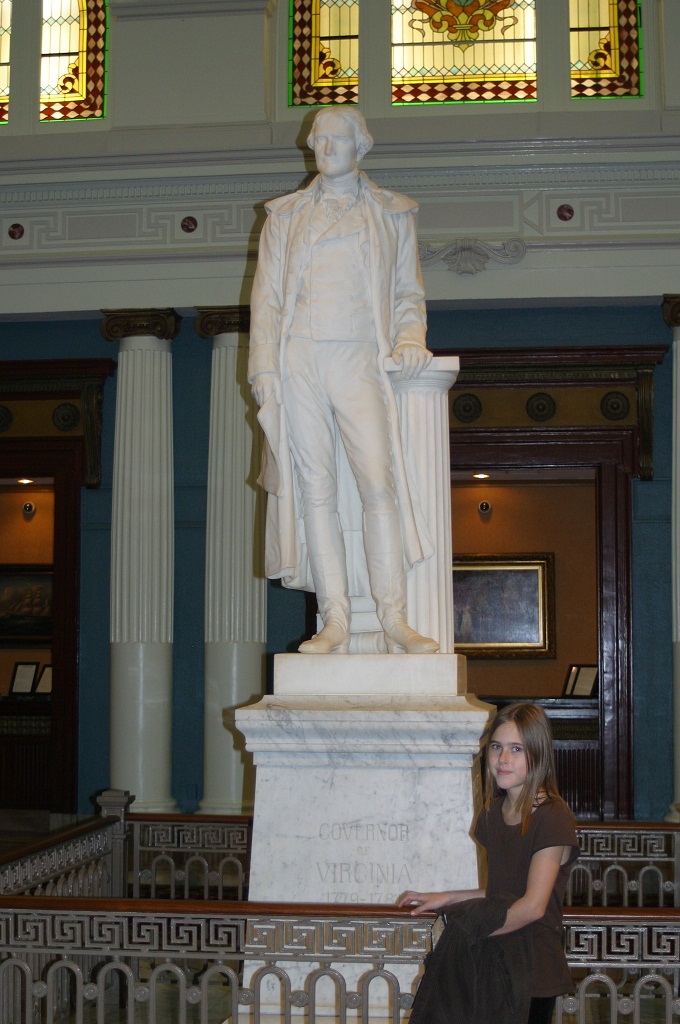 These are all close by to each other, also in downtown Richmond. The Jefferson Hotel is quite famous and dates back to 1895. This luxury hotel has such beautiful architecture and numerous oil painting, elaborate period furniture and historical artifacts. We walk around to admire the interior and exterior, but mostly, the kids try and search for alligators. For a very odd reason, alligators used to live in the hotel. They actually swam in the fountain pool under the statue of Thomas Jefferson in the Palm Court and some were known to be found sleeping on the fine furniture! The story goes, as guests were passing through Richmond on their return trips from Florida, they realized that they really could not take home the souvenir baby alligators they bought. So the owners of the Jefferson let them stay there. The last one (Old Pompey) died there in 1948. There are brass figures of alligators decorated throughout the hotel. The challenge is to see how many you can find. There are 2 restaurants at the Jefferson that are known to be of good cuisine. We hope to have a meal there soon (my 3 girls and I, for a ladies luncheon treat).
The Richmond Capitol Building dates back to 1788. It's the second oldest working capitol building in the United States! We love this beautiful building that was designed by Thomas Jefferson. The recent film "Lincoln" by Steven Spielberg was partially filmed here. Government sessions still go on in this building. We have attended meetings of the General Assembly here. Down the large staircase and having the entrance underground, is the recent museum of the capitol. It is free and very well done.
Near the Capitol Building is the Governors Executive Mansion. Dating back to 1813, all of the Virginia Governors and their families lived here. Currently we are helping with the campaign of Ken Cuccinelli, whom we hope and pray will win as Governor! Touring the mansion is free, but it has limited days and hours when it is open. I don't think I would appreciate tourists walking around my house all day long! 
THE VIRGINIA HISTORICAL SOCIETY
The name says it all; it is a museum of much of Virginia's history from the beginnings to modern times. We go there frequently and most all of it is perfect for kids of every age. There are many hands on exhibits that make history more real. Each time we go, we see something new. There are many traveling displays and exhibits also. A large library is open for those who want to do research on Virginia and see some very old books. When we bring our kids, we just follow them around and let them look at what they want at their own pace. Because we can go on a weekday everyone is at work or in school, we practically have the place to ourselves. Next door is the Virginia Fine Arts Museum. We usually tour there the same day and recently went to see the Dale Chihuly glass art exhibit!

 

These museums are mid-town and have beautiful landscaped grounds that we typically have a picnic lunch on. 
MAYMONT PARK
This popular park in the city is a favorite for most Richmonders. Our kids love going here more than anyplace in the city. Maymont Park is situated on 100 acres near the James River. The property was originally owned by James and Sallie Dooley who had a Victorian mansion built there in 1893. They had beautiful Italian and Japanese gardens to enjoy and now due to their generous donation of the property to the public, we can all enjoy it ourselves for free. In the park there are many fields for picnics or impromptu soccer and Frisbee games, horse drawn carriage rides, garden tours, house tours, a nature science center on the education about the James River, a zoo, and a barnyard with livestock. We meet up with friends there frequently and do lots of hiking and exploring.

 

On a hot summer day, you can splash around in the large waterfall in the Japanese gardens.

 

 
There are many more fun and interesting things to do and see in Richmond. These are just a few that I wanted to share. Our family lives in the country side of Virginia, just about a 45 minute drive north of all of the above locations. We have an organic farm,

 

home educate, try to live within our means and be good stewards of what we've got, love to travel and learn all we can from life's experiences!
We are also just 90 miles from Washington DC. Please read about our five favorite places to visit in Washington DC on my blog. And you can find us also on facebook.