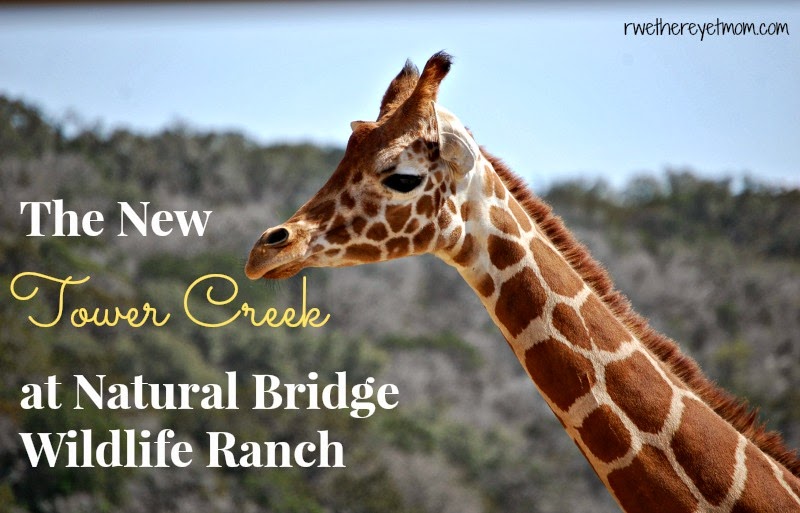 Have you been to the Natural Bridge Wildlife Park recently? I mean, who doesn't like a big Zebra kiss like this in your car window??
Actually, the zebras are usually my family's favorite animals to see in the park – up until now that is. With the opening of the Tower Creek, there is a whole new area of fun to discover.
Recently, my family and I were invited to tour the new Tower Creek, new home to the Ranch's growing giraffe population. This 50+ acre extension is home to 7 new to the ranch animal species. You can now see Impala, Zebu, Grant's Gazelles, Sable Antelope, and African endangered species Nile Lechwe, Arabian Oryx, Dama Gazelle, and Bongo Antelope. Impressive right?
The Tower Creek is nestled down a steep hill that crosses over the Cibolo Creek. Descending the hill is really fun, as you can see the 31,000 cubic feet of limestone that was milled from the bluff (that's enough to cover a football field, 18 feet deep yall!). The limestone was recycled & repurposed to develop the two-lane road that goes through Tower Creek, which is 2 miles long.
The day we visited, the giraffes were a little shy, as were most of the animals in Tower Creek. They looked at us from a far, eyeing us warily. This was in February and the trainers said it may take a few weeks for the animals to get used to the cars traveling through.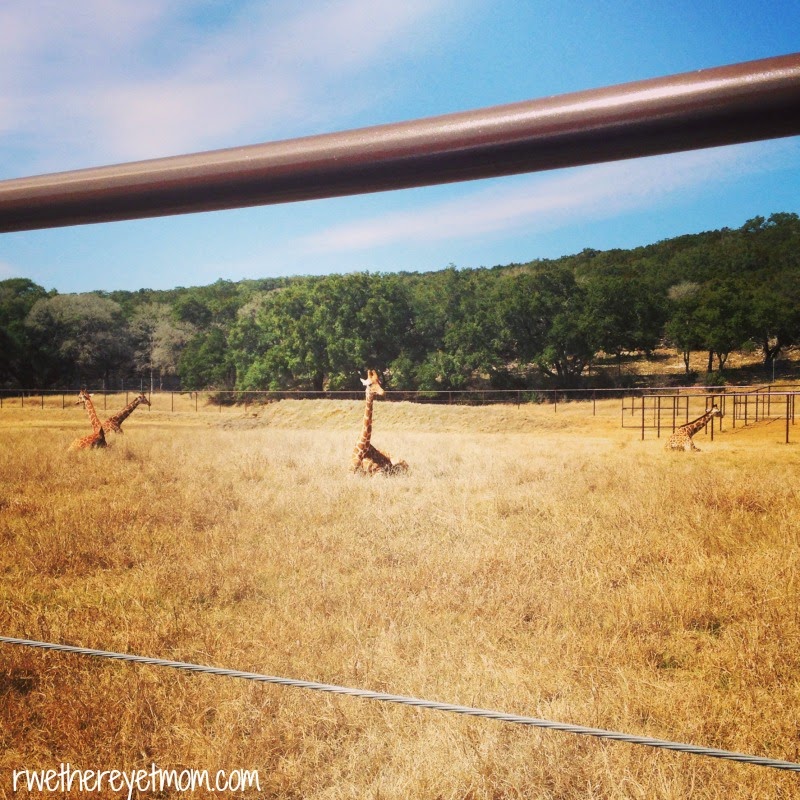 Most of the animals can freely roam the Tower Creek enclosure, but the giraffes are still surrounded by a metal fence. Currently, there are 3 giraffes here. There are still a few at the entrance, including the giraffe twins who were born here in May 2013. Did you realize we had a set of giraffe twins living in Central Texas? In fact they are the ONLY living set of giraffe twins in the US! And they are adorable. One guy was being chased by a turkey when we saw him and he was so funny!
We love visiting the Natural Bridge Wildlife Ranch – we love to see the different animals up close, love to feel their hide and horns when they come up to the car to lick a snack up from your palm. It is such a cool way to interact with the animals. And remember those zebra that were giving us "kisses" I mentioned earlier – check out why in the below video:
~ GIVEAWAY ~
I can't wait to visit the Tower Creek addition again, to see this group of 7 new species up close again. And you can too! Natural Bridge Wildlife Park has given me 4 tickets to give to one lucky person. Use the Rafflecopter below for entries.
Contest begins on Monday, March 25, 2014 and lasts through Friday, March 28, 2014 at noon. Winner will be randomly selected and notified by email. Winner will have 24 hours to acknowledge or another winner will be selected. Good luck!
Texas Travel Tips to visit Natural Bridge Wildlife Park:
Buy an additional bag of food other than what they give you, you can never have too much!
Go around at least 2 times – it's a completely different experience each time you go
Go in the morning – like opening time – it's when the animals are most active
If you wait and go in the afternoon, especially when it gets hot, chances are you will not see very many animals, as they are napping in the shae of the trees
Have patience. If there is a line of cars, it's because there is something cool to see up ahead – you will get your turn.
Take a picnic and have lunch on the grounds or eat in their on-site grill.
The Tower Creek has a lovely picnic area and will be offering unique sweet treats to purchase
Take hand-wipes or sanitizing gel to keep hands clean before and after feeding the animals
Location: 26515 Natural Bridge Caverns Road, San Antonio, TX
Hours: Daily: 9 am with seasonal closing times (closed Thanksgiving, Christmas Eve & Christmas Day)
Admission: Adults (12 & up): $17.50 Children (3-11): $9.00
Recommended Time: 2 -3 hours
My family and I were invited to visit the ranch and were provided admission. I was not financially compensated for this post. All opinions of the Natural Bridge Wildlife Ranch are strictly my own based on my experience.