Universal Orlando Resort's Volcano Bay has raised the bar for water parks everywhere. With 25 acres of immersive island entertainment, this park boasts no line-waiting, no tube-carrying, and no subpar food. Once you've enjoyed a luxurious day of leisure in this tropical paradise, it will be hard to imagine water park-ing any other way!
Volcano Bay opened to the public with festive South Pacific fanfare on May 25, 2017. As one of the first guests to arrive at Universal Orlando Resort's newest theme park, I was treated to beachfront performances by drummers from the Polynesian island of Tonga, New Zealand melodies, water dancers, "Haka" war dancers, and a steamy salute from the water park's star herself, the 200-foot Krakatau volcano. Volcano Bay staff called out the Maori greeting "Kia Ora" and the revolutionary new water theme park was open for business!
Everything You Need to Know About Volcano Bay
If a visit to Volcano Bay is in your future, here's what you need to know: you will eat well, you will drink well, you will relax, and the kids will be thrilled. The rides are amazing, the cabanas are beautiful, the sandy beaches are dreamy, and the whole atmosphere will make you feel as though you've snuck off to a Polynesian island for the day. This is not your average stand-in-line-all-day water park!
Volcano Bay: Skip the Line Technology
I have to start with the very best part. At Volcano Bay, there are no lines for rides. Thanks to the super cool waterproof TapuTapu wearable that every guest receives upon arrival, you can easily customize your day to enjoy the park without standing around in the hot Florida sun.
Here's how it works. Every guest who visits Volcano Bay is given a waterproof TapuTapu wearable to use for the day (this is included with your park ticket – there is no additional charge). Once you have your TapuTapu secured on your wrist, head to a kiosk located near a ride entrance and tap your TapuTapu. Now you have a virtual spot in line! Go, float the lazy river or play in the wave pool until the TapuTapu tells you it's your turn to ride.
Volcano Bay: TapuTapu Does the Work for You
Here are some quick facts about how TapuTapu helps to make Volcano Bay visits hassle-free:
TapuTapu allows guests to hold a spot in line for up to two rides at a time. If you change your mind about what you'd like to ride next, you can switch your reservations at a kiosk.
If your ride time comes up but you're in the middle of something else, like eating lunch, no worries! TapuTapu will keep holding your time (for one ride) until you arrive.
TapuTapu will give you ride updates. For example, if a ride closes due to weather, it will let you know that your spot in line has been paused and will resume when the ride reopens.
If you arrive early and there are not yet any wait times, kiosks may say "ride now!" If that is the case, you can walk right on. No tapping necessary.
Currently, ride reservations cannot be made in advance or through the Universal app. You must reserve your spot in person. The exception to this rule is for Universal Express Pass holders. If you purchase the Volcano Bay Universal Express Pass ($19.99) or the Volcano Bay Universal Express Unlimited Pass ($39.99), your rides will be pre-loaded on the TapuTapu.
Guests can only reserve the ride they are closest to, so if you want to ride something at the rear of the park, you'll need to book it over there to make your reservation at that kiosk. The exception to this rule is for those who rent cabanas. These folks can make their TapuTapu reservations from their cabana.
Volcano Bay: An Interactive Immersive Experience
TapuTapu can be used for more than just holding your place in line!  Here are other ways you can use your waterproof wearable while in Volcano Bay:
Look for TapTu Play experiences throughout the park! Kids will love using their TapuTapu for fun tricks like shooting water cannons at guests on the Kopiko Wai Winding River or illuminating images in the volcano's hidden caves.
Use TapTu Pay by attaching your credit card to the TapuTapu.
TapuTapu serves as your key when you rent a locker.
TapTu Snap lets guests take selfie shots at spots around Volcano Bay. Tap your TapuTapu and hop in the picture! Photos will be synced to your account.
Before you head to Volcano Bay, be sure to download the free Universal app and set up your free TapuTapu account. This will save you time when you arrive at the park.
Volcano Bay: Innovative Water Rides
I visited Volcano Bay without my children, but still had a blast trying out the park's 18 attractions! From a hybrid water slide/roller coaster to a half pipe multi-rider raft ride, Volcano Bay was a thrill a minute. I screamed a lot. It was awesome. If I had been with my kids, I would have done more mellow attractions, but I'm glad I had the chance to try the wild and crazy rides. These two were my favorite:
Krakatau Aqua Coaster – This is the main attraction of Volcano Bay, located inside the 200-foot Krakatau volcano. Soar down a race track on a "canoe," getting soaked along the way. This is somewhat like a low alpine coaster with no brakes, zipping down through a volcano. Great, right?
Honu ika Moana – After climbing approximately one million stairs, I hopped on the five-person raft and went soaring up two huge walls at possibly the speed of sound. My life flashed before my eyes. This slide is blue; don't miss it!
The best thing about Volcano Bay water slides, besides the TapuTapu, is that you don't have to lug tubes and rafts around – they are handed to you at the top of the attractions. Phew!
Volcano Bay: Tropical Paradise
Volcano Bay was designed to be equal parts exhilarating and relaxing. I loved the thrill rides, of course, but it was the serene moments with my toes in the sand and an umbrella drink in my hand that made my day. If you want to make the most of your tropical getaway, I recommend spoiling yourself with a cabana. Rent a single cabana that holds up to six people for $159.99 or a larger family cabana that holds up to 16 for $299.99. Here are the perks that come with cabana rental:
TapuTapu stations that allow you to make ride reservation from the comfort of your cabana.
Locker and towel service.
A refrigerator stocked with bottled water.
A complimentary fruit basket.
Outlets and wifi.
A ceiling fan.
Concierge service so you can order food and drinks to be delivered.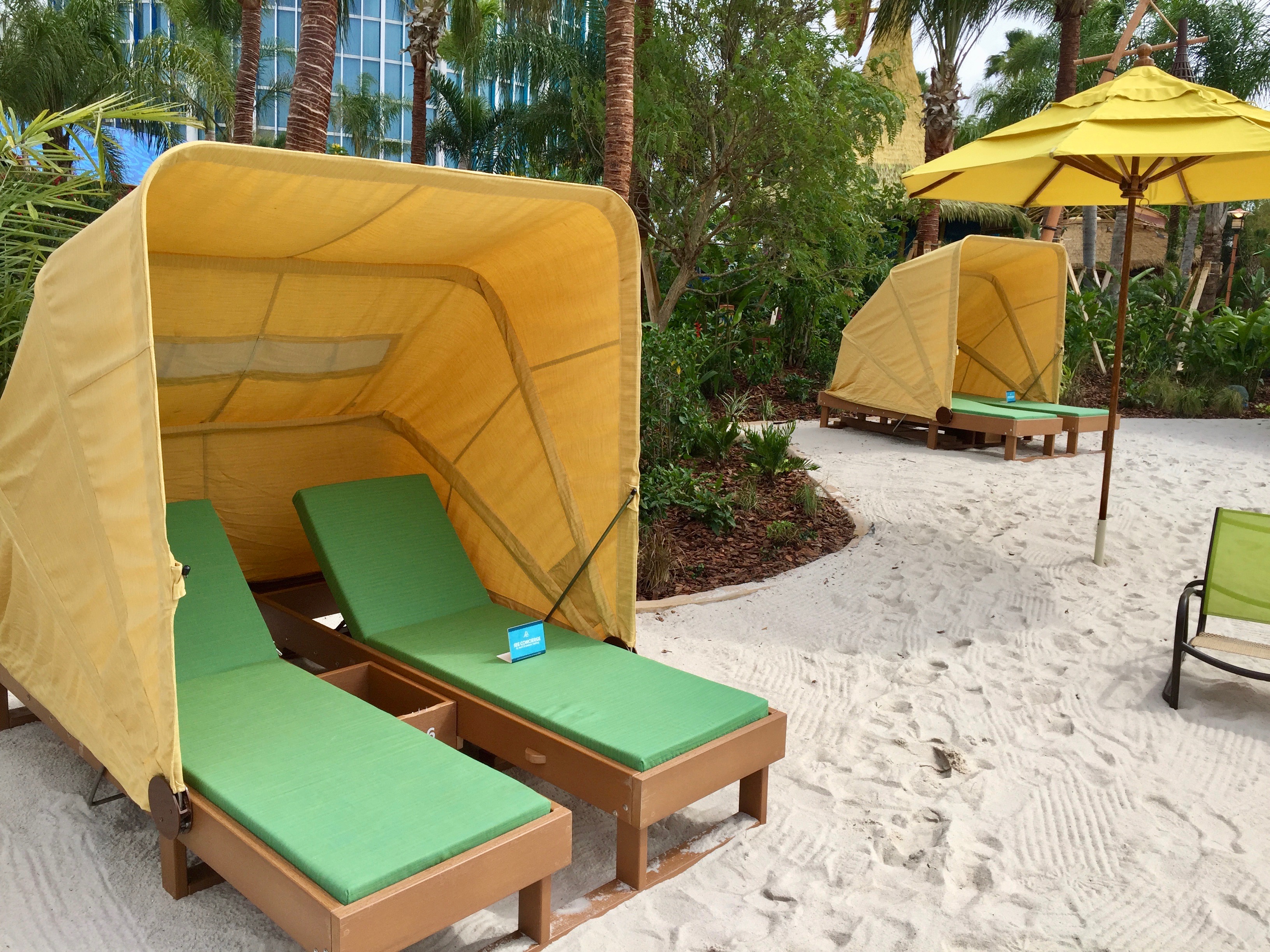 For a cheaper option, you can rent a pair of lounge chairs in the shade for $29.99. An area attendant will visit to take your food and drink orders.
Volcano Bay: Island Cuisine and Cocktails
Volcano Bay is a foodie paradise. With more than 60 delicious dishes available at five outdoor restaurants, you really could eat your way across the park. So I did. The plantains were mouthwatering, the Cobb Salad was beautiful and big enough to feed a small family, and the fried chicken was tender and moist. I also heard rave reviews about the chocolate pineapple upside down cake. I think the Universal Dining Plan would be a great option for this park.
And then there are the drinks…. Order from your beach chair or head to a restaurant or bar – there are different drink options around the park. Just be sure to have your ID handy (I don't believe this can be attached to your TapuTapu yet).
Volcano Bay: Accommodations Mere Steps Away